THE inclusion of forward delivery features in dedicated feeder cattle sales on AuctionsPlus has potential not only to deliver new price discovery features for the industry, but also help reduce volatility from the supply chain and protect supply.
These are the three key features raised by supply chain stakeholders approached by Beef Central on the topic this week.
AuctionsPlus will hold its third dedicated feeder cattle sale on Tuesday next week, offering at least 2500 steers and heifers (bookings not yet closed) – most of which will carry a forward delivery feature for consignment as far forward as January, 2017.
This follows two earlier similar dedicated feeder sales held in July and August this year, and  preliminary sales held in spring last year.
The July 19 sale this year offering around 1200 young cattle, were all offered forward delivery, for placement between mid-August and end of October.
As discussed in this morning's separate article quoting Elders Killara's Andrew Talbot, providing some greater supply assurance is one of the key attractions seen among early buyers using the system.
However AuctionsPlus chief executive Anna Speer also sees potential in the facility providing valuable market intelligence about future price trends.
The secret, though, will be liquidity, with significant trading volumes required before it provides any broader industry benefit.
"To build a reliable forward pricing indicator, obviously trading volume will be important. It's our plan to continue to do these dedicated feeder sales now on a fortnightly basis," Ms Speer said.
"We'd like to think that 2000 head a month sold forward, initially, would provide enough stability to be useful as a market intel tool," she said.
Ms Speer illustrated this point with the graph, below, plotting the forward-delivery prices paid at the July 18 sale, with the spot market (red line) at the time. The results clearly indicate buyer expectations over price for August and September delivery, compared with the July spot market.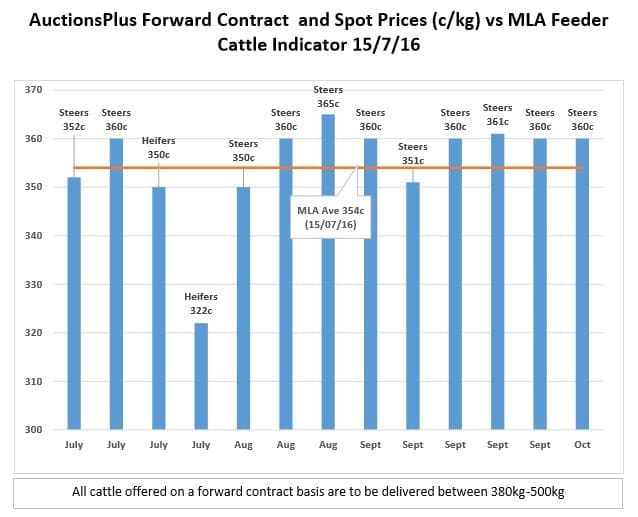 In the absence of any live cattle futures market in Australia (the industry has tried and failed twice to establish a futures contract for cattle) there's an industry view that a forward delivery facility on AuctionsPlus cattle can at least provide a young cattle price discovery tool some months ahead – much the same as processors' forward contract grid offers on grainfed export cattle.
Addressing a Rural Press Club audience at the recent Brisbane Show, Ms Speer said the forward price/delivery option offered in AuctionsPlus's dedicated feeder sales was "something that we believe will assist in taking some of the volatility out of the market, and allow producers, lotfeeders and processors to better forward plan."
"It's much better to know now what you will be getting for your stock in three or four months' time, than to be guessing on sale day," she told the gathering.
"In much the same sense, it allows the feedlot operator or processor to shore-up supply. Forward delivery options offer choice, and as an industry, we need more choice, whether that be in selling or buying cattle online, through the physical saleyards market, or via direct consignment."
"We think there is an opportunity to start to work with the industry through programs like this so everyone is planning forward, and not relying so much on the spot market."
Ms Speer said the ability to do forward contract and forward delivery on AuctionsPlus had in fact been in place for years, but until recently has never really been effectively utilised.
The two sales held so far this year since July, and a third coming up on Tuesday, are helping to change that.
"Moving forward, producers are starting to understand the value it can provide from a forward planning perspective, and from the buyers perspective, it has the attraction of building greater supply assurance," she said.
"Interestingly enough, a lot of prime lamb groups have been interested in doing multi-vendor volume-based forward contracts, where they auction off a contract (say, 5000 lambs per month for six months) to specific specifications. There is the opportunity to provide the technology that allows them to collaborate to do that, and the new AuctionsPlus rating system makes sure that everyone performs to the desired specs along the way," she said.
Other sheep producers were also talking with AuctionsPlus about the prospect of selling their ewes, or next year's lambs for forward delivery, with the option of putting a particular ram over them, in a 'custom-mating' arrangement, to suit a buyer's requirements.
Yet another lamb producer has designs to auction-off his crossbred lambs – still in utero – for delivery in November. That's because he wants to get rid of them quickly, because the crossbreds annoy his neighbours with Merino flocks, and impact on his fences.
Value for industry
Prominent Toowoomba-based supply chain manager James Maclean, principal of Allied Beef, sees 'considerable value' in the advent of a forward delivery option for cattle on AuctionsPlus.
"It allows a vendor to offer cattle for forward delivery, while still in an open auction type environment, rather than having to sell direct. But people using it, I would suggest, are unlikely to commit their entire turnoff, because in doing that, they could run into issues in delivering the numbers or the weights they said they were going to deliver. Burt it could be ideal for a portion of annual turnoff."
"And vice versa, from the buy side," Mr Maclean said. "If a feedlot is buying 1000 feeders a week, and it already has 200 contracted through forward delivery channels, it just makes their life that little bit easier in the current tough procurement market."
"It's the same as the grain market. For a lotfeeder, locking-in supply is every bit as important as locking-in price."
Mr Maclean said for the forward delivery contract to have any real value in price discovery, consistent volume would be needed in trading, on an almost weekly basis.
"But in saying that, I can't see any reason why AuctionsPlus could not add a forward delivery option on cattle sold as part of its weekly Friday sale. It does not have to be just isolated to these special feeder-specific sales," he said.
Mr Maclean also suggested there was a tendency to 'over-complicate' the terms used for such systems.
"Is it really forward pricing? If I say I am going to deliver a commodity to you at the end of the month, is that really forward pricing, or is it just a different delivery period?" he asked.
"A lot of producers may be shy of taking an option to 'sell forward', but many more may well be happy with a 'delivery commitment' for early September, for example," he said.
"The terminology needs tweaking – it is not necessarily forward selling, it is forward delivery."
Mr Maclean said he struggled to understand why Australia's larger feedlots and processors did not offer forward delivery options for stock, more widely than they currently do.
"Obviously they would not do it six months out, but perhaps six weeks or two months forward would be attractive to both sides, whether it be feeders or slaughter cattle. The grid is the grid," he said.
"Apart from grainfed forward contracts, there's not that much of it happening."
"But having said that, the contractual part of any forward delivery arrangement is the most crucial component. There can be no going back and seeking to exit a commitment, just because the market has risen or fallen 30c/kg between the time the deal was done, and when delivery is due."
See related comments from Elders Killara on the AuctionsPlus forward delivery option in this separate article this morning.