THE Eastern Young Cattle Indictor is threatening to drop back through the 600c/kg mark, for the first time since June 9 last year.
The EYCI finished yesterday at 600.75c/kg – down 11.5c on a week ago, minus 42c on this time last month, and 55c back on this time a year ago (see Beef Central's home-page 'Industry Dashboard' graphs).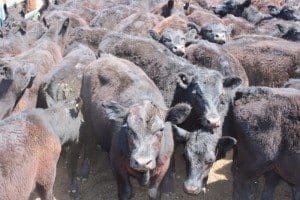 Weather, and perhaps the effects of the first vestiges of momentum in herd rebuilding after two years of breeder liquidation due to drought, are being indicated as the primary drivers.
June saw lower than average rainfall across many eastern Australian cattle regions, pushing some young cattle to market earlier than expected. Parts of central and northern Victoria, southern NSW, southern WA and Tasmania experiencing their lowest June rainfall on record, according to the Bureau of Meteorology.
Additionally, the Bureau's rainfall outlook issued at the end of June for the remainder of winter and beginning of spring unfortunately does not offer much reprieve for producers across large parts of southern Australia.
July to September rainfall is likely to be below average in southeast Australia and southwest WA, BOM says. Most of Central Australia has a roughly equal chance of a wetter or drier three months, while the Northern Territory's Top End and northeast Queensland is more likely to exceed the median rainfall.
The recent weather conditions and outlook had certainly taken the 'sting' out of the restocking market for young cattle, MLA chief analyst Ben Thomas told Beef Central.
"A second factor is that we are, for the first time, starting to see a rise in the number of cattle on the market, based on herd rebuilding indicators," he said.
"That rebuilding might be just starting to pop-up through the system, and young cattle indicators, like the EYCI, are inevitably going to see that first," he said.
"The indications certainly are there. Female retention has been pretty high for 12 months now, clearly reflected in lower rates of female kill in Queensland and NSW."
The deteriorating seasonal conditions and higher cattle turnoff contributed to the Eastern Young Cattle Indicator dipping below year-ago levels towards the end of June. The EYCI averaged 639¢/kg cwt for the month of June, still up 19.5¢ on year-earlier levels.
Meat & Livestock Australia will issue its mid-year (June 30) update to its 2017 Beef Projections on Tuesday next week, exploring these themes in more detail. Reports and video to come on Beef Central.