Rain, and the prospect of more in coming days in southern Australia at least, his driven the Eastern Young Cattle Indicator further into record  territory this week.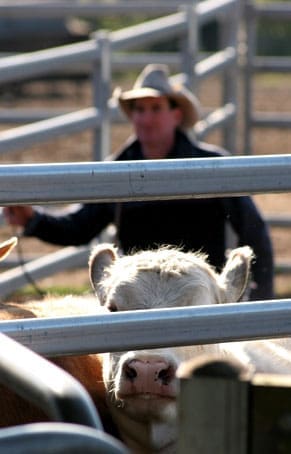 At the close of Monday's physical cattle markets, the EYCI averaged 625.25¢/kg, up 6¢ on where it finished last week.
The NLRS trade steer indicator was down 1¢, at 338¢/kg; medium steers were up 6¢, to 314¢; heavy steers remained firm, at 314¢. The medium cow indicator was up 2¢ to 243¢, while feeder steers remained firm selling to 347¢.
Yesterday's NLRS-reported physical sales in the south all carried larger numbers.
Consignments at TRLX Tamworth near doubled on the previous sale a fortnight ago to 1230 head. The quality and condition of cattle was mixed, with the bulk comprising of heavy young feeder cattle. The usual buyers attended, with an increased number from the domestic trade.
Heavy C2 yearling steers to feed were up 51¢/kg, averaging 369¢
Medium C2 grown steers to feed were firm, averaging 347¢
Light D2 manufacturing steers to processors averaged 234¢, up 22¢
Cattle numbers at Wagga yesterday (see this morning's separate commentary) increased 67pc, to 4100 head. Quality was mixed, with most yearling cattle lacking finish. The usual group of buyers were in attendance, with a stronger presence of export buyers from the north and south. Bidding from interstate restockers pushed the price up for light weight steers and heifers.
Heavy C2 yearling steers to feed averaged 348¢, up 22¢
Medium C2 yearling steers to feed averaged 351¢ and were 20¢ dearer
Medium C2 yearling heifers to feed increased by 11¢, averaging 323¢
Heavy D3 cows to processors jumped 33¢, to an average of 262¢
Pakenham cattle numbers increased slightly to 960 head yesterday. The mixed quality yarding comprised mostly of export lines and younger cattle. The usual buyer group was present competing in a dearer market overall.
Medium C2 yearling steers to feed were up 5¢, averaging 320¢
Heavy D3 yearling heifers to processors averaged 322¢, increasing 21¢
Heavy C3 grown steers to processors were dearer by 5¢, averaging 328¢.
Source: MLA