CATTLE eligible for the European Union Cattle Accreditation Scheme (EUCAS) have enjoyed long-established strong market premiums.
Indeed, a recent discussion with a livestock agent after EU feeder steers on AuctionsPlus made 378c/kg liveweight during the weekly sale on 31 May sale begged the question, is the EU scheme still relevant and what are those premiums worth to producers?
To answer this, AuctionsPlus's Markets Insights team looked at an average price for EU versus non-EU Angus steers sold online since 2012, broken up into three weight ranges: less than 280kg, 280-330kg and +330kg.
The table below highlights the premium which EU accredited cattle receive across the three weight categories.
Across all years, EU Angus steers sold through AuctionsPlus delivered premiums, but the largest price gap seen is in the current 2019 season. So far this year, EU-eligible Angus feeder steers less than 280kg liveweight have averaged 32.7c/kg above conventional Angus steers, while steers 280-330kg premiums have averaged 21.1c/kg, and steers +330kg, 20.6c/kg. These premiums are at least three times as high as last year.
The premiums also coincides with the largest offering of EU Angus steers through the online platform, making up 40 percent of the total Angus steers offered between January and June 2019.
The management practices required for the EU accreditation scheme have long instilled confidence in buyers, especially online. Vendors are audited regularly and consequently have to run their operation to a high standard.
EU premiums for Angus steers sold on AuctionsPlus 2012-19 (c/kg liveweight)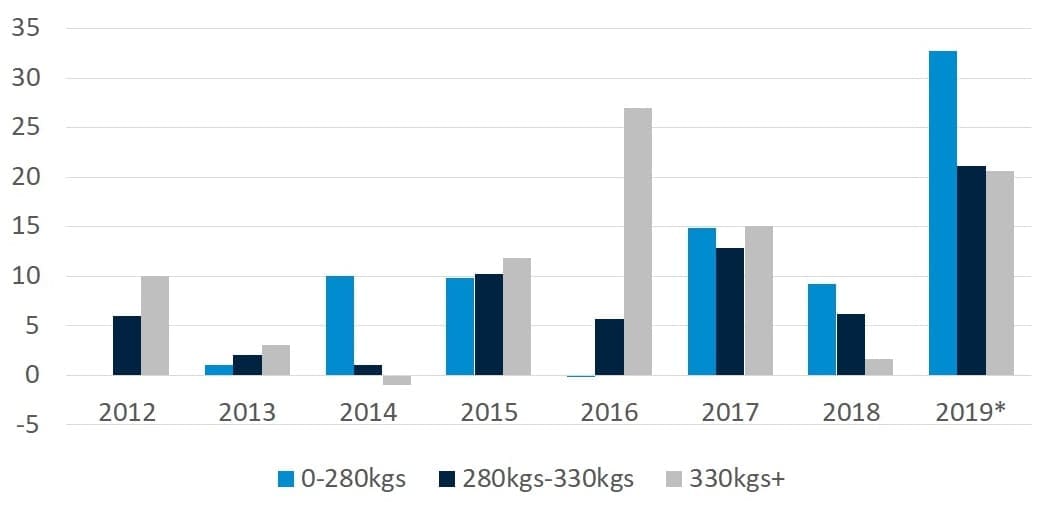 From a lotfeeder or grass finisher's perspective, keeping an EU accreditation comes with its own challenges. The cost of sourcing and purchasing EU stock can be significant.
Further to this, if producers want to supplement income during market downturns from trading stock, they are confined to the EU program.
Landmark Boultons Walcha livestock agent Mat Larkings says the management practices for EU programs are important and set high standards within the industry. However, he sees Certified Grassfed programs (almost universally requiring no HGP) as an alternative, and potentially easier market to target.
"It is a mob based system; producers do not have to compromise their accreditation," he said. Mr Larkings has seen some clients step out of EU program, and feels that Certified Grassfed is an important step in moving with changing consumer demand surrounding provenance of food.
"The Grassfed programs evoke an image of cattle standing in a paddock full of green grass, and that is great for the industry," he said.
Number of Angus steers sold on AuctionsPlus 2012-19

* 2019 data represents Jan-June 2019, all other years Jan-Dec