Video market report from Ray White Eastern Rural's Wyatt Wrigley
Yarding 5430 Change 524
The yarding consisted of a good supply of yearlings, while cows dominated the grown cattle section.
The penning of young cattle comprised a good supply of mainly light and medium weight yearlings, along with a fair number of heavy yearlings.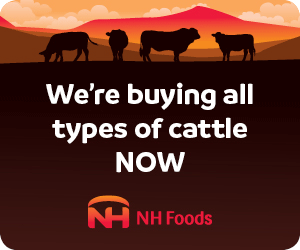 Quality was mixed, with the largest percentage of young cattle in 2 score condition, however there was several runs of well bred cattle through the sale that were suitable for feeder and background buyers.
The market varied, mainly dictated by quality.
Restockers showed more interest this week, on both the steers and heifers, especially the better bred cattle.
Light restocker and feeder steers were 10c to 15c dearer, reaching a top of 308c for an average of 257c/kg. Medium weight feeder steers topped at 308c to average 279c/kg. Heavy feeder steers gained increased interest as the sale progressed, making to 316c to average 271c/kg.
Feeder heifers were 20c dearer, averaging 252c for a top price of 275c/kg. Grown steers topped at 290c and heifers sold to 240c/kg.
The cow market improved, although some of the plainer cows were slightly easier in places. Light plain conditioned cows sold from 100c to 169c, while 2 score medium weights averaged 167c and the 3 scores averaged 188c/kg. Heavy cows made from 191c to 212c/kg.
To view full NLRS report click here
Grant Daniel Long report:
A total of 5430 cattle where yarded today with GDL yarding 2296 cattle. The market was firm on last week, with good quality cattle selling well.
Prime Quotes
Heifers up to 400kg – Lowest  154.2c/kg, highest  272.2c/kg, Av 268.8c/kg
Heifers over 400kg – Lowest 240c/kg, highest  276c/kg, Av  268.2c/kg
Cows up to 400kg – Lowest  52.2c/kg, highest  170.2c/kg, Av  142.2c/kg
Cows 400kg to 500kg – Lowest 126.2c/kg, highest 198.2c/kg, Av 178.2c/kg
Cows over 500kg – Lowest  90.2c/kg, highest 225.2c/kg, Av  185.2c/kg
Steers & bullocks – Lowest 247.2c/kg, highest 289.2c/kg, Av 275.2c/kg
Steers & bullocks – Lowest 262.2c/kg, highest 306.2c/kg, Av 291.8c/kg
Store & Feeder Quotes
Steers 200kg to 280kg – Lowest 158.2c/kg, highest  281c/kg, Av 252.2c/kg
Steers 280kg to 400kg – Lowest  190.2c/kg, highest 308.2c/kg, Av 266.5c/kg
Feeder steers 400kg+ – Lowest 269.2c/kg, highest  316.2c/kg, Av 283.2c/kg
Heifers 200kg to 320kg – Lowest 130c/kg, highest  242.2c/kg, Av 237.8c/kg
Heifers 320kg to 370kg – Lowest 198.2c/kg, highest 266.2c/kg, Av 242.2c/kg
Feeder heifers over 370kg – Lowest  193.2c/kg, highest  264.2c/kg, Av 245.3c/kg
Highlights
Santa cows sold by Bell Brothers of Taroom to processors 219.2c, 728kg, $1597
Santa bulls sold by Talbingo Pastoral Co of Dalby to exporters 262.2c, 716kg, $1879
Simmental X feeder steers sold by DWJ & JL Bradshaw of Wandoan to feedlotters 292.2c, 483kg, $1411
Charolais steers sold by Gibson Partnership of Dalby to processors 280.2c, 738kg, $2069
Angus heifers sold by Dilbong Pastoral Co. of Moonie to feedlotters 271.2c, 374kg, $1014
Charolais X heifers sold by Warrowa Partnership of Moonie to processors 272.2c, 537kg, $1464
Sources: NLRS, Grant Daniel Long, Ray White Eastern Rural