Yarding 4763 Change -2381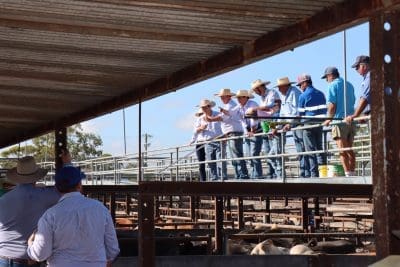 Included in the lineup this week was the annual Qld Country Life pen of charity steers for the RFDS.  The good panel of export buyers in attendance included southern operators and not all the regular feed and trade buyers were present.
The better end of the light weight yearling steers returning to the paddock experienced fair demand and the remainder of the yearling steers and heifers averaged 12c to 25c/kg less.
However most of the cows sold very close to the levels of the previous week. Light weight yearling steers returning to the paddock made to 326c a large sample at 300c/kg. Yearling steers to feed for the domestic market averaged from 298c to 302c with sales to 320c/kg. Heavy weight yearling steers to feed made to 309c with most from 290c to 300c/kg. Light weight yearling heifers returning to the paddock made to 220c and averaged 177c with poor quality lines at 159c/kg.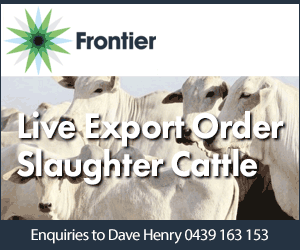 Yearling heifers to feed averaged from 191c to 226c and sold 250c/kg. Heavy weight yearling heifers to feed averaged 236c and made to 266c with a handful to the trade at 280c/kg. The pen of certified grainfed bullocks with the proceeds going to the RFDS made to 361c/kg to return $2,540/head.
The remainder of the bullocks averaged from 262c to 271c/kg. Medium weight 2 score cows to processors averaged 178c and made to 197c/kg. Heavy weight 3 score cows averaged 206c and the best of the heavy weights made to 228c to average 224c/kg. Heavy weight bulls made to 238c/kg.
Market Reporter: Trevor Hess
For full NLRS report click here
Grant Daniel Long Report:
Total numbers at Dalby dropped from previous weeks to 4763.  With the dry conditions continuing, prices for heavy feeder steers, feeder heifers & light feed & weaner heifers were 10-20c cheaper.  Cows, bullocks & weaner steers were firm on last week's results.
Prime Quotes
Heifers up to 400kg – 150.2c/kg, 238.2c/kg, 196.2c/kg
Heifers over 400kg –185.2c/kg, 241.2c/kg, 215.2c/kg
Cows up to 400kg –65c/kg, 120c/kg, 102.2c/kg
Cows 400kg to 500kg –110c/kg, 214.2c/kg, 197.2c/kg
Cows over 500kg –156.2c/kg, 228.2c/kg, 206.2c/kg
Steers & bullocks up to 500kg –230.2c/kg, 260c/kg, 250.2c/kg
Steers & bullocks over 500kg –236.2c/kg, 271.2c/kg, 255.2c/kg
Store & Feeder Quotes
Steers up to 200kg – N/Ac/kg, c/kg, c/kg
Steers 200kg to 280kg –240c/kg, 326.2c/kg, 300.2c/kg
Steers 280kg to 330kg – 192.2c/kg, 322.2c/kg, 295.2c/kg
Steers 330kg to 400kg –240c/kg, 314.2c/kg, 296.2c/kg
Feeder steers over 400kg – 220c/kg, 306.2c/kg, 288.2c/kg
Heifers up to 200kg –106.2c/kg, 156.2c/kg, 130c/kg
Heifers 200kg to 280kg –148.2c/kg, 220.2c/kg, 176.2c/kg
Heifers 280kg to 330kg –150c/kg, 251.2c/kg, 208.2c/kg
Heifers 330kg to 400kg –184.2c/kg, 250c/kg, 227.2c/kg
Feeder heifers over 400kg –182.2c/kg, 264.2c/kg, 232.2c/kg
Feeder/Boat Bulls –166.2c/kg, 246.2c/kg, 223.2c/kg
Slaughter Bulls – 186.2c/kg, 238.2c/kg, 193.2c/kg
Highlights
Santa Bulls sold by BD & LT Leahy of Miles to processors 214.2c/kg, 1015kg, $2174
Angus X Cows sold by JD & V Rogers of Millmerran to processors 223.2c/kg, 730kg, $1629
Angus X Heifers sold by WN & DM Schulz of Durong to processors 249.2c/kg, 625kg $1557
Charolais X Heifers sold by Goonoona Pastoral of Durong to feedlotters 268.2c/kg, 443kg, $1189
Santa Steers Charity Steers sold to processors 361.2c/kg, 703kg, $2540
Angus Steers sold by CW, EM & LM Hartwig of Wandoan to processors 267.2c/kg, 778kg, $2080
Angus Ylg Steers sold by Boxgrove Past. of Jondaryan to backgrounders 314.2ckg, 297kg, $934
Link to Dalby Regional Saleyards site for agents draw for upcoming sale