Yarding 7144 Change +1134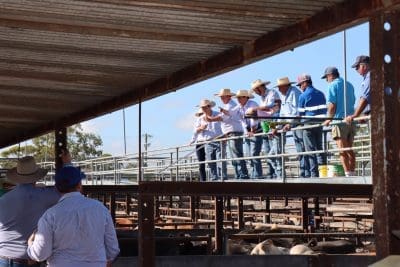 The continuing dry conditions across the usual supply area lifted numbers to a national high of 7,114 head at Dalby 1,134 more than the previous week.
Buyer attendance was good and included southern export operators as well as the regular feed and trade plus restockers.
Prices for young cattle could not maintain the levels of the previous week.
Yearling steers generally lost 15c to 20c/kg and more on light weight lines. Yearling heifers averaged 15c to 25c/kg less however heavy weights experienced a firm trend.
Cows sold to within a few cents either way of the last sale. Very light weight yearling steers to restockers made to an isolated 370c with the largest numbers averaging 294c and making to 340c/kg. Yearling steers to feed for the domestic market averaged from 317c to 323c and sold 340c/kg. Heavy weight yearling steers to feed made to 332c with a very large sample at 319c/kg.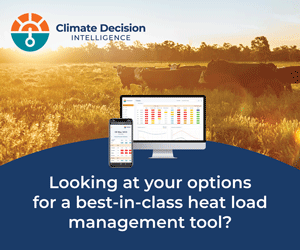 Light weight yearling heifers returning to the paddock made to 248c to average 197c and the under 330kg lines averaged 214c and made to 258c/kg. Medium weight yearling heifers to feed made to 285c to average 242c and the heavy weights averaged 249c and made to 280c/kg. A small sample of heavy grown steers to export processors made to 289c to average 287c/kg. Medium weight 2 scores averaged 180c and made to 196c/kg. Heavy weight 3 scores averaged 209c and the best of the cows made to 227c to average 222c/kg.
Heavy weight bulls made to 260c/kg.
Market Reporter: Trevor Hess
For full NLRS report click here
Grant Daniel Long Report:
Increased yarding in Dalby this week. Heavy cattle were slightly cheaper. Feeders softened although quality still sold well.  Quality weaner steers were slightly cheaper, with light weight steers significantly cheaper.  Heifers were down on last week especially in your light weights.
Prime Quotes
Heifers up to 400kg – 200c/kg, 235c/kg, 225c/kg
Heifers over 400kg – 210c/kg, 240c/kg, 220c/kg
Cows up to 400kg – 100c/kg, 170c/kg, 140c/kg
Cows 400kg to 500kg –170c/kg, 194c/kg, 181.2c/kg
Cows over 500kg – 194c/kg, 226c/kg, 215c/kg
Steers & bullocks up to 500kg – 230c/kg, 270c/kg, 255c/kg
Steers & bullocks over 500kg – 200c/kg, 270c/kg, 245c/kg
Store & Feeder Quotes
Steers up to 200kg – 226.2c/kg, 310c/kg, 280c/kg
Steers 200kg to 280kg – 230c/kg, 320c/kg, 284c/kg
Steers 280kg to 330kg – 270c/kg, 340c/kg, 324c/kg
Steers 330kg to 400kg – 280c/kg, 330c/kg, 320c/kg
Feeder steers over 400kg –  280c/kg, 330c/kg, 325c/kg
Heifers up to 200kg – 120c/kg, 220c/kg, 185c/kg
Heifers 200kg to 280kg – 160c/kg, 225c/kg, 192c/kg
Heifers 280kg to 330kg – 180c/kg, 240c/kg, 215c/kg
Heifers 330kg to 400kg – 210c/kg, 280c/kg, 245c/kg
Feeder heifers over 400kg – 220c/kg, 284c/kg, 252c/kg
Feeder/Boat Bulls – 230c/kg, 270c/kg, 250.2c/kg
Slaughter Bulls – 230c/kg, 268c/kg, 245c/kg
Highlights
Brangus Steers sold by JC & JM Phipps of Taroom to feedlotters 314.2c/kg, 473kg, $1488
Santa Bull sold by BH & CM Sinnamon of Wandoan to processors 240c/kg, 925kg, $2220
Charolais Cows sold by MR & JR Slack of Meandarra to processors 225c/kg, 789kg, $1775
Ylg Santa Steers sold by Undaban Pastoral Co. of The Gums to backgrounders 336.2c/kg, 281kg, $947
Ylg Charolais Steers sold by Golden Family Trust of Taroom to feedlotters 324.2c/kg, 349kg, $1132
Angus X Heifers sold by L & T Grazing of Taroom to processors 250c/kg, 486kg, $1215
Hereford Heifers sold by Spinifex Co. Pty Ltd of Cameron's Corner to restockers 250.2c/kg, 318kg, $797
Link to Dalby Regional Saleyards site for agents draw for upcoming sale