SALEYARDS around the country have started limiting access to livestock auctions under new measures aimed at curbing the potential spread of the coronavirus or COVID-19.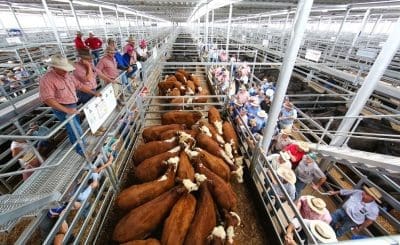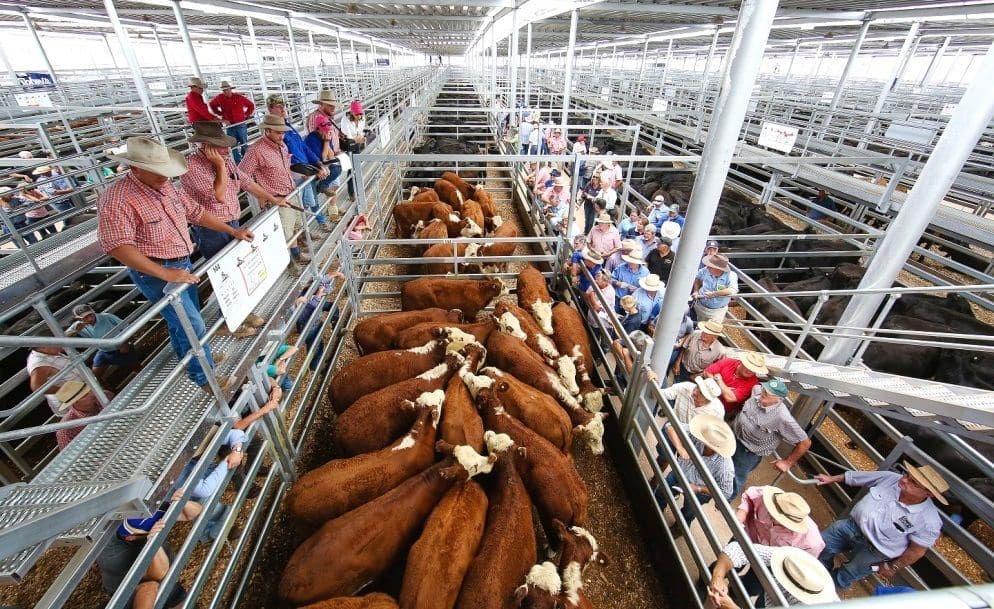 However, despite operating with smaller crowds, livestock sales will continue as normal, agents have told Beef Central and Sheep Central today.
One of Australia's largest livestock marketing companies made the point that under current circumstances, with domestic demand for meat soaring amid panic buying and stockpiling, livestock sales remain a critical event in the Australian food supply chain.
The Australian Livestock and Property Agents Association is urging all non-essential participants in livestock sales to stay away.
Those attending sales are being urged to sign a declaration and provide contact details prior to entry, to help with traceability should a future COVID-19 detection occur.
Agents are also being urged to remind all attendees prior to each sale to maintain good hygiene practices including washing hands, avoid contact through shaking hands, and to maintain a distance of at least one metre from others.
Vendors are being urged to stay away, but some yards are also pointing out they do not have the legal ability or resources to limit sale attendance.
Examples of approaches at individual saleyards include:
Western Australia's Muchea Livestock Centre began enforcing swipe card security on its gates on Monday this week to limit general public visitors. Producers who have business at the yards are still able to attend, and their names will be recorded, chief executive Greg Lott said. "This is a public facility and we have a public auction and we are just stopping members of the general public to reduce numbers."
The Horsham Rural City Council has limited access at its weekly sales to buyers, stock agents, transport operators and council staff. "Council sees the Horsham Regional Livestock Exchange as a critical service to continue during the COVID-19 emergency, to help ensure food security," HRCC infrastructure director John Martin said. Facility manager Paul Christopher said the advice was that producers should not come to sales, although he did not have the resources to police this. "You can only ask, it's not a law. For public health, they should be smart enough to realise that's the way it should be and there will be more of it happening," he said.
The Ouyen Livestock Exchange said attendance by non-essential people should be avoided wherever possible and is recommending access be limited to agents, buyers, transport operators and OLE staff. "We do not recommend that the general public attend, even if they are sellers at the sale," an email from the exchange said. "We are conscious that many regular attendees are in an age bracket that is potentially more vulnerable to the virus, and are taking this measure as a means of ensuring continuity of the sales."
Wagga Wagga saleyard management and agents has advised that access to its sales will be restricted only to agents, buyers, transporters, contractors and staff. Centre manager Paul Martin said he had no jurisdictional powers to prevent producers attending sales. "That is why that advice is written the way it is – it's not mandatable, it's not enforceable. We are taking all the appropriate actions that we can within the framework."
At large selling centres further north including Dubbo and Roma the advice is largely the same with agents following the advice put forward by ALPA.
Australian Livestock Saleyards Association executive officer Mark McDonald said enforcing limited attendance could be an issue for some yards, and would rely on agents passing the message onto their vendors.
Mr McDonald said some ALSA members were concerned about sale transparency without producers attending, but they were more concerned about public health.
Australian Livestock Markets Association executive Kate McGilvray said the industry position was that saleyard gatherings would typically not be above 500 people – the national limit on 'mass gatherings' introduced by Prime Minister Scott Morrison from Monday – meaning the focus remained on on personal distance and hygiene measures.
Related article: RLX saleyard group makes 'minor but important changes' in response to COVID-19
"Obviously nobody who is sick should be attending and there should be pre-sale announcements to reiterate hygiene practices and distancing, and if you are unwell to leave," she said.
"It's purely based on that 500-person rule and the exposure risk is based on that 15 minutes face-to-face contact and a two-hour prolonged exposure in a confined space
"So if you are looking at saleyards, we are under the minimum of 500 and we are looking at large areas of ventilated space."
Vendor exclusion 'a step too far'
Victorian Farmers Federation Livestock Group president Leonard Vallance said the advice should be that if you didn't need to go to a sale, 'don't go'.
But it was "going too far" to exclude producers from sales, he said.
"That doesn't need to happen. Common sense and personal hygiene will keep most people quite safe," he said.
"And the old sensible farmers will say 'perhaps I should stay home today'."
Mr Vallance said the industry needs to send a very clear message to the Australian public, that red meat supplies will continue through the various supply chains.
"And there will be no shortage of red meat in Australia for the foreseeable future and the people in the industry know how to exercise personal care and will do their utmost to ensure the public have meat to eat."
Nutrien, Elders back ALPA advice
Australia's two largest livestock marketing agencies have also backed existing industry advice.
In a statement to staff this week Nutrien Agri Ltd advised that for the moment livestock sales will continue as normal, noting that under the current circumstances, livestock sales are considered a critical event in the Australian food supply chain.
It urged staff to follow local saleyard protocols where they are in place, and also added the following advice:
Only staff essential to a sale should be attending;
Only registered buyers should be attending;
Practice social distancing – no handshaking, make use of the hand sanitiser available, keep some distance between you and other people;
"We are fortunate that the strength of our agent/client relations, means in many cases livestock transactions can be facilitated without in-person attendance at sales," Nutrien Agri managing director Rob Clayton said.
"For now we will continue stud sales, but this is under constant review.
"This is a rapidly changing environment and we will keep re-assessing what the appropriate measures are to keep our people and customers safe."
Elders Limited told Beef Central and Sheep Central it supports the Australian Livestock and Property Association's recommendation that physical livestock sales should proceed, but non-essential participants (ie. the general public including clients) should be prohibited from attending saleyards.
"We also endorse and will follow ALPA's guidelines around practicing social distancing and registering attendees," Elders said in a statement.
"We will of course, review our position should the Government directive on large gatherings change."
Related article: RLX saleyard group makes 'minor but important changes' in response to COVID-19