AuctionsPlus cattle offerings increased a further 13 percent this week to 22,234 head, with prices fluctuating on the previous week, as buyers appeared to be hesitant at current market levels for the proven breeding lines.
While no clear price pattern emerged light steers and heifers 280kg or less generally showed signs of market improvement, but most other young cattle and breeder types were softer this week.

The feature in the physical market for the week was an EYCI surging through the 900c/kg cwt barrier, finishing Thursday at 907.5c/kg.
With the higher numbers offered and mild weather in recent weeks, overall clearance rates were well down on last week for steers and breeding lines – an indication that buyers remain very hesitant to lift their bids, as vendors keep reserve levels just out of reach.
PTIC heifers eased 17c/kg this week, to average 525c/kg – with a clearance of only 47pc for the 3285 head offered, compared with 60pc last week.
Included was a line of 85 PTIC Hereford heifers 403kg at 18-19 months from Twynam Investments, Marulan, Southern Tablelands, which sold for 526c/kg or $2120.
Heifers 200-280kg slipped 12c/kg this week, averaging 542c, while heifers 280-330kg eased 1c to 493c, with the 54pc clearance for the 2481 head offered. In contrast, the heavier 330-400kg heifers lifted 11c/kg averaging 461c/kg, with an 82pc clearance for the 1447 head offered.
The heaviest populated steer category this week was for the 280-330kg lines, with a 75pc clearance for the 3740 head offered. Compared to last week's much smaller offering, average prices slipped 4c/kg to 538c. The two lightest steer categories saw entries less than 200kg lift by 28c to 608c/kg for only 275 head offered, and 200-280kg steers rising 33c/kg on the previous week to average 601c.
A feature lot this week was 111 weaned Rennylea blood Angus steers 6-7 months averaging 277kg from MA Sinclair, Yamalla, Greenethorpe NSW, which sold for 650c/kg or $1800/head. Previous drops have usually been grown-out to target the high quality longfed heavy feeder market.
The 982 PTIC cows offered this week were 9c/kg higher at 407c/kg, while station-mated heifers dropped 50c/kg to 413c/kg.
Prices reported as at 2pm, Friday 16 April.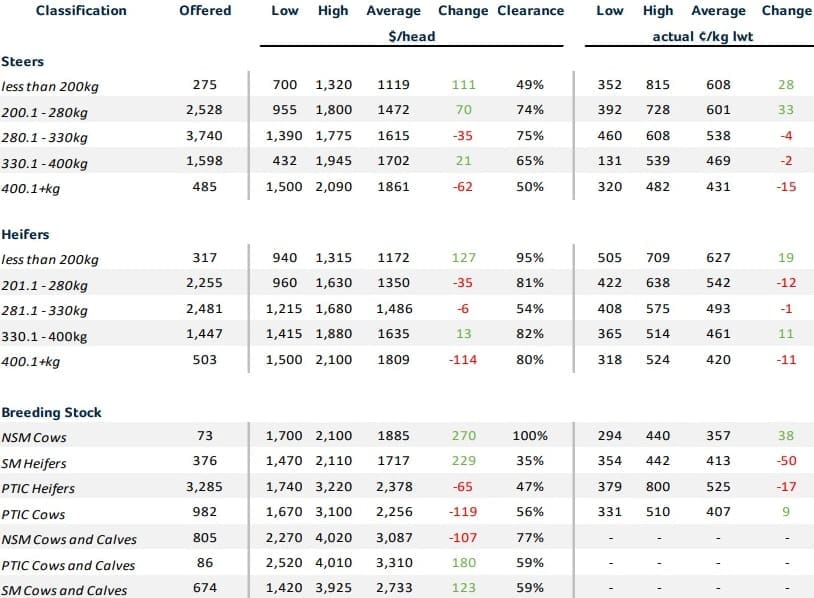 Record online buyers pounce on weaner heifers
FIERCE demand for heifers has proven to be a consistent theme at Autumn weaner sales, with online bids helping surge female prices to $1795/head at the C L Squires and Co Stock and Station Agent's Premier Weaner Sale this week.

Held at the Inverell Regional Livestock Exchange (IRLX) on Thursday, more than 2300 head of mostly local cattle were processed during the auction.
StockLive online participants contributed 13 percent of all bids placed during the sale.
Tom Oakes, C L Squires and Co, said the record number of online buyers registered made their presence known throughout the auction, but more noticeably in the female categories.
"There is a lot of activity among breeders who are still chasing females for their herds," Mr Oakes said.
"The sale was stronger than we anticipated. The breed didn't seem to matter this year – normally we see Angus cattle selling for more, but there was just as much demand for crossbred calves too," he said..
"Female cattle were definitely just as strong as the steers."
Steers peaked at $2055/head in the 300-400kg category and averaged $1804. The average for heifers in this category was $1676, topping at $1795.
In the 200-300kg category, steers reached $1788 and averaged $1605, while weaner heifers reached $1687 and averaged $1490.
Mr Oakes said favourable seasonal conditions meant the calves' quality was superb, with all offered showing great weight for age and looking fresh.
Smithston Farms, Strathmore realised $1540 for its 257kg Angus cross cattle which were snapped-up by an Armidale online bidder for 598c/kg.
Clerkness Pastoral Co realised 614c/kg for its 218kg Angus cross offering, which had bloodlines linking back to Sara Park, Wooroonga Angus and Lucrana Simmentals, that returned $1338.
Stewart Andrew, Wakefield, made a return of $1380 for his crossbred pen of six, which weighed 230kg and reached 598c/kg.
Looking ahead, Mr Oakes predicted the upcoming weaner sale at IRLX to be held on 29 April, will replicate this week's strong results given the fierce demand for young cattle.
Farmgate Auctions Store & Feeder Sale Fri 16 April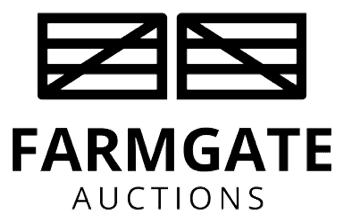 There was solid competition in the opening seconds from 120 potential buyers online during last Friday's Farmgate Auctions Online Store and Feeder sale, comprising Angus cross and Hereford stock including PTIC heifers, vealer and weaner steers and heifers, and cow and calf units.
The sale produced a 100pc clearance, with main buying strength came from Manilla, Coonamble and Gunnedah.
Steer vealers sold to 601c/kg, with heifer vealers to 565c/kg.
Steer weaners averaged 487c/kg, while PTIC heifers sold to $1850.
Sources: AuctionsPlus, Stocklive, Farmgate.