JUST when you think competition in the red-hot cattle market cannot get any fiercer, a little more fuel is added and both prices and clearance rates on AuctionsPlus took another step up this week.
After some subdued weeks for clearance rates, PTIC heifer demand roared back this week, with a 93pc clearance boosting the average for the week by $450, to reach $3182/head for the 1719 head offered.
Along with a resurgent PTIC market, the outstanding result for the week was the almost perfect clearance rate for all lots based out of Queensland. Of the 3875 head offered out of Queensland this week, all but 16 head sold – an overall weekly clearance rate of 99.6pc.
The recent rain, combined with last week's La Nina outlook has clearly bolstered confidence in the northern market, adding to the already very tight supply of cattle on offer.
Measuring the demand levels within the current cattle market can be extremely difficult, given there seems to be little upper level on prices. Below are bid statistics from Friday's two commercial sales, which highlighted just how intense the competition was for the 14,170 head offered. To contextualise the fierce competition across the cattle market, Friday's Weaner & Yearling sale had 74pc more bids compared to the previous week and 325pc more than the same week last year.
Throughout the young cattle lines, clearance rates ranged from 96-100pc for the three lightest categories, with the 1674 head of 200-280kg steers averaging 12c higher on last week, at 723c/kg. As heavy steer clearance rates rebounded, hitting 96pc for the small 622 head offered, 330-400kg steer prices went against the trend, slipping 15c on last week to average 578c.
Accompanying the cheaper price for 330-400kg lines was a lower clearance, falling to 80pc for the 1000 head offered.
All heifer lines that increased in c/kg value this week, with the two lightest lines recording clearances of 99pc and 100pc, respectively. Given the reduced supplies, 280-330kg heifers averaged 53c higher, at 690c, while the heavier 330-400kg lines jumped 66c to average 660c.
Among larger young cattle transactions this week, 108 flatback Angus x Charbray backgrounder steers 6-12 months averaging 283kg out of Muttaburra western Queensland made 746.6c/kg, while 80 Droughtmaster cross weaned heifers 6-9 months averaging 146kg from nearby Stamford made 831c/kg.
Breeding cattle
The clearly stronger market for heavy heifers, including PTIC lines, can be viewed as a leading indication that recent rain and forecasts has boosted the demand for future breeding lines. Given the seasonal confidence many producers would now have for 2022, the longer time option of purchasing unjoined lines appears to be back in vogue – and some $800 cheaper than the current PTIC heifer option.
Through the proven breeding lines catalogued this week, it was a stronger market, with PTIC cows up $92 on last week, to average $2971 – with a 95pc clearance rate for the 866 head offered. Station mated cows with CAF averaged $361 higher this week, averaging $3958, with a top price of $4770.
Breeding cattle sale highlights included 144 NSM Droughtmaster future breeders 12-14 months averaging 262kg from Julia Creek Northwest Queensland which made 752.8c or $1970 a head.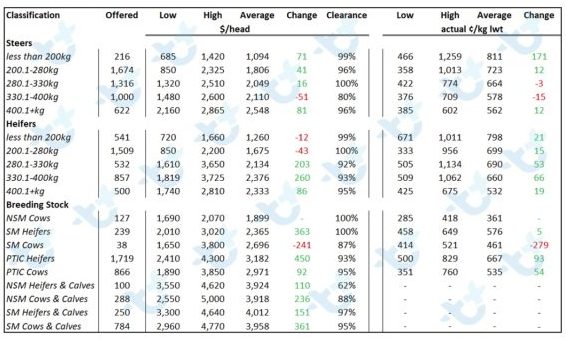 Source: AuctionsPlus