THE AuctionsPlus Eastern States cattle sales last week saw a solid rise on female offerings, in a larger 9300 head offering.
Numbers put before online buyers were up 15pc on the previous week, continuing a recent rising trend.
Females last week accounted for 72 percent of the catalogue, with PTIC heifers selling in a range from $975 to $1770.
A line of Angus heifers averaging 485kg, PTIC to Rennylea Angus from Culcairn, NSW made the top heifer price on a c/kg basis, while their heavier (550kg) sisters, made the top $ price of $1880. Proven breeders offered on Friday sold from $1035 to $1440, with a line of Angus and Angus x South Devon cows from Bellata, NSW averaging 665kg, PTIC to Angus bulls making the top money.
First-calvers sold from $1440 to $2140 on Friday, with the top price-setters being a line of Angus cows, with Angus calves at foot, from Mt Gambier, SA.
Proven breeders with calves at foot sold from $1360 to $2020 last week. Mixed aged cows with calves at foot sold from $1300 to $1780, with the top lines coming from Gogango, Central QLD. These were 3-9 year old Bonsmara* cows with Bonsmara calves at foot (* tropically adapted Bus Taurus developed in South Africa, not unlike Australia's Belmont Red). They were part of an offering of about 300 Bonsmara cows and heifers, either PTIC, with calf at foot, or yet to be mated.
The same Mount Gambier, SA vendor also offered up the top line of cows and calves this week, a line of 3-4 year old Angus Cows with Angus calves at foot selling for $2220.
Young cattle highlights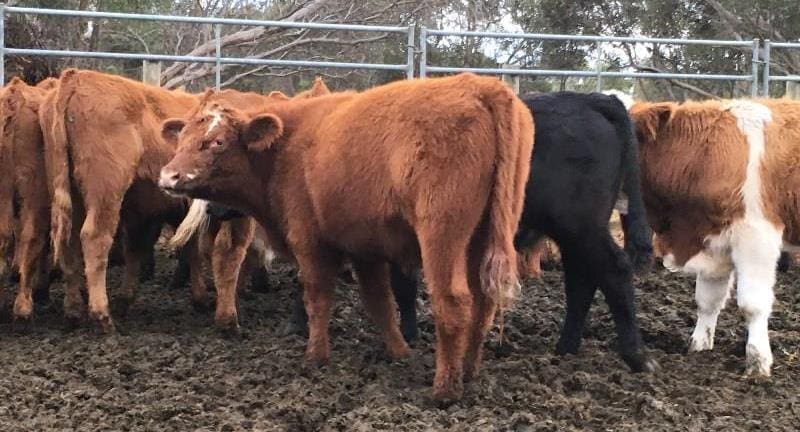 Young cattle highlights from Friday's sale included a line of 41 216kg Red Angus weaned steers, and second line of Simmental x Red Angus weaned steers averaging identical weight from Lucindale, SA, (pictured above) both selling for 380c/kg or $820. Their older and heavier heifer siblings, 8-12 months at 286-288kg, made $905-$910.
A line of 282kg Angus steers from Mortlake, VIC sold for 372c/kg or $1050, while 310kg Angus steers from Narrawong, VIC sold for 364c/kg or $1055. Out of Scone, NSW, a line of Charolais/ Angus steers 382kg sold for 323c/kg or $1235.
Among young heifer lines, Angus heifers 231kg from Mortlake, VIC sold for 344c/kg or $795, while 288kg Angus from Lucindale, SA sold for 316c/kg or $910 and 286kg Simmental/ Red Angus Heifers from the same district sold for 316c/kg or $905.
Angus heifers 307kg carrying Te Mania and Millah Murrah blood from Essington, NSW sold for 323c/kg or $990, while 355kg Angus heifers from Marulan, NSW sold for 302c/kg or $1075.
In a breakdown of young cattle sales by weightrange:
Steers weighing under 250kg sold from 279c to 380c to average 353c; while heifers in the same weightrange sold from 261-344c to average 304c
Steers 250-300kg sold from 300c to 372 to average 341c, while heifers sold from 300-316c to average 308c
Steers 300-350kg sold from 316c to 364c to average 327c, while heifers sold from 289c to 323c to average 304c
Steers above 350kg sold from 311 to 323 to average 317c, while heavy heifers sold from 260 to 303c to average 275c.
Among specialist lines, Fullblood Wagyu cows aged 4-7 years, weighing 473kg, with Wagyu calves at foot from Northcliffe, WA sold for a top dollar of $2475.
Click here to access full summary from Friday's AuctionsPlus sale.
Source: AuctionsPlus