A DISRUPTED and short selling week failed to dampen the surge in cattle offered online this week, with AuctionsPlus numbers hitting 19,631 head – up 167pc on the previous week.
Paddocks recovering from wet weather, changing seasons and high prices contributed to the additional numbers, along with the significant backlog of cattle that were unable to be marketed in the previous weeks.

Some big lines were offered out of Northern Australia on AuctionsPlus this week.
Three lines of Brahman heifers 8-24 months totalling 532 head from Yeeda Pastoral Co, Derby WA failed to meet their reserve, being passed in for 379-386c/kg liveweight.
More successful were 1652 station mated heifers from Alister McClymont's AJM Pastoral, Etta Station Julia Creek – mostly composite x Brahman or Brahman cross, 18-24 months – which made from 346c/kg to 502c/kg for lighter descriptions.
Corbett Tritton from Silver Hills near Richmond offered 1360 yearling Beefmaster heifers 12-17 months, being sold due to the failed wet season in the area. While several pens were passed in or attracted no bids, the majority sold from 437c to 483c/kg for lighter descriptions. The 11 mobs ranged in average weight from 277kg to 330kg
Young cattle prices generally decline
With the surge in numbers, prices declined for most young cattle categories this week, while there were some excellent breeding lines offered.
Light steers less than 200kg fell 85c/kg to average 580c/kg average, while steers 200-280kg dropped 58c/kg to average 568c. Among better results a line of 119 Droughtmaster cross weaned steers from Quilpie, QLD, averaging 172.6kg, but ranging from 90kg to 277kg, sold to $1220.
For the larger populated medium and heavyweight lines, steers 280-330kg lifted 20c/kg this week to average 542c, while 330-400kg steers improved 5c to 471c. There were only 439 head in the heavyweight steer +400kg category, where average prices lifted 37c to 446c/kg.
A line of 46 Angus steers 11–13 months averaging 362kg from Mangoplah, NSW sold for $1890.
The largest category of young heifers, 280-330kg, averaged 36c/kg cheaper this week, at 494c/kg, with a somewhat subdued clearance rate of 67pc for the 2748 head offered.
From Naracoorte, SA, 50 Angus weaned heifers 8-9 months old, averaging 311kg, sold for $1660.
There were some considerable supply fluctuations within the proven breeding categories this week, with some very small numbers, but excellent quality, for most listed categories.
For both SM heifers and PTIC heifers there was a considerable offering, with 3116 head and 2933 head, respectively. PTIC heifers this week averaged 7c/kg higher, at 542c/kg, with a 60pc clearance rate, while the SM heifers averaged 463c/kg, with a 54pc clearance rate.
From King Island, Tasmania, 48 NSM Angus heifers averaging 414kg sold to $2020.
A line of 40 SM cows with CAF out of Blackville, NW Slopes and Plains of NSW sold to $2660. The Droughtmaster cross line averaged 469kg and ranged from 2-11 years old, with fat score 2.
A line of 23 NSM Santa cross heifers 20-26 months averaging 436kg, with calves at foot, out of Gilgandra, NSW averaged $2500.
Prices as at 2pm, Friday 9 April.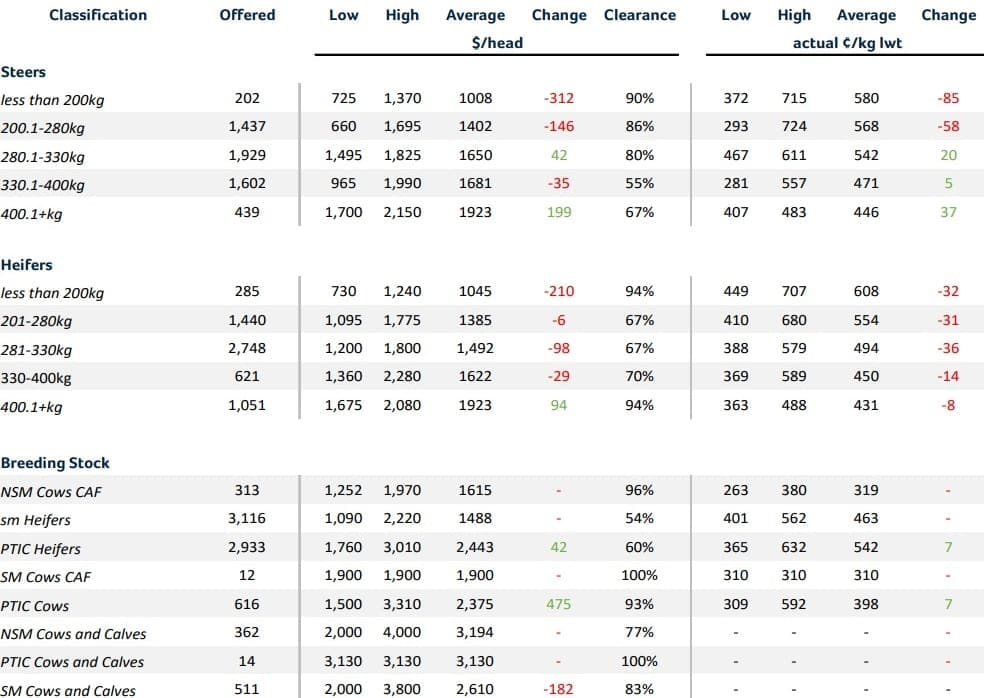 StockLive sees volume buying out of QLD
Access to a greater range of stock from more selling centres is driving the continued use of online bidding by operators of all sizes, with a large Queensland grainfed supply chain this week securing more than 160 head from two interstate sites via StockLive.

At the Northern Victorian Livestock Exchange (NVLX) on Thursday lines secured by the company included 304kg Angus cross steers from CD and BH Jones, which made $1730/head.
BREH Holdings, Berringama, also had two pens snapped up by the same volume online buyer for up to $1725. In total, almost 2000 head were processed at the NVLX sale which attracted buyers from across the Eastern States, with 20pc of all bids placed online.
Of those, 60pc came from Victoria, 26pc from NSW and 13pc from Queensland. On Friday, the Queensland grainfed supply chain secured 107 head from the Central Tablelands Livestock Exchange (CTLX) Autumn Classic Store sale.
The highest price paid by the buyer was $1755 for an offering of 294kg Angus steers from the sale's volume vendor, Funny Hill Pastoral Co. On average, the Queensland buyer paid $1710/head for steers at CTLX.
Meanwhile, on Friday, Martin Gostelow, Spring Park Station, Wallabah, sourced premium Angus heifers for an artificial insemination program from the Tamworth Regional Livestock Exchange (TRLX) Store Sale and the Central Tablelands Livestock Exchange (CTLX) Autumn Classic.
"I was buying predominantly on bloodlines and the pre-sale catalogues allowed me to do my homework first, and then find exactly what I was looking for. It was a huge advantage to be able to see the weights of the cattle right as they were being sold," Mr Gostelow said.
Both lots purchased, comprising 39 head, boasted Millah Murrah Angus genetics, including a Bannaby Angus line that weighed 296kg and made $1665/head. Vendor Hotham Windsor's 313kg offering was also bought by Mr Gostelow for $1665/head.
Among the online buying gallery, 76pc of bidders were from NSW, 16pc from Queensland and 8pc from Victoria.
Source: AuctionsPlus, Stocklive