SUMMARY:
Yarded: 1950
EYCI: 1026c/kg
Feeder (EYCI) rating: +38pts
Steers: 500-650kg: $3020-3340, av 543c/kg: 360-500kg $1940-$2900 av 592c/kg; 280-360kg $1850-$2370, av 664c/kg; 200-300kg $1600-$2060, av 732c/kg
Heifers: 360-500kg: $2050-2400, av 571c/kg; 280-360kg $1700-$2030, av 586c/kg; 200-280kg: $1400-1740, av 649c/kg also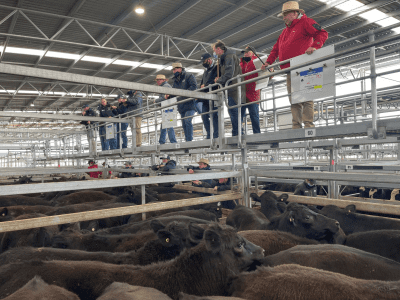 BALLARAT'S sudden COVID lockdown was no match for rampaging store cattle prices at the city's monthly market on Friday.
Offering a reduced penning of 2000 – down 700 head on its month earlier market, a broader book of lot feeder and restocker orders advanced prices by a further $80 to $150 a head, with only a handful of 300-kilogram and heavier steers realizing less than $2000 a head.
Unlike recent past sales, only two yards of heavy steers weighed above 500kg came forward. The first, a yard of eight Angus, 659kg, made $3040 a head for D Gellert while Glenlogie Family Trust sold nine Angus, 523kg, topped the market at $3340.
A second pen of eight Glenlogie Angus, 486kg was also welcomed by the lot feeder demand making $2690.
With heavy steers in short number, several larger lines saw rise like cream on cold milk.
The first was a lot of 31 Angus, 478kg, offered by vendor, Laravale. These made $2900 (606c/kg) while a second pen of 36 Angus, 468kg, from the same vendor made $2780 (598c/kg).
Regular Ballarat seller GA Crick & Sons sold 12 Angus steers, 468kg also at $2900 or 625c/kg while Winslow, near Warrnambool vendor, Ashgrove sold 55 Angus, 434kg, at $2570 or 594c/kg.
Watch this video of the opening sales shot by Ballarat agent, Sadye Wines, Elders:
Elders auctioneer, Graeme Nicholson described the overall result as "staggeringly stronger".
"It was easily $80 to $150 a dearer" Mr Nicholson said.
"The feeders wanted anything that had weight and with the grass beginning to grow, more local restockers participated in the fear of missing out".
Mr Nicholson said the reduced supply which was 1500 head than the September last year was beginning to tell its own story.
"The greater portion of our local breeders' cattle were sold through the winter and have gone and yet I don't see this market is going to pull up until we experience the first hot northerly (wind)," Mr Nicholson said.
TB White auctioneer, Leo White agreed on the declining supply saying that he couldn't see any significant build-up, particularly in the grown steer supply until next year's February sales.
"There wasn't a large number of grown steers present this month, and there wasn't a huge field of lot feeder buyers present either but those who attended all intended to buy" he said.
Mr White said a nice line of 56 Angus steers, aged 11-12 months, from Wylie & Co, Daelroem Angus at Mt Mercer drew special attention.
Presented in two drafted pens weighing 430kg and 387kg respectively an offer was accepted of $2530 across both pens which represented a sale equivalent at 618c/kg.
As a comparison the same cattle from the same vendor last month (August sale), 421kg, made $2480 or 589c/kg while in the month-earlier sale (July) a similar draft, 408kg, made $2260 or 553c/kg.
Watch Leo White's summary of the sale in an interview with Beef Central's Murray Arnel:
In other results, D Bergamin was another to achieve $6/kg for 400kg steers.
The Bergamin yard of 16 Angus, 399kg, made $2400 while Denis and Linda Beedoe sold, at $2380, a yard of 11 Angus, 381kg, to realize 624c/kg.
The Estate of DR Kambovski consigned 38 Angus steers, Banquet-blood, to the September sale with its lead yard of 26, 325kg sold at $2000 (677c) while a second pen of 12, 291kg, made $1990 or 683c/kg.
Other pen lots with similar weights saw Andretto P/L, Mt Mercer sell 20 Angus, 320kg, at $2170 (678c/kg) while S&L Owen sold 18 Angus, 321kg, at $2170 (681c/kg).
Also with similar weights, DD & BA Wrigley sold 15 Angus, 271kg at $2000 (738c) while Eddy Comelli sold 13 Angus, 270kg at $2060 or 762c/kg.
The demand for heifers was also lifted to a higher level, with feeders in hot pursuit but also making way for restockers seeking quality lots for future breeding.
The latter including a quality draft of 40 Mt Wallace-bred Weatherby Downs Angus heifers, Barwidgee-blood that made $2400. These were offered with a weight of 368kg (660c/kg) while Williams Bros, sold 448kg Angus at $2420 (540c) to top the heifer market.
Most other heifer sales with weights above 320kg secured at rates pitched on 550-570c/kg however as weights decline prices were adjusted upwards to $6- $6.50/kg with 200-230kg heifers achieving sales approaching $7/kg and higher in places.
Other significant heifer sales included: Suckling Farming – 14 Angus, 312kg, $1880 (602c/kg), S&L Owen – 10 Angus, 308kg, $1850 (600c/kg) and Crossroads Angus, 18 Angus, 289kg $1940 (671c/kg).
Coliban Heights also recorded a significant result on a pen of 21 Angus, 221kg, sold at $1660 (751c/kg) along with C Story, Morning Calm, with the sale of 13 Angus, 209kg, priced at $1550 (741c/kg).