Numbers offered in AuctionsPlus commercial cattle sales this week were down 26 percent, at 7840 head.
The reduced supply helped support the strongest results for nearly two months, with higher average prices and clearance rates for most categories, as vendors held back for improved conditions.
Rain across NSW and Victoria this week and the official declaration of a negative IOD event by the Bureau of Meteorology has largely assured producers of another good spring.
Buyers seized the opportunity of lower prices and stepped into the market, causing a strong rebound in lighter and heavier categories. Only mediumweight steers 280-330kg eased in c/kg value.
In the young heifer categories, medium weight and heavy categories rose, while lightest entries less than 200kg fell further. Mixed quality was largely responsible for some disparity between breeding female categories, as PTIC heifers fell back, while PTIC cows consolidated last week's gains.
Light steers rebounded the most on last week, with entries less than 200kg jumping 267c/kg ($435), to average 764c, although only 96 were offered. The 1239 steers 200-280kg sold to a robust 96pc clearance, increasing $133 on last week, to average $1472.
From Yass, NSW, two even lines of 44 Angus steers 10-12 months and averaging 276kg were offered as run-out-the-gate and returned $1825/head – headed for Warrnambool, Victoria.
Steers 280-330kg averaged 570c/kg, down 3xc on last week, with 97pc clearance of the small offering of 354 head. From Toobeah, Southern Queensland, 39 Charolais cross steers 10-12 months at 317kg returned $1720/head – $270 above reserve.
The 575 head of 330-400kg steers increased 73c/kg on average or $261, to average 576c. The offering of 400kg+ steers increased to 561, achieving a 94pc clearance – increasing 47c/kg  to 511c. From Woomargama, NSW, 36 Angus steers 16-17 months averaging 376kg returned $2180 or 580c/kg.
Lighter heifers sold cheaper this week, with the less than 200kg category falling 32c/kg to average 590c, and the 200-280kg category falling $71, to $1426 or 587c/kg – with a 78pc clearance of the 1202 head offered.
From Winton, Western Queensland, a line of 152 Charbray cross heifers 6-16 months averaging 253kg returned $1350/head – $350 above reserve.
Tighter supplies of the three heaviest heifer categories helped prices surge on last week. Heifers 280-330kg averaged 103c/kg higher on last week, at 631c, with a 93pc clearance. From Singleton, NSW, a line of 60 Angus heifers 9-11 months averaging 307kg returned top price of $2430/head, or 793c/kg.
The 330-400kg heifer category was also stronger this week, with the 384 head offered clearing 72pc and averaging 84c/kg higher. From Macorna, Victoria, a line of 18 Limousin x Angus cross heifers 12-13 months averaging 356kg returned $1800, or 506c. Heifers 400kg+ averaged $2240/head, up $380 or 137c on the previous week, selling to a 91pc clearance.
Breeding cattle
Results in the breeding female categories were mixed, which was largely representative of the quality on offer. Limited supplies supported higher clearance rates for all categories.
A smaller offering of 915 PTIC heifers achieved 52pc clearance, compared to 21pc last week – averaging $178 lower at $2148/head.
From Augathella, Western Queensland, a line of 62 Droughtmaster PTIC heifers joined to Brangus and Ultrablack bulls, aged 16-24 months at 362kg, returned $1800.
PTIC cows experienced the highest week-on-week jump of any category, with support from some sought-after breeding lines. The 721 head offered achieved a 69pc clearance and averaged $496 higher, to $2760/head.
From Poolaijelo, Victoria, two even lines of 18 three-year-old Angus PTIC cows 500kg, joined to Speckle Park bulls returned $3200.
From Ashford, NSW, 39 Angus cows 22-24 months averaging 478kg with calves sired by Angus bulls returned $3920.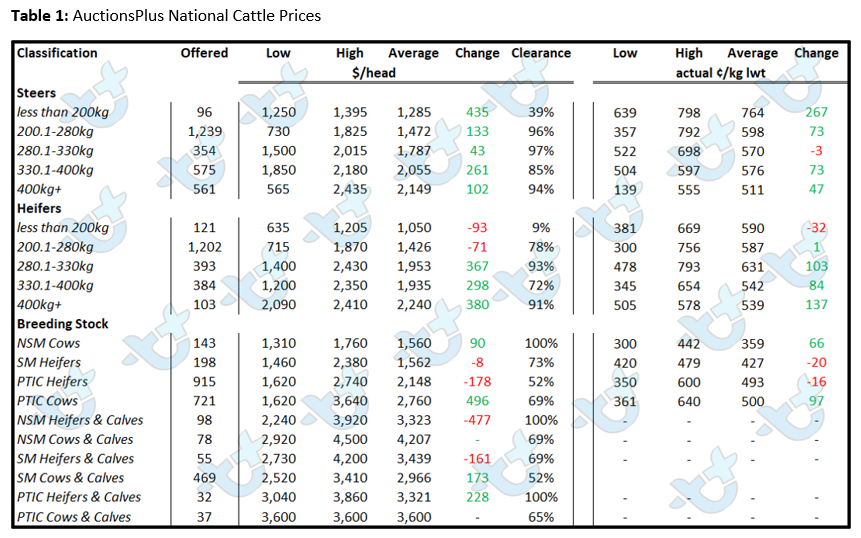 Prices as at 2pm, Friday 5 August.