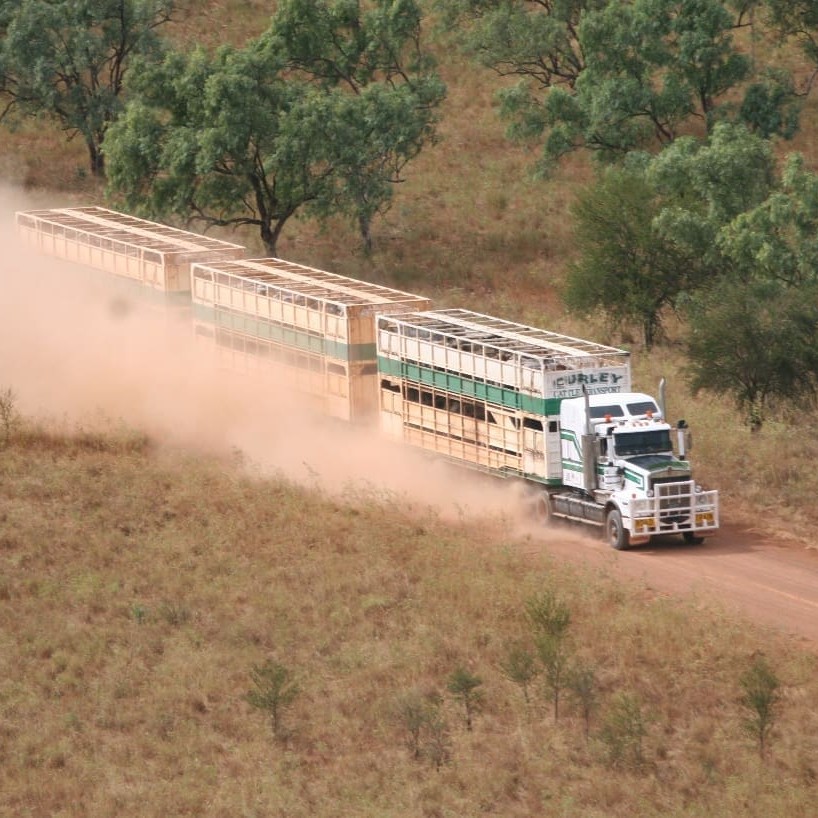 Are current cattle market conditions approaching those of the Beef Slump of 1974-78?
The question is beginning to be asked around industry circles, as producers up and down Eastern Australia jettison stock in record numbers as paddock conditions and water deteriorates.
Central Queensland cattleman Graeme Acton told Beef Central yesterday that circumstances this year were possibly worse.
"While prices in 1974 were catastrophic, at least that year we had an abundance of feed and water," he said.
Mr Acton said the current circumstances had been made worse by drought, the compounding effects of the live export crisis, and the high level of the Australian Dollar.
In comments made to city media yesterday, AA Co chief executive David Farley added the impact made by an absence of any progress on Free Trade Agreements with major trading partners to that list.
But Graeme Acton thinks that unlike 1974, circumstances could turn around rapidly this year, given some sort of seasonal break.
"An Autumn break in southern Australia in coming weeks would generate feed that would begin to take the pressure off the flow of cattle, and create restocker demand," he said.
Another stakeholder making comparisons this week between this year and 1974 has been industry lobbyist, Norman Hunt, a Sydney solicitor who has been closely connected with earlier attempts to generate support for structural reforms across the beef industry.
In comments made yesterday, Mr Hunt builds a case that the current circumstances are in fact worse than the great cattle slump of the 1970s.
"Southern Highlands activist beef producer John Carter describes the current state of the Australian beef industry as the worst he has seen in his fifty-seven years in the industry," he said.
John Carter was a strong activist in the Cattleman's Union, and former chairman of the NSW Meat Industry Authority and the Australian Beef Association, and a well-known cattle breeder from Crookwell in New South Wales.
"John refers to the rising level of cattle producer debt which led to the recent Federal Government Rural Debt Rescue Package, and points out that EU and US cattle prices are at record highs, while Australian cattle producers are now receiving less, in real terms, for their progeny and cast-for-age cattle in 2013 than they received in 1974 or 1976," Mr Hunt said.
John Carter told Mr Hunt that the average price he received for his progeny and cull cows in 1974 was $157, compared to $458 in 1996 and a little under $600 in 2013.
The ABS Consumer Price Index Inflation Calculation had valued the purchasing value of AU $157 in March 1974 at:
$799 in March 1996; and
$1237 in March 2013.
"So in real terms John Carter's 1996 cattle price of $458 per head and his 2013 price of $600 per head were both much worse than the $157 he received in 1974," Mr Hunt said.
"John says that the situation actually got much worse after 1974, and in 1976 he averaged $50 per head for his progeny and cull cows, and $55 in 1977."
Mr Hunt said the comparative prices in real terms for well-finished cattle between 1974 and now also did not take into account the significant increase in average carcase weight for slaughter cattle. These had risen from about 171kg in the 1950s to an average of 259kg in 2011, before easing to 254kg in 2012. That represents a 50pc gain in average carcase weight in the last 60 years.
"Kilogram for kilogram, the crash in well-finished cattle prices in 2013 is far greater than 1974," Mr Hunt said.
He quoted the Weekend Australian from May 4, reporting that stock with 'visible bony ribs' sold for $20 per head on May 1 at the Longreach cattle sale, and that it was the lowest meat price on record, equivalent to just 10c/kg, since the 1974 beef crash. The Australian also reported that a mob of poor quality cattle sold for $48 per head at Deniliquin in Southern NSW the same week.
The cause
"Interestingly MLA figures suggest that the Australian cattle herd reached 28.5 million last year and predicted it would reach 30 million this year and both ABARE and the USDA Gain reports in March 2013 predicted that the Australian cattle herd would reach 29.8m by the middle of this year and plateau at about 30.8m by the end of 2013," Mr Hunt said.
"MLA reported the Australian cattle herd at 29.8m just prior to the 1974 crash, peaking at about 31m in 1976, because producers enjoyed a flush season in 1974 and many were able to hang on to their cattle when prices crashed. Both the USDA and ABARE reports suggested the Australian cattle inventory got to a high of 32.65m head in 1975," he said.
"So the current Australian cattle herd of around 30m is the highest number achieved since just before the 1974 crash."
While the current crash in Australian cattle prices was largely attributable to the current drought affecting both northern and southern regions, exacerbated by the cutback in live cattle exports and the high A$, the impact of the drought had only hit in the last month or two, Mr Hunt said.
Unless there is an early break in the season, cattle prices might yet go lower than John Carter's average price of under $600 as received thus far this year.
Conversely, 1974 was a legendary rainfall year with widespread floods and a massive season Australia-wide, hence many producers were able to hang on to their cattle when the price crash first struck.
In 1976, the then fixed A$ traded at $1.20 to the US$, but in 1996 the floating A$ was worth US$0.77 and today, sits at US$1.03.
"In 1974, the US had 130m head of cattle compared to its current herd of 92m, Mr Hunt said.
"The 1974 cattle price crash was largely the result of America ceasing to import beef from Australia. This year Australia has not yet filled its US beef quota," he said.
Comparisons between 1974 and 2013
"In summary, in 1974 Australia had a record cattle herd of almost 30m, a flush season, an A$ trading at $1.20 to the US$ and we were faced with a record herd of 130m in the US which led to a crash in US cattle prices, and a denial of export access to the US with few alternative export markets.
"In 2013, Australia has a near record cattle herd and is experiencing a widespread devastating drought, but with an A$ which, while high, is still lower in comparison to the US$ than it was in 1974, and has an unfulfilled US beef quota, and there is strong worldwide demand for beef," Mr Hunt said.
"In 1974, the US was in recession and Australia was facing an economic slowdown. In 2013 the US is coming out of recession and Australia has been enjoying economic growth which, while slower than the early part of the century, remains the envy of the world."
Predictions for 2013
In September 2012, MLA said that producers should not be concerned that the cattle herd would build to 30m within two years, Mr Hunt said.
"CEO Scott Hanson said the global demand would prevent prices from crashing as they had in 1974, the last time the herd reached these sort of numbers and cited growth and demand from South East Asia, China, Russia and the Middle East to support his belief that overseas markets would continue to grow to take up the extra Australian cattle numbers."
ABARE predicted a modest 3pc fall in the price of cattle this year.
"With the benefit of hindsight it would seem that the industry organisation predictions were somewhat misplaced," Mr Hunt said.
A solution?
Given that we have a global economy and there are record prices being paid for cattle in US (albeit with a herd at 50-year lows) and EU there appeared to be 'something wrong' with the structure of the Australian beef Industry and government policies, Mr Hunt suggested.
"Certainly cattle producers don't appear to have gained a lot from the $1 billion plus payments that they have made to MLA since its inception in 1998," he said.
"Perhaps the time has come for a rethink of the beef industry organisational structures and government policies needed to drive the cattle industry forward over the next decade."