RAPIDLY exploding growth rates, higher than normal pricing and a pent-up, un-spent demand from southern restockers with empty paddocks full of grass is expected to place a cap on northern interstate buying success in next month's southern beef weaner sales.
With 80,000 head of well-grown, well-bred autumn-drop calves on offered in a dozen sets of saleyards in the first weeks of 2022, scene looks set for strong and captivity result regardless of whether the cattle are trucked north or indeed they stay at home.
Beef Central has spoken to several agents across the selling districts, and this is what they had to say:
Elders Victoria/Riverina livestock manager, Matt Tinkler said the industry is operating in a different landscape to 15 years ago when northern NSW and southern Qld were drenched with summer rains just prior to Christmas.
Much of the north, in the big cattle districts like Gunnedah, are still dealing with flood waters, which he thinks may limit the big influx of "road-trippers" swooping on  southern sales to mop up surplus numbers as we saw some years ago.
Back then, the market was also more evenly balanced, he said – the cattle were lighter, and weaners were making just $500 to $700 a head.
In today's money and market, weaners will be much heavier, they are much dearer  -selling upwards of $2000 – and more probably in the $2200 to $2600 per head range.
Therefore, the old saying that cattle are a 'rich man's hobby' is probably more apt in today terms than ever before, Mr Tinkler said.
And from what we currently seeing in the December lead-up market, the big corporate NSW operations have been taking a position to fill their various supply chain networks.
However, pastoralists on the other hand would like to be active, but whether they can meet rate in big numbers is questionable, he said.
"We do hear of big prices in terms of cents per kilogram being paid for young weaners in central and southern Qld," Mr Tinkler said. "But most of those sales are for sub-200kg cattle which in dollar terms, relates $1500-$1800 a head."
That's a far cry from where prices in our southern markets currently sit, he said.
And with most of the southern sales fetching $2200 to $2600 for 300 to 380kg, where a large percentage of turn-off will present, such an outlay for many may be prohibitive.
Nutrien, livestock development manager, Adam Mountjoy
What we have seen so far in our opening sales of Autumn-drop calves has been nothing short of 'outstanding', Mr Mountjoy said.
From a Nutrien perspective he said the company has in recent weeks conducted annual feature sales at Naracoorte, SA and Euroa, Yea and Leongatha in Victoria.
What he has observed foremost is the obvious uptick in weaned weights.
Weights have been higher than we've seen in many years, he said, with the calves sold at Euroa and Yea as much as 50 to 70kg heavier year-on-year.
However, the most rewarding aspect from a producing aspect he said has been the rise in cents/kilogram selling rate which is north of $2/kg and higher, resulting in a $700/head increase year-on-year.
As an example, Mr Mountjoy sited the first of Naracoorte steer calves with an average weight of 354kg, the Euroa steers, a little lighter at 320kg averaging $7.20/kg ($2300+) and the Yea mixed sex sale 315kg averaging $7.05/kg.
"Consequently, the demand has thus far been extraordinary, and predominantly from the southern areas and heading into central NSW," Mr Mountjoy said.
"But further north into northern NSW and southern Qld we're hearing there is some resistance at these extended levels.
"However, it will be interesting to see where the lion's share of the young weaners goes as Gippsland and many other southern finishing areas have only just emerged from an extended and wet spring, with some inundation, that has delayed both the selling of finished prime cattle and follow-on replenishment of paddocks.
"These guys we expect will be seriously eager to put a floor in the market as opposed to the many transports heading north and long miles into the likes of Qld. Of course, we'll welcome their presence and competition on the outstanding they know where the market in the south currently sits.
"Success in buying we expect will boil down to kilograms of cattle on trucks and with the exceptional weights we've seen at these earlier November-December sales and with the cattle are only getting heavier by the day resistance could also come in the weights of the cattle on offer and the distances they can economically travel the long distances north".
Mr Mountjoy said that because of the travel factor we may in fact see any far-northern destined cattle, females included, find a paddock of grass half-way home as some operators elect to take a cheque from agistment rather than a punt of the market.
Corcoran Parker principal Kevin Corcoran, Wodonga, said the upper northeast region of sales, at NVLX and Wangaratta, would see some 17,000 to 20,00 weaners offered over three days from Wednesday January 5th to Friday January 7th.
His said that following a one in 20-year extended spring across the northeast region, expected steer weaning weights could be up as much 10 percent on previous years with a lot nearing 380 to 400kg.
Offsetting this, he said there could be a lesser number of heifers sold as more opt to be retained for breeding purposes.
On the buying side Mr Corcoran said despite the extremely wet conditions throughout NSW and beyond northern cattle producers were desperate for cattle.
He said he expected significant buying activity to descend from the north especially via the larger corporation operations, and to lesser extent from smaller operators.
In assessing change-over value, Mr Corcoran said good profits have been taken from weaners purchased last year at around the $1700 mark that have been sold as feeders at $2600 to $2800, and bullocks averaging $3200 to $3400.
"I'm not saying the same margins can be made going forward but the past two years have returned similar results and with the market for high-end beef continuing to strengthen on the back of a national kill that is back at 50 pc levels, so it appears promising," Mr Corcoran said.
"Even if the kill were to increase to 75pc previous levels over the next 12 months then I still think there will be a bit in it for everyone with the pasture and grains we have in the country" he said.
Unlike other areas of the state Hamilton agent, Hugh Douglass LMB Livestock says most of the southwest weaners will not be heavier than in recent years.
It was a cool and dull spring in the southwest and the pastures did not grow and begin to mature until the last month, Mr Douglass said.
"This has meant the early development and the growth rates of most calves was checked but they are finishing with a rush".
On that basis Mr Douglass said that local agents expect a similar result to other years whereby the steer yardings have averaged about the 350kg, topping at a tick over 400 kilograms.
"Ninety percent of our calves it be weaned. That process is being undertaken at the present and there be a good number with EU-accreditation".
"Whether that is a benefit like other years is will be determined".
Mr Douglass said that interstate buying has been quite strong in recent southwest store markets, and most of that buying has been undertaken by commission-buyer held orders, through the likes of Duncan Brown, Peter Toohey and others.
On prices, Mr Douglass said that in recent sales at Mortlake and Hamilton the heaviest steer weaners have sold in the mid-$6/kg range, working up to high-$7/kg for the lighter end.
"I can't see that changing much, and we'd expect with the demand that is mounting for heifers to breed that the well-bred lines of both the Angus and Hereford will be chased hard and sell equally to the top-end steer rates which has also been the case in recent sales".
Mr Douglas said that at this point there had been no requests for holding- grass (agistment paddocks) from interstate operators.
"Normally we would some enquiry especially if it is dry in the north but with the season they're having, I don't expect there will be the call for it in this area.
"It's fair to say our producers and agents are all very excited and looking forward to the January sales because we've never seen this level of pricing before, and its likely we might not again".
2022 SOUTHERN WEANER SALE DATES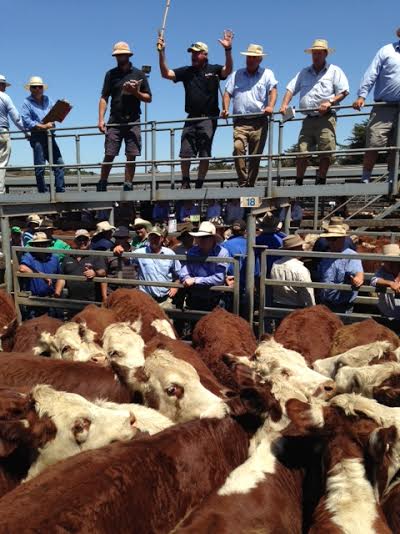 NORTH EAST
Wed AM Jan 5: NVLX Wodonga– Angus mixed sex weaners
Wed PM Jan 5: Wangaratta– All breeds mixed sex weaners
Thurs Jan 6: NVLX Wodonga – Grown steers & feature weaners
Thurs Jan 6: WVLX Mortlake Feature female sale
Thurs Jan 6: Naracoorte weaner steers
Fri Jan 8: NVLX Wodonga – Hereford & Euro mixed sex weaners
Fri Jan 8AM: Naracoorte weaners heifers
Fri Jan 8PM: Mt Gambier store sale
SOUTH WEST
Wed, Jan 5: Colac – Birregurra m/s weaners
Mon, Jan 10: Hamilton – Ind Agents Angus steers
Tues, Jan 11 AM: Casterton Angus steers
Tues, Jan 11 PM: Hamilton – Elders/Nutrien All breed steers
Wed, Jan 12 AM: Casterton – Hereford steer weaners
Wed, Jan 12 PM: Hamilton – Ind Agents Hereford steers & Euro m/s weaners
Thurs, Jan 13 AM: Casterton – All breeds heifers
Thurs, Jan 13 PM: Hamilton – Ind Agents All breeds heifers
Fri, Jan 14: WVLX Mortlake – All breeds m/s weaners
CENTRAL
Tues, Jan 11: Yea – Nutrien All breeds m/s weaners
Wed, Jan 12: Kyneton – All breeds m/s weaners
Thurs, Jan 13: VLE Pakenham – All breeds weaners
Fri, Jan 14: Yea – Elders All breeds m/s weaners