HEIFER category prices rose, while most steers trended down in AuctionsPlus sales this week, which saw 7495 head offered across all commercial sales.
The majority of listings this week fell into the weaner and yearling categories with 4000 head listed.
Joined females were in supply and up in price on last week, with 1600 head offered.
Clearance was limited for PTIC cows, which averaged $1171 for the week, selling to $1480 for the best of three lines of PTIC Angus heifers, aged 25-27 months from Glenfiddich, Highlands, VIC.
Silver Bunyip, Bungendore, NSW, offered three lines of PTIC Angus cows, aged 24-36 months, selling to a top of $1425. A line of 90 station-mated Santa Gertrudis x Droughtmaster cows aged 4-7 years, 397kg offered account WM & KL Burton, Barcaldine, QLD returned $685.
Cow and calf units were in tight supply, with only six lots offered. The top price of $1460 went to a line of Angus cows and calves from Piallaway, NSW which will be heading to Euroa, VIC. These mixed age cows averaged 624kg with Angus calves at foot.
Clearance rates were also limited for a large listing of weaners this week.
Warroo Station, Inglewood, QLD, offered 159 weaned Red Angus heifer weaners which sold to 272c/kg or $400. Aged 3-8 months and averaging 147kg, they will travel 1500km to Alvie, VIC.
From Cootamundra, NSW, DH Hill & Co sold 40 Poll Hereford steers 8-9 months, averaging 271kg to return 277c, purchased by a buyer 900km away at Avenue Range, SA.
Among specialty lines in the weekly sale, a large offering of 1128 Wagyu x Angus F1 weaners and backgrounders, in ten lots out of Mudgee NSW, failed to attract any bids.
The AuctionsPlus Wagyu sale offered 234 head. With sales including 11 cows, aged 3-4 years and PTIC to Wagyu bulls from Sheffield, TAS sold for $1500.
In a breakdown of young cattle sold this week, by weight range:
Steers less than 250kg sold from 359c to 199c to average 264c/kg; while heifers sold from 331-210c to average 239c
Steers 250-300kg sold from 314-207c to average 278c; while heifers sold from 267-180c to average 248c
Steers 300-350kg sold from 286-238c to average 266c; while heifers sold from 281-270c to average 275c
Steer Highlights
Angus steers 8-9 months, 154kg, from BATHURST, NSW sold for 360c/$555
Angus steers 9-10 months, 278kg, from GOONDIWINDI, QLD sold for 273c/$760
Angus steers 8-10 months, 271kg, from WILLAURA, VIC sold for 315c/$850
Angus steers 16-19 months, 397kg, from KELLEVIE, TAS sold for 300c/$1190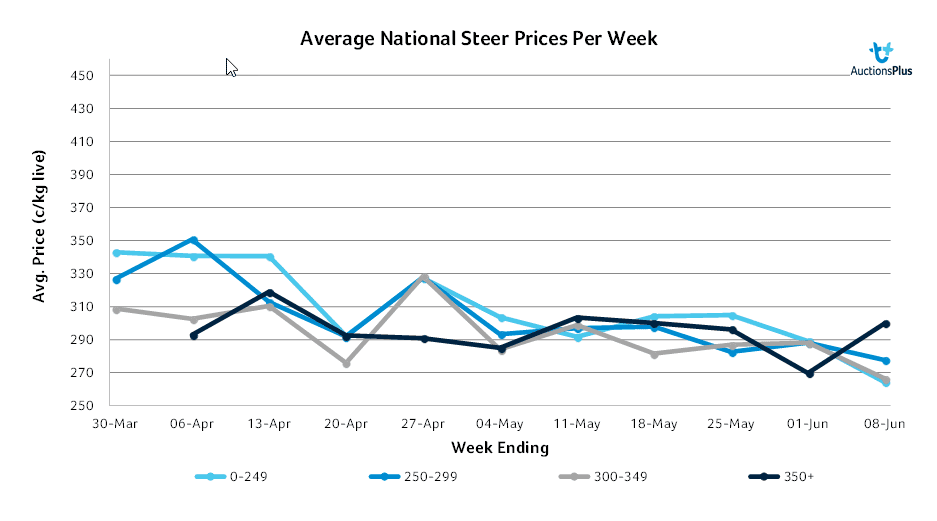 Heifer Highlights
Angus heifers 8-9 months, 169kg, from BATHURST, NSW sold for 332c/$560
Droughtmaster heifers 5-10 months, 221kg, from PRAIRIE, QLD sold for 218c/$480
Red Angus heifers 3-8 months, 147kg, from INGLEWOOD, QLD sold for 272c/$400
Murray Grey heifers 10-11 months, 306kg, from MELROSE, TAS sold for 281c/$860.