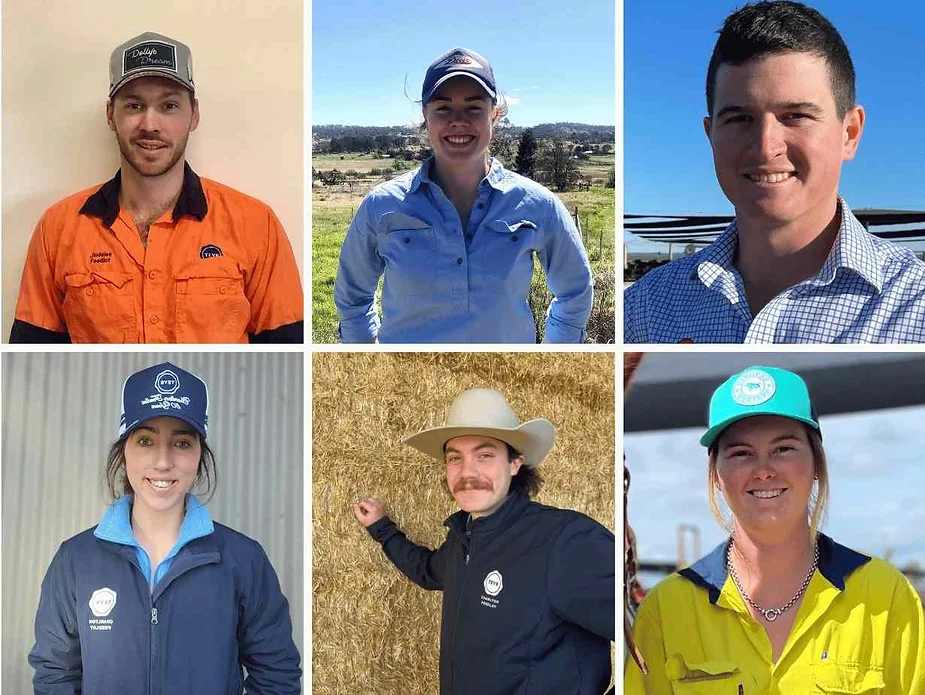 SIX talented young feedlot industry personnel have been announced a finalists for the 2023 Young Lotfeeder of the Year title, to be announced during the Australian Lot Feeders Association's BeefWorks conference in October.
The award, sponsored by Performance Feeds, recognises and rewards those who exemplify passion, leadership, and a visionary outlook towards the future of lot feeding. Following an extensive first round of evaluation by the independent judging panel, six entrants from grain feeding businesses in New South Wales, Victoria and Queensland have been selected as national finalists, Each bring a diverse range of expertise and dedication to the sector.
This year's finalists are:
Timothy Brennan, (top row, right) NH Foods – Whyalla Beef Queensland
Jacob Leak, (top left) Teys Australia – Jindalee NSW
James Keatley, (lower row, centre) Teys Australia – Charlton VIC
Maddison Fryer, (upper row, centre) Rangers Valley – Rangers Valley NSW
Tahlijia Sheahan, (bottom left) Teys Australia – Charlton VIC
Temeka Woosley, (bottom right) Bindaree Food Group – Myola NSW
The ALFA Young Lot Feeder of the Year Award serves as a platform to empower emerging industry leaders to contribute their innovative ideas and progressive vision to shape the future of lot feeding on a national scale.
The award was first presented in 1994, and has been made most years since then, excluding the COVID period. Many of the Young Lotfeeder award winners cohort have gone on to represent the industry at high levels, including sitting in the ALFA Council.
The award's core objective is to encourage participants to foster the qualities that allow them to be bold, embrace their creativity and think outside the box. By doing so, ALFA seeks to motivate participants to explore the potential of the lotfeeding industry and contribute to its ongoing growth and success.
ALFA president Barb Madden said it was always an exciting time of year for ALFA to showcase the inspiring young talent in the industry.
"With each passing year, the level of talent attracted to this award is incredible to witness. It's a testament to the progress we're making in attracting, nurturing, and empowering exceptional individuals," she said.
This Award is a part of ALFA's greater Recognition of Excellence Program, delivered on behalf of industry as one of several ways the lotfeeding sector endeavours to recognise and celebrate individuals and businesses that strive for excellence.
Finalists now progress to a second judging round, including a face-to-face interview with an independent judging panel in August. The outcome of this round will determine the individuals who will progress as one of three distinguished grand finalists.
The winner receives a $5000 study bursary, which can be used towards undertaking a professional development course or an overseas study trip, and a prestigious grainfed beef industry scholarship to partake in the Australian Rural Leadership Foundation's renowned TRAIL: for emerging leaders program, valued at $11,550.
The winner will be announced during SmartBeef23 event, held at the Tamworth Regional Entertainment & Conference Centre on 11 October.