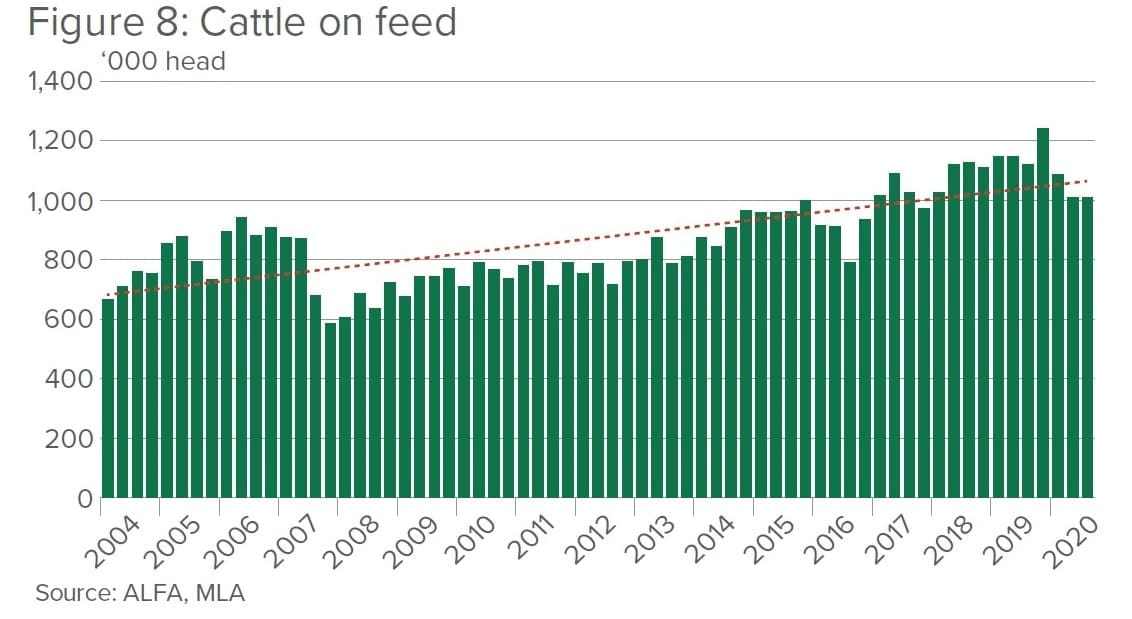 DESPITE the return of green paddocks across eastern Australia, numbers of cattle in feedlot programs is expected to continue to grow this year, and grainfed cattle will account for a growing portion of national herd and slaughter numbers, MLA's 2021 Projections released this morning suggests
During 2020, around 5pc of adult cattle in the Australian herd were in feedlots at any time, and grainfed cattle accounted for an estimated 37pc of all cattle slaughtered in Australia.
Over the last 20 years, the number of cattle on feed has trended upwards, as can be seen in this graph. Cattle within the feedlot sector reached record levels in 2019, at 1.24 million head, as the drought and lack of pasture saw more animals move into the grainfed production system for finishing.
In 2020, cattle on feed remained above 1 million head, but were down 10pc on the 2019 highs, MLA's 2021 Projections said.
While the total number of cattle on feed was slightly down in 2020, national feedlot capacity increased. In the September 2020 quarter, capacity reached 1.4 million head, demonstrating long-term confidence in the industry.
The high price for feeder cattle is putting pressure on lotfeeder margins, MLA's Projections said, even with the stronger prices for finished cattle.
Feeder steer prices closed 2020 at 439¢/kg. Low grain prices are somewhat offsetting the increase in feeder cattle prices, though not entirely.
In 2020, Australia recorded its second biggest grain harvest on record, resulting in an abundance of cheap feedgrain, reducing input costs for lot feeders. It also provides assurance that if 2021 seasonal conditions deteriorate, there will be surplus grain available for producers to supplement feed their cattle.
A structural change is occurring in the feedlot sector, MLA's Projections said, with the average time cattle spend on feed increasing. Longfed Wagyu cattle are making up an increasing proportion of cattle on feed, a trend expected to continue, particularly if grain prices remain low.
Carcase weights continue to advance
The further expansion of grainfeeding is also having an impact on average carcase weights, MLA's Projections indicated.
In 2021, national adult carcase weights are forecast to lift 3.2% (9kg) on 2020 levels, to average 301.3kg/head. The lift will largely be driven by an increase in the male portion of slaughter, coinciding with a fall in the number of females turned-off during the year. Greater pasture availability, higher grain and hay supplies, lower grain costs and strong finished cattle prices will incentivise producers to feed for longer and to heavier weights.
US fed steers are recording carcase weights of around 375kg, indicating there is significant opportunity for Australian carcase weights, especially of steers, to grow.
This is provided processors can accommodate bigger carcases and assuming no large discounts in the ¢/kg price for heavy cattle. A further movement towards feedlot production systems in Australia would help facilitate increased carcase weights, the 2021 Projections report says.