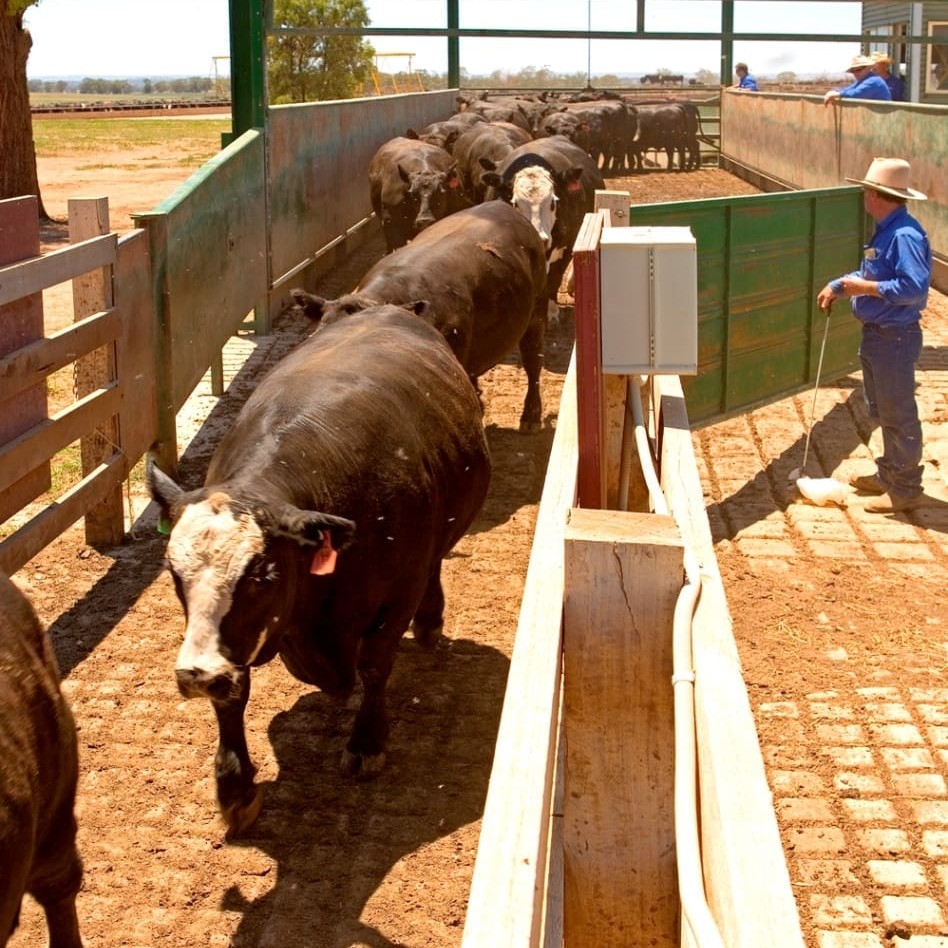 THERE have been some big shifts in variables since Beef Central's last 100-day grainfed trading budget calculated back on December 12 – mostly influenced by the ongoing drought conditions afflicting large parts of eastern Australia.
Principal among those have been a slide in feeder steer cattle price; a rise in ration costs caused by grain price jumps, and higher finished cattle prices.
Our latest trading budget calculated yesterday has produced a trading result of minus $6 on our typical flatback steer going on feed yesterday, and closing-out on April 26.
That's a considerable improvement on a loss of $46 recorded in our last breakeven back in mid-December, influenced mostly by cheaper feeder steer price.
Today's trading budget calculation is based on our standard set of variables (see full list at base of page), benchmarked on a typical flatback 450kg feeder steer going on feed on the Darling Downs yesterday, and exiting the feedlot after 105 days.
We've priced our flatback feeder steer ex Darling Downs, bought yesterday, at 175c/kg, back 10c/kg on last time, but there is some variability in the market presently reflecting the ongoing desperately dry conditions.
As recently as Monday last week, Beef Central heard of comparable sales around 190-195c/kg, following some tightness in supply over the Christmas/New Year break, but that has now been washed away by more recent buyer sentiment.
Large numbers of cattle being offered through saleyards since 2014 selling recommenced has also contributed to the softening trend, as has the higher rates of custom-feeding, which is softening demand from lotfeeders themselves for outright steer purchase.
Pricing our feeder steer for today's trading budget at 175c/kg values him at $787, $45 lower than mid-December, and $68 cheaper than the market back in late November, when tightness of supply was evident.
It's still a long way better than a record-low 150c/kg liveweight in our budget back in in early June last year, when the steer was worth only $675 due to drought supply pressures.
Indicus cattle heading onto boats
Readers will remember that trading budget discussions on Beef Central towards the back end of last year included comparisons between our standard 'flatback' steer, and higher Indicus feeder steers available at cheaper prices due to the drought impact. In some cases, those higher content steers, given their 20-25c/kg cheaper price, stacked up a lot better as a trading budget proposition.
But what's happening now is that those cheaper Indicus steers are no longer in the market, in the numbers they were earlier. The reason? They're now heading north, being loaded onto live export boats heading into southeast Asia.
Steers like that are currently making 190-195c/kg liveweight ex Charters Towers and Clermont, whereas those same cattle earlier might have been worth 165c/kg as feeders, in southeast Qld. The typical 20c/kg freight component made them worth 145c/kg on northern property of origin, representing a 40-45c/kg turnaround in the value of those steers in a couple of months, since the live export option started to re-activate.
Ration price lists to $355/t
Ration price allocated to yesterday's grainfed budget has risen $15, to $355/t – again reflecting drought impact on grain supply. Reputable Downs feedlots currently are offering finished ration at anywhere from $345/t to $375/t.
Barley has gone from the low $290s back in the beginning of December to a $320 proposition today, with wheat showing a similar 10pc rise in value.
The current finished ration price of $355/t is a record for the two and a half years that Beef Central has been reporting this data-set, and appears to be the highest seen since around 2008, when global grain prices sky-rocketed.
Another contributing factor is the high level of occupancy for this time of year in many eastern states driven by drought placements – which itself has put greater price pressure on grain supply. Sourcing southern grain may start to come into the equation, at current prices.
The current ration cost represents a total feeding cost over a 105-day program of $556, another $24 above mid-December rates. This, combined with the current feeder price, gives a total production cost of $1435, $23 less than last time, driven primarily by lower feeder cost more than offsetting the higher feeding cost.
Cost of gain, using our chosen variables (2kg/day ADG, for 210kg gain over 105 days) sits at 265c/kg, 11c/kg higher than last time. In simple terms, it means that every kilo of liveweight gained in the feedlot is costing at least 50 percent more than the 'kilos you buy,' at feeder steer purchase.
This time last year, COG was around 205c/kg on a $275/t ration, representing a 29pc rise in COG in the past 12 months. Feeder steers back then were coming down in price, worth 185-190c.
Breakeven remains historically high
The combination of the above inputs delivers a breakeven figure in today's budget of 407c/kg – back 6c/kg on our last calculation a fortnight ago, due to the softer feeder steer purchase cost.
The breakeven figure still remains close to historic highs, though. The only time it has come close to recent figures was in early 2012, when it got to 412c during a period when feeders went to 215c/kg, and a brief slot during winter last year when the number touched 400c.
Forward pricing moves up 5c, but under pressure
Based on Southeast Queensland processor quotes yesterday, the forward price for 100 day flatbacks going on feed yesterday and closing-out late April is at 405c/kg. That's 5c/kg higher than our December 12 trading budget, but there is currently some processor pressure evident on those rates.
With recent currency movements, it appears that there are still some very substantial margins on grainfed heavy cattle in processors' favour.
The last time we saw +400c for 100-day ox was this week back in 2011 and briefly during the first week of 2012.
As mentioned in our intro, based on the current forward price for delivery in late April, and today's breakeven at 407c/kg, our trading budget represents a $6.60 loss on a 100-day feeding program starting yesterday.
That's the best result seen since a short period of trading budget profits in August, and again in May last year, when feeder steer price slumped to 150c/kg.
So where do feeder steer prices go in coming months? Cattle prices in NSW appear to be under pressure, as they have for much of the past year, but if they get an early autumn break, that could change things drastically. In the north, as mentioned above, live export money is setting a strong floor in the market for feeders.
Looking at finished grainfed cattle forward-bought by processors back in October at prices around 380c/kg, the spot market for those cattle today at 395c means processors would be around $53 a head better off on forward-bought cattle, compared to today's spot rates.
Beef Central's regular 100-day grainfed breakeven scenario is based on a representative standard set of production variables, ex Darling Downs. They include a 450kg liveweight feeder steer fed 105 days; 356kg dressed weight at slaughter; ADG of 2kg; consumption 15kg/day and a NFE ratio of 7.5:1 (as fed); $25 freight; typical implant program. Bank interest is included. It is important to note that variations exist across production models (feed conversion, daily gain, mortality, morbidity, carcase specification); from feedlot to feedlot; and between mobs of cattle. For a more specific performance forecast on a given mob of cattle, consult with your preferred custom feeder.