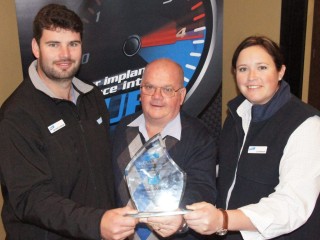 The Australian grainfed beef industry saluted its high achievers in a series of awards presented during last week's Beefworks conference in Toowoomba.
Most notable of these was the acknowledge-ment of feedlot liquid supplement industry pioneer Bill James, who received the Elanco Outstanding Services to the Feedlot Sector award.
Bill joins previous winners, Robin Hart, Malcolm Foster and Kev Roberts as recipients of the award, presented every two years. What sets him apart from the previous winners, however, is the fact that he is not a practising lotfeeder, or member of the ALFA council.
However he was acknowledged for his enduring and deep support for the lotfeeding sector and the ALFA organisation in particular.
"I've always considered our business, Performance Feeds, to be just as involved in the lotfeeding industry as the lotfeeders themselves," he said after the presentation.
"If the feedlots are doing well, so are we; and if they're not doing so well, neither are we. We ride the peaks and troughs of the industry's fortunes along with the feeders themselves," he said.
Bill was headhunted from an earlier role working for a prominent Toowoomba-based stockfeed manufacturer to help establish a new liquid feeds business in 1993, around the time the Australian feedlot industry started gaining some momentum.
"Previously, feedlots were using pellets or powders containing micro-nutrients, but it was the introduction of suspension liquid feeds, which we pioneered in this country, that really changed the feeding systems in feedlots," he said.
"The first three or four years were reasonably tough getting the acceptance by the feedlot industry of suspension feeds, but before long they saw the advantages over pellets and powdered forms of micronutrients and trace minerals. The beauty of suspension liquids was not only in palatability, but once mixed, they stayed mixed, and would not separate as the earlier dry forms did."
When appointed as founding general manager of Performance Feeds at Kingsthorpe, Bill's clients extended no more than 400km from the Darling Downs plant.
"But within three years I had feedlots as far away as Victoria and South Australia using liquids," he said. "For quite a period I covered feedlots from north of Rockhampton to Adelaide."
During that time, Bill supported the feedlot industry and what it stood for in many ways. He was often asked by ALFA to provide guidance in areas like nutrition and biosecurity risk in feedstuffs.
Under his leadership, Performance Feeds went on to establish two additional manufacturing facilities – one at Brandon in North Queensland and a second at Kyneton in Victoria.
Now 69, Bill continues to work two or three days a week and he remains a director of the Performance Feeds business in Australia.
Pfizer medal to Goonoo livestock manager
Also presented during the Beefworks industry gathering was the 2011 Pfizer medal, an award presented each year to feedlot staff demonstrating excellence in operation skills.
Candidates are selected from among participants in the ALFA-endorsed training programs conducted through New England TAFE, including pen riders, feeding and milling and maintenance staff.
Pfizer Intensive business unit director Fred Schwenke said the Pfizer medal was all about motivating young people in the feedlot industry to take the effort to upskill, and to seek a long-term career path in the industry.
"One of the difficulties faced in our industry is in retaining good young people," he said.
The four criteria on which the award is based are general knowledge about the Australian feedlot industry, knowledge and skills in the specific area in which the candidate works, the level of commitment to the industry, and evidence that the person has the potential to have a positive impact on the industry, going forward.
This year's winner was 25-year-old Jeff Schuller, from the Australian Agricultural Company's Goonoo feedlot in Central Queensland.
Jeff grew up in a feedlot environment, as his father Dallas has for many years managed the Ashleigh Park Wagyu-focussed feedlot near Culcairn in southern NSW.
"After finishing school I worked for Colonial Agriculture at Goondiwindi for a while, in a cropping and cattle role, with a little lotfeeding thrown in," he said.
He then started work with AA Co in 2007 at nearby Meteor Downs, before transferring to the company's Goonoo feedlot in 2009. After two years in the livestock team, Jeff was recently promoted to livestock manager.
He completed the industry pen riders' course last year.
"I found the course extremely helpful, and very relevant to the job," he said. "In my case, having had previous experience in lotfeeding, it was more about reinforcement of prior on-the-job learning, but I still found it extremely useful in confirming why things are done the way they are in a commercial feedlot environment."
"The content was pitched just right for the task of pen riding, with lots of useful information on animal health and related areas, as well as some extension into other areas like milling."
More than 20 young industry members completed the various TAFE feedlot courses last year, with another group going through the course now.
Other finalists for the 2011 Pfizer Medal included Jeremy Sloss, from Grassdale feedlot near Dalby, and Sarah Fawcett from Kerwee feedlot, near Jondaryan.
Also announced during the Toowoomba program was the 2011 Young Lotfeeder of the Year, Nicholas Chambers from JBS Australia's Riverina Beef feedlot, near Yanco in southern NSW.