THE stock water access situation for eastern states feedlots continues to deteriorate, with one large commercial yard this week proposing to charge custom-feeding clients for carted water from early next year.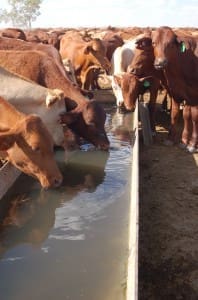 A large commercial yard on Queensland's southern Darling Downs contacted livestock clients this week saying that due to current desperately dry conditions, it would have to start carting water via truck in the near future.
The company advised clients that it would implement a water charge when trucking commenced, which it estimated at this stage at January or February. The fee would be over and above normal lotfeeding fees.
The company provided a cost estimate of $1 per head, per day, meaning a beast entering a typical 100-day grainfed program could accumulate an additional $100 in costs over the duration of the feeding program.
This is the first such water charge in the history of the Australian lotfeeding industry, a veteran grainfed industry stakeholder suggested, underlying just how desperate circumstances had become in some feeding regions this year.
The feedlot involved told Beef Central it did not want to discuss the matter in detail at this stage, but was running a series of 'best and worst case scenarios' for the early stages of 2020, in the absence of rain relief. It would not offer information on how far it proposed to cart water to supply stock.
What remains to be seen is whether customers accept the charges, or try to take their business elsewhere.
A fortnight ago Beef Central reported that a number of commercial yards had reduced numbers on feed – in some cases dramatically – or closed their doors altogether in the face of stock water shortages. Click here to view earlier story.
Qld Govt explores new pipeline for parched communities
On Tuesday, the Queensland state government announced that it would investigate a new water supply pipeline for desperately parched Warwick and surrounding communities in the state's southeast.
Premier Annastacia Palaszczuk said a potential pipeline to deliver Wivenhoe Dam water to Warwick would be among options considered as part of a $1 million feasibility study into contingency water supply options, to be completed in consultation with local councils.
"My government is getting out into the communities hit hard by the devastating drought and offering concrete assistance through our $195 million Drought Assistance Package which delivers rebates for what our farmers require – water, power and fodder management," the Premier said.
"With more than 15,000 residents and businesses depending on Warwick's local water supply, carting water is not a practical option.  That's why my government will work with the Southern Downs Regional Council to explore viable solutions for the communities dependent on the Warwick supply," she said.
Warwick's local Leslie Dam is down to less than 6 percent capacity and it is estimated that the city of Warwick has a maximum of 14 months of supply based on the current predictions of below average rainfall.
A pipeline from Brisbane's major Wivenhoe Dam to Cressbrook dam already exists to augment Toowoomba's water supply in times of drought, and it made sense to now explore whether it was feasible to extend the supply network to Warwick, the Premier said.
"The impacts of drought are far reaching. It impacts employment across agriculture, retail, service and tourism industries and drives people away from rural communities," she said.