THIS year's sharp rise in feeder cattle prices is so far limiting any prospect of showing a positive trade in Beef Central's regular 100-day grainfed trading budget.
Our latest breakeven calculated on Thursday showed a negative $44 result on our typical flatback feeder steer going on feed that day, and closing-out after a 105 day program in mid-June.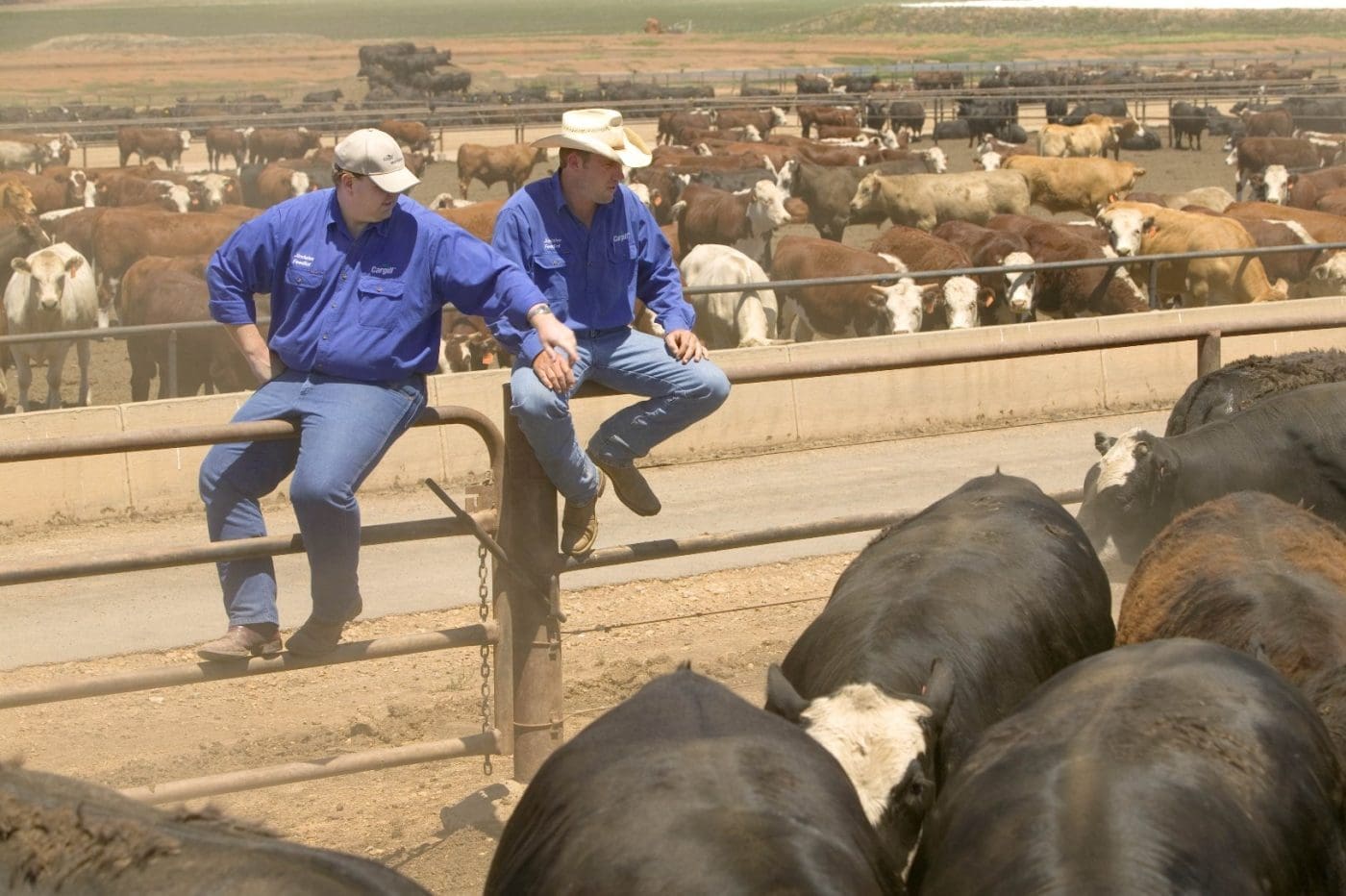 That's a moderate $9 improvement on our previous breakeven conducted back on January 13.
As illustrated in our previous budget, however, cost of production for grainfed export steers has grown substantially over the past year.
While finished slaughter cattle offer prices have moved in sympathy with that trend, feedlot operators and their custom-feeding clients will be hoping for more this year to make the effort worthwhile.
Our previous mid-January breakeven suggested that using our chosen set of variables (see full list at base of page), cost of production over the past 12 months has risen from around $1250 to a (then) record $1746 a head. Our COP calculation is based on the two big inputs – feeder steer purchase price and ration price – as well as freight, interest, contingency, levy and induction costs. See base of this article for a full description.
While there was some evidence of feedlots reducing numbers at the time of our previous budget seven weeks ago, the earlier encouraging rain influence in January has not persisted, and there is now a lot of country in Western, Central and Northern Queensland badly in need of rain. 'Patchy' is now perhaps the best descriptor to describe the 2014-15 summer rainfall season.
That has in turn pushed cattle from drier areas back into Queensland feedlots in greater numbers, stakeholders are telling Beef Central.
Many substantial feedlots are currently maintaining relatively high placements. There's perhaps a trend towards less custom-feeding, and more bought cattle on feed, based on those recent discussions.
While cattle prices have generally come off the boil over the past three weeks, with the EYCI dropping 20.50¢ after climbing to a high of 451.25¢/kg in early February, feeder prices have performed relatively well, underpinned by strong fundamentals in the grainfed feedlot sector.
Feedlots have been encouraged by the strong returns out the other end, with fed cattle, while easing in recent weeks, still sitting close to record nominal highs. In Queensland, 100-day grain-fed steers are currently averaging 456¢/kg deadweight (NLRS's most recent OTH report) after peaking three weeks ago at 475¢/kg. Fed cattle prices have been supported by a falling A$ this year, declining against the US$, the Yen, and other important beef trade currencies.
Feeders ease to 260c/kg
Despite the recent feedlot inflows described above, those demand influences have served to support feeder prices.
For Thursday's budget, we've allocated a feeder price (flatback steer 450kg) of 260c/kg.
That's backed-off from a peak around 275c seen in the market around mid-February, when the earlier rain influence was still front-of-mind. But it's still a full 25c/kg better than back in our previous mid-January breakeven, when the figure was 235c.
This week's feeder price values the steer at $1170 at induction – easily a record for this series, since our trading budgets started back in mid-2011. To put it into some context, that's up 55c/kg (worth $247 a head) from our early December budget.
It's only the third time in history that our feeder price has made 'four digits.' The low-point in feeder steer price in this report series came in the depths of the drought in May last year when it reached 150c/kg briefly ($675), meaning the purchase price has risen $495 a head since. That's one of the big reasons for the big rise in COP described in our intro.
What's perhaps a little surprising is how strong feeder demand remains, despite the price rises discussed above. It's worth remembering that feedlots have had a good 2014 trading period, to say the least, and want to keep occupancies high. There's still that bullish mood in the market and consequently yards have been willing to step into the feeder market at current higher levels.
Ration price eases to $360/t
For this week's budget we've priced our typical Downs feedlot mixed ration at $365/t, down $10/t since our previous mid-January report.
That's due to broader grain price trends, as well as continued solid feedlot demand for grain, as some yards again return to higher occupancy.
Feedgrain prices are also below year-ago levels, with feed wheat (Sydney delivered) averaging $299/t during February, back 5pc year-on-year, and feed barley $283/t, back 7pc.
Finished ration is now back $20/t on its drought-fuelled high recorded during the second half last year, but full pens means there is still not a lot of competitive pressure on custom feedlots in terms of margin on their ration price offer to customers.
At this week's designated ration price, it represents a total feeding cost over a typical 105-day program of $572, back $15 on last time. Cost of gain, using our chosen variables (2kg/day ADG, for 210kg gain over 105 days) now sits at 272c/kg.
All that delivers a total production cost (steer purchase plus custom feeding price, freight, interest, contingency, levy and induction costs) of a breathtaking record $1853 a head, up another $107 on last time. To put that figure into context, it's considerably more than what this correspondent spent on his first car.
The above inputs deliver a breakeven in our latest budget of 522c/kg, a 27c/kg increase on mid-January's figure. Again, that's easily a record high for Beef Central's regular report.
Forward pricing for GF ox hits 510c/kg
Based on our inquiries among SEQ grainfed beef processors, we've logged our forward pricing on 100-day ox for slaughter June, week-two, at 510c/kg, with reports at levels above that.
That's an impressive 25c/kg rise since our mid-January report, but keep in mind, that the A$ has dropped at least US3c in value since then.
In the period since our previous report, however, the forward GF market has drifted into the 520s, but it's shown an easing trend since then, in line with grassfed slaughter trends. This time a year ago, the forward price for June delivery was around 415c/kg.
All that, as mentioned in our intro, delivers a trading budget outcome in today's calculation of negative $44 loss per beast. That's still $9 better than our mid-January budget.
So what happens from here, if the season from northern NSW north into Queensland does not benefit from a much-needed late-summer rainfall event?
Happy days for lotfeeding is the simple answer. If it rains across widespread regions before Easter, feeder supply will inevitably tighten up again, but the weather outlook is offering few encouraging signs that that will happen.
Given that, however, any breeder selling 450kg feeders on the current market for values around $1100-$1200 a head is hardly likely to be a reluctant vendor. The option of retaining ownership and trying to feed them themselves becomes less attractive when prices are as good as they are.
The other factor is that the same feeder steer producer back before Christmas was being offered say, $900 for the same steer. But back then, the impact of the drought meant that many more steers in his sale mob were likely to be out of spec. If the tails of those feeders were making only 170-180c/kg as they could have, the option to custom-feed looked a lot more inviting.
Today, though, after earlier rain, a lot more of those steers are likely to be hitting the price sweet-spot, maximising the return on the feeder steer sell option.
Contributing to that, there's been some massive weightgains witnessed in paddock situations in parts of southern Queensland since the rain fell. One mob Beef Central had a discussion over this week, being backgrounded on the western Downs for the Brisbane Show grainfed competition in August, had gained 1.6kg per day over the past 68 days on buffel and melon-hole couch country.
Two animals in the mob were doing 1.8kg/day. That's getting close to feedlot-type rates of gain.
Spot market softens
Recent circumstances in Queensland, including the stoppage of two Central Queensland plants due to cyclone damage, has detrimentally affected the spot market for 100-day grainfed cattle this week, pushing prices back to 475c/kg.
The two plant closures has meant the number of total killing slots available across the state has been compromised, (last week's Queensland slaughter as back 7pc), meaning that some plants did not move feedlot cattle, impacting the overall demand equation.
Once that closure situation clears, it could get back to where it was a few weeks ago, closer to 490c/kg. Seven weeks ago when we did our last breakeven, the spot market was worth 460c/kg.
While export beef trim prices have obviously come under some pressure recently, muscle meat demand remains strong, suggesting there is still some considerable momentum in the finished grainfed steer market for spot cattle, once current kill capacity problems clear.
Beef Central's regular 100-day grainfed breakeven scenario is based on a standard set of representative production variables, ex Darling Downs. It is built on a feeder steer of 450kg liveweight, fed 105 days; 356kg dressed weight at slaughter; ADG of 2kg; consumption 15kg/day and a NFE ratio of 7.5:1 (as fed); $25 freight; typical implant program. Bank interest is included. It is important to note that variations exist across production models (feed conversion, daily gain, mortality, morbidity, carcase specification); from feedlot to feedlot; and between mobs of cattle. Equally, there can be considerable variation at any given time in ration costs charged by different custom-feed service feedlots. Click here to view an earlier article on this topic. For a more specific performance assessment on a given mob of cattle, consult with your preferred custom feeder.