TWO thousand and ten dollars. We've deliberately spelt that number out, rather than use numerals, for dramatic effect.
It represents the total production cost (feeder steer purchase plus custom feeding charge, freight, interest, contingency, levy and induction costs) calculated in our latest 100-day grainfed trading budget. The forecast is based on a typical flatback 450kg steer entering the feedlot today, and closing-out on November 18.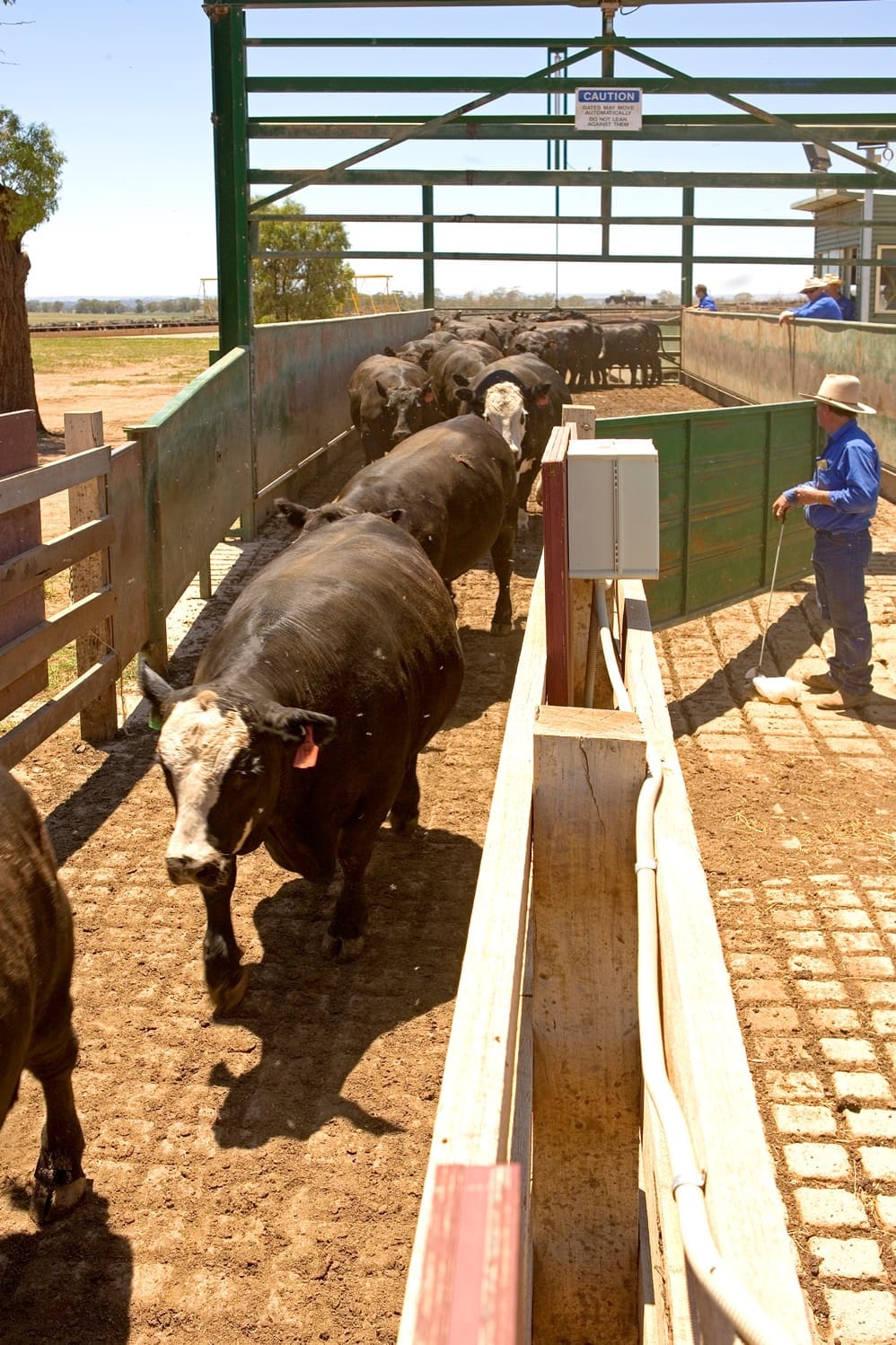 While forward prices on finished grainfed cattle might be still heading into unprecedented territory (see graph below), they are not high enough to offset a huge jump in production cost in our latest budget, which this morning returned a loss of $34 on our feeder steer, fed in a Downs feedlot using our standard set of variables (full description at base of page).
For today's budget, we've raised the feeder steer purchase price by another 10c/kg to 290c/kg liveweight – easily our highest-ever feeder purchase price. It values the 450kg liveweight steer at $1305, another $45 a head higher than our previous record-high in this report a month ago. This time a year ago, our feeder was worth just 200c/kg, meaning he adds another $405 to our production cost than he did 12 months back.
At their lowest-ever point in our breakeven reports (May 2013), feeders were worth just $670, representing a rise of $635 since.
Especially in the past two weeks, there's been a large variance evident in saleyards prices, and regions where feeder cattle are moving from, starting from Central NSW to southern Queensland.
Current northern NSW rates for feeders meeting our spec are perhaps 10c/kg above the level quoted above, and certainly there are some direct quotes in the market this week between 290c and 300c. But for the majority of downs 100-day shortfed programs, a lot of players are still landing cattle in the mid-280s to 290c range.
The spread in price reflects the real tightness in supply of feeders into NSW, which is clearly reflected in the current EYCI data: Roma on Tuesday was 539c/kg, while Carcoar was 603c, against an overall EYCI figure yesterday of a record 564c.
On top of those big price advances, the distinct shortage of supply of suitable feeder cattle means the discount on lesser quality feeders is probably as small as it has ever been – certainly since this report sequence began in 2011. In many cases the figure is less than 10c on quality and potentially, weight.
Ration price eases to $380/t
For today's budget, we've lowered ration price by $5/t to $380/t, but that's still just shy of our all-time record ration price set a month ago and equalled back in April last year, at the height of the grain price rise due to drought.
Grain prices have generally softened $15-$20/t recently, on the back of more follow-up rain through central and northern NSW.
The fact that Queensland and northern NSW feedlots remain near capacity helps sustain current ration pricing levels, despite the feedgrain price movement, because there is still little competitive pressure on custom-feedlot operators to lower their margins in order to attract business.
At today's designated ration price used in our breakeven, it represents a total feeding cost of $595 (back $9 on last time), and cost-of-gain, using our chosen variables (2kg/day ADG, for 210kg gain over 105 days) of 284c/kg, still close to our all-time record last seen 15 months ago.
As mentioned in our intro, total production cost is now $2010. Back in May last year, that figure was $1232 – a $778 rise in production cost since.
Combining the above inputs, it delivers a breakeven in our latest budget of a record 570c/kg – up another 11c/kg on a month ago, and 121c/kg higher than this time last year.
Forward pricing for GF ox jumps to 560c/kg
Helping work against those considerable headwinds, we've got today's SEQ kill forward price for our finished 100-day grainfed steer, exiting the feedlot November 18, at 560c/kg, up another 10c/kg on a month ago.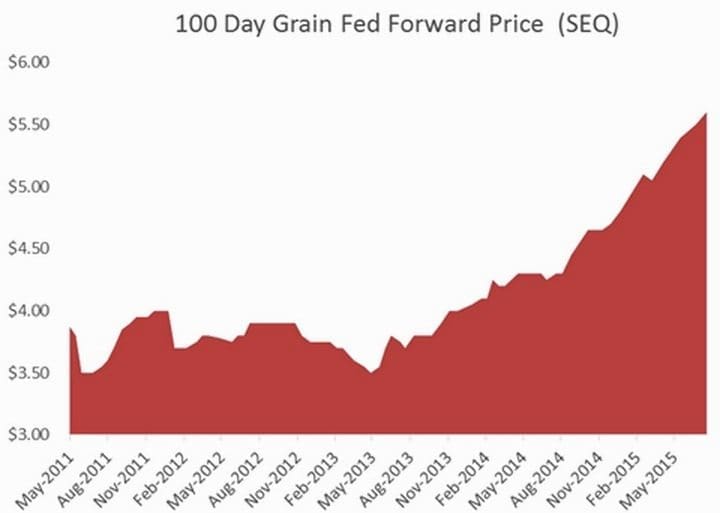 For this month's graph, we've chosen to plot the dramatic rise in forward purchase price for our grainfed steer. Note the consistent and so far sustained price rise that has occurred since this time in 2013, when it sat at 350c/kg.
Compare today's forward price with even 12 months ago (430c/kg, which at that point was in fact the highest price seen) and the return today is $463 better. The current forward price values our 356kg carcase at $1994.
Given today's breakeven at 570c/kg, and today's processor forward purchase price of 560c, it means today's trading budget comes back at a loss of $34 a head, based on our regular variables.
Looking back at our breakeven calculations over the past 12 months, the average trading loss has been $30 a head, using our standard variables. Within that, results have gone from a few dollars profit to a -$74 loss a year ago.
Spot market sits at 550c/kg
Today's spot market for 100-day cattle for SEQ slaughter this week is up 35c/kg to 550c/kg on public grids, a dramatic rise in the past four weeks in line with the broader cattle market spike and kill numbers in decline.
In comparison, cattle forward-bought by processors at the end of April, were bought on 520c/kg contracts. It means processors buying cattle today in the spot market are probably 30c/kg (close to $100) better off on those forward bought cattle, that they would be on the same animal bought in today's spot market.
Beef Central's regular 100-day grainfed breakeven scenario is based on a standard set of representative production variables, ex Darling Downs. It is built on a feeder steer of 450kg liveweight, fed 105 days; 356kg dressed weight at slaughter; ADG of 2kg; consumption 15kg/day and a NFE ratio of 7.5:1 (as fed); $25 freight; typical implant program. Bank interest is included. It is important to note that variations exist across production models (feed conversion, daily gain, mortality, morbidity, carcase specification); from feedlot to feedlot; and between mobs of cattle. Equally, there can be considerable variation at any given time in ration costs charged by different custom-feed service feedlots. Click here to view an earlier article on this topic. For a more specific performance assessment on a given mob of cattle, consult with your preferred custom feeder.