A series of awards and acknowledgements were made for achievement among stakeholders, young and old, during the feedlot sector's two-day BeefWorks forum held at Kerwee feedlot near Jondaryan which concluded yesterday.
Among the 2013 award recipients were:
Tony Hoey, principal of Janos Hoey based at Forbes in NSW, who was inducted as one of the industry's awardees for Outstanding Services to the Feedlot Sector.
Stephen Martin, a staffmember at Killara feedlot, who was chosen as the 2013 Young Lotfeeder of the Year
The 2013 Zoetis (formerly Pfizer) medallist for feedlot staff completing one of the NSW TAFE industry training modules was Ben Attewell, from the Australian Agricultural Co's Aronui feedlot on the Darling Downs.
The Australian Country Choice Feedlot Industry Safe Work Award was presented to Mort & Co's Grassdale feedlot near Dalby, for a workplace health and safety QA module focussing on horse-related activity around the feedyard and the associated risks of accidents and injuries.
Here's a quick snapshot of this year's winners:
Young Lotfeeder of the Year to Killara livestock manager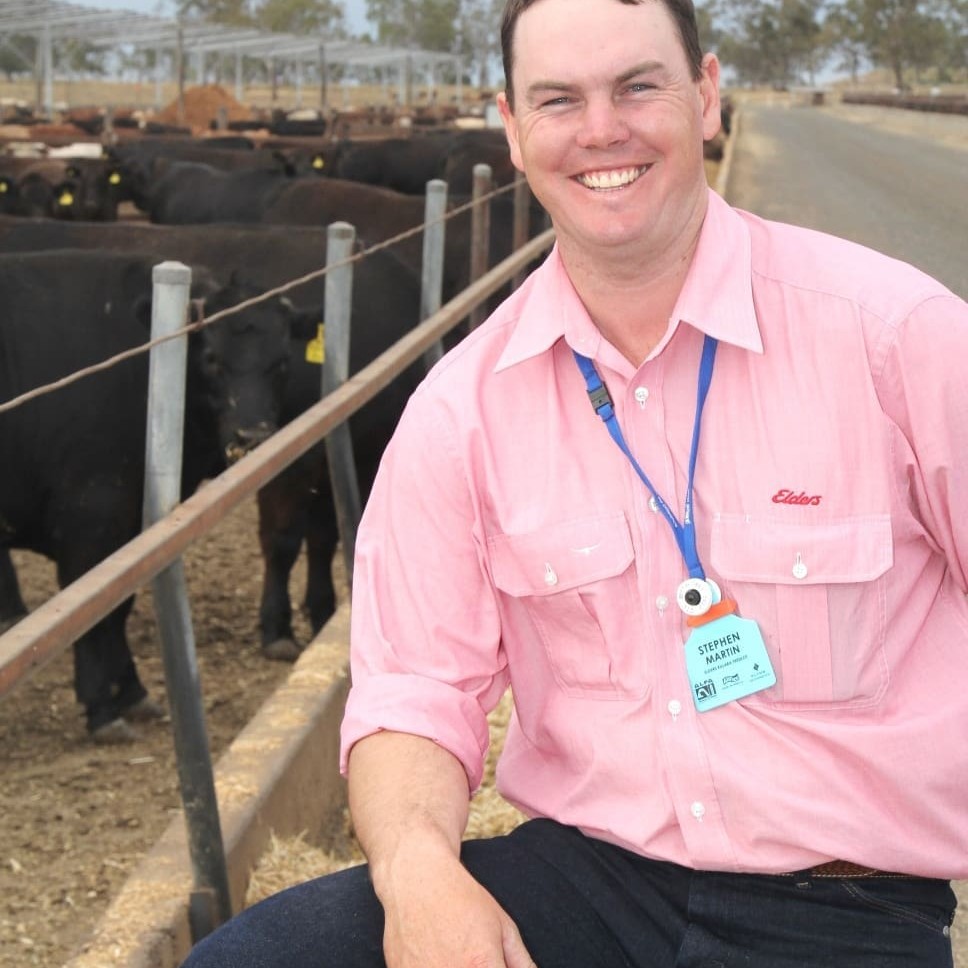 Growing up in a 'medical family' in regional NSW was no deterrent to finding a rewarding career path in intensive agriculture for the 2013 Young Lotfeeder of the Year, Stephen Martin.
Even during his school days in Gloucester, 29-year-old Stephen professed to having a passion for agriculture, and cattle in particular, rather than wanting to follow in the family tradition. He pursued this through his degree choice in Rural Science from at UNE Armidale.
After graduating, he targeted work in the feedlot industry, and Elders' Killara feedlot near Quirindi, being the 'closest feedlot to home' became a logical target. Over the seven years since he started work at Killara, he has worked across most segments of the business, building a well-rounded understanding of how the feedlot sector ticks.
Stephen's current role is as Killara's livestock and farm manager.
"I thought the feedlot sector offered a lot of opportunity and chances of career progress, and I haven't regretted my choice for a minute," he told Beef Central after collecting his award yesterday.
"It's a great industry for young people, being quick to adopt new technologies, having a progressive approach, and continuing to look to refine the business operations to lift performance," Stephen said.
He suspects the broader beef industry will continue to orient towards intensive beef cattle finishing systems over time, for production efficiency, environmental and global food supply security reasons.
"Working in a feedlot puts you in touch a lot more with the broader industry supply chain – much more so than if I was working for a cow-calf production business," Stephen said.
One of the challenges he has found to be rewarding in working at Killara is in the broad range of cattle and feeding programs used at the site.
"We feed everything from 70-day trade cattle to 500-day Fullblood Wagyu, which provides plenty of contrast in what we do, on a day-to-day basis," he said.
Killara being one of the oldest feedyards in NSW, also brought with it a range of management challenges in environmental and other aspects that were less obvious in newer feedyards, which had been able to learn from the experience of their predecessors.
"Some of the newer feedyards I've seen on the Downs are a dream, in comparison, but I'd argue that the shortcoming of an older yard like Killara can teach you more than if you have everything set up for you, in terms of cattle handling, managing people, weather and other aspects."
Asked what he was most proud of among Killara's achievements, he said it was the long-standing relationships the business had as a custom-feeder with a broad range of regular customers in the industry like AA Co, Stanbroke and Teys, as well as being the leading supplier to the Woolworths domestic program in the state.
"All of those big guys see us as being able to do a good job on their cattle, and being located where we are, we offer a range of benefits. We like to think we've developed the skill of being good at catering for a wide range of needs, and it's something we're proud of."
Stephen said he expected to use his overseas travel prize next year to study the marketing side of US feedlot operations.
"I think we're ahead of them in areas like animal welfare and husbandry, but the sheer scale of the fed cattle marketing segment of the US industry, and the USDA grading system is something I'm keen to learn more about," he said.
Zoetis Medallist:
Ben Attewell, one of the livestock team members at the Australian Agricultural Company's Aronui feedlot on the Darling Downs received the 2013 Zoetis Medal during the Beefworks conference on Wednesday.
The Zoetis (formerly known as Pfizer) medal is designed to acknowledge excellence among graduates from the feedlot industry training courses in pen riding, mill management and feedlot management conducted through New England TAFE.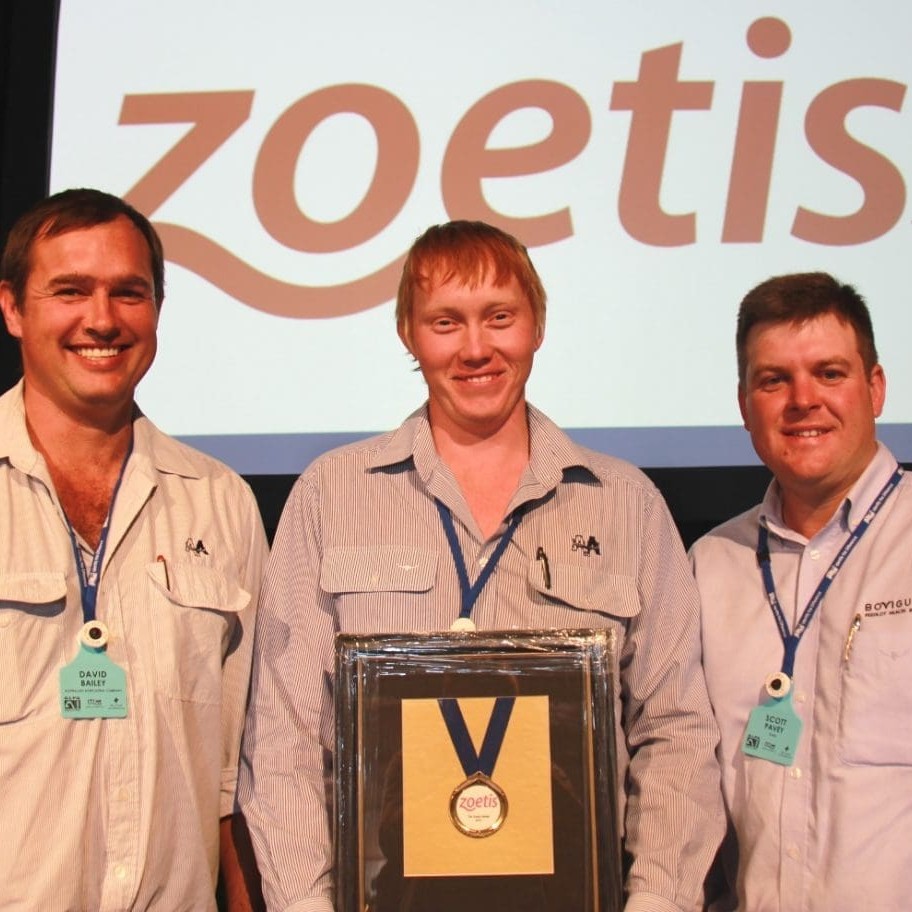 The judging criteria are each candidate's general knowledge of the broader feedlot industry; their knowledge and skills in their particular field; their commitment to the industry; and their potential to have a positive impact on the industry in the future.
Ben comes from a small family cattle enterprise near Casino in northern NSW. He joined AA Co after leaving school in 2009, working firstly at the company's Goonoo feedlot in Central Queensland and the Tipperary live export depot in the NT, before relocating to Aronui.
He has since worked across Aronui's livestock and feed mill teams, having previously worked in the mill at Goonoo, where he learned to allocate feed, amongst other responsibilities.
"I enjoy the intensive end of the beef production industry," Ben told Beef Central.
"It's the variety, and the non-stop aspects – there's always something to work on, that can be improved or refined," he said.
As feedlot supervisor at Tipperary, Ben last year fed about 25,000 head of weaners, in addition to boat cattle passing through the facility. The infrastructure at Tipperary was developed from scratch to become an 'AA-standard' feeding facility, along the lines of what is seen in an NFAS accredited feedlot.
Ben said he greatly enjoyed the livestock/pen riders' course he had completed at the New England TAFE earlier this year.
"A lot of it was about acknowledgement for prior learning, but it was good to put some theory behind many of the principles I have picked up in on-the-job training," he said.
"The content was very relevant, practical and applicable for what we are doing on a daily basis."
Other finalists this year for the Zoetis medal were Wade Brown from Rangers Valley feedlot, Glen Innes and Jeremy Sloss from Mort & Co Grassdale feedlot, Dalby.
Zoetis feedlot team member Scott Pavey said one of the challenges faced by the feedlot industry was in finding quality staff, and it was 'really refreshing' to see the quality of personnel coming through like the three finalists chosen for this year's award.
Outstanding Services to the Feedlot Industry Inductee
Tony Hoey's lifelong contribution to the feedlot industry has largely happened while 'flying below the radar', so it was with an obvious sense of surprise that he stepped forward to receive ALFA's Outstanding Services to the Feedlot Industry award this week.
Three generations of the Hoey family have now worked in the well-known Janos Hoey cattle nutrition business based out of Forbes in NSW. Tony's father Bill started a business called Hoey Pre-mixes in 1964, during the earliest days of Australia's commercial feedlot industry.
A few years later it merged with another family company to form Janos Hoey, servicing the industry with a long list of innovative productivity tools as knowledge and techniques associated with intensive feeding of cattle started to improve. Tony has worked in the business, and alongside the feedlot industry his entire adult life.
Janos Hoey started with a feedlot and feedlot/finisher vitamin/mineral pre-mix in 1968. Some of nutrition researcher Tony Plaistow's early nutrition research literature from the 1960s makes clear references to Janos Hoey premixes in ration formulations.
One of the real turning points for Tony was the Australian visit in 1973 by US feedlot nutrition expert Dr Bart Cardon, who helped open the eyes of many Australian lotfeeders to modern feeding principles and strategies.
"Bart helped me a lot – got me a job in feedlots in the US, and from that we came back and got started in a more serious way. The industry was in a pretty sad state during the Beef slump era from 1974, but then it started to pick-up again," Tony said.
In the early 1980s before ALFA became a national body, Tony, a qualified private pilot, flew Mack Lee-Warner from Scrumlo feedlot and Len Perry from Caroona up to Toowoomba to attend a Queensland Lotfeeders meeting as guests. The meeting chairman, Don Bridgeford, asked the 'boys from down south' to introduce themselves.
Tony was a little embarrassed to say that he did not feed any cattle, but explained how he would work with the industry by helping source products that were not currently available in the Australian market.
He was true to his word. As Tony took over the company reins from his father Bill at Janos, he constantly looked at products from overseas that could assist the feedlot industry in Australia. These included premixes and supplements, injectable vitamins, pelleted parasiticides, pelleted zinc methionine for footrot, electrolytes for use in livestock transport, and grain surfactants to improve the efficiency of grain processing. More recently the Hoey businesses have moved into organic trace minerals and fed microbials, as well as developing innovative ways to administer them.
Over the years, he continued to fly contingents of southern lotfeeders north for meetings and AGMs, including managers from Peechelba, The Mount, Oakleigh, Killara, Bective and Caroona.
Janos later became the first Associate member of ALFA, and since then, Tony has not missed an annual conference.
"I'd like to think the award was partly in recognition for the loyalty I think I've shown to the feedlot industry over all these years," he said. "We showed a lasting interest in the industry very early, and together we've ridden both the peaks and the troughs over the past 40-odd years," he said.