A SMALL downwards adjustment in 100-day grainfed cattle prices has taken the edge off profitability in Beef Central's September monthly grainfed trading budget, calculated on Friday.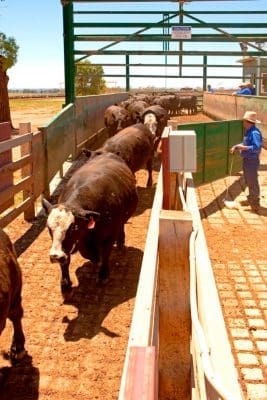 Representative processor offers for 100-day grainfed forward contract cattle slipped 5c/kg last week, to 605c/kg for a typical flatback grainfed export steer.
That's contributed to a $42 loss calculated in Beef Central's latest monthly grainfed trading budget exercise, calculated on Friday – $17/head worse than last month. While a little worse than last month, today's result is still considerably better than numbers seen for much of the past four years, and as described below, higher-performing ADG cattle remain in profit.
Most other variables were little changed from our previous trading budget calculated towards the end of August.
The small decline in forward contact slaughter price comes off record-highs seen last month, when contacts reached 610c/kg.
Today's monthly trading budget projection uses our standard set of variables (see full list at base of page) based on a typical 450kg flatback feeder steer entering a Darling Downs feedlot on Friday and closing-out after 105 days on feed on 26 December.
Beef Central wrote about signs of export grainfed market softening in this article last week. Two factors may be in play. The first is the customary annual brief dip in demand around now for feeder cattle that would exit their 105-day feeding programs around the end of December, when many export beef plants are closed.
The second is a dramatic decline in US cattle futures values that has occurred over the past month, following the fire in a major US beef processing plant. Some export processors harbour fears that this has driven a competitive wedge between Australian and US grainfed product in key markets like Korea and Japan, estimated in one calculation to be worth more than $300/head, based on recent futures trends (see story).
The counter-argument to that is that Australian grainfed export beef has been 'lacking competitiveness' against similar US product for the past six months, but that did not stop a gradual progression in slaughter cattle price offers from export processors. The general view is that processor margin is still reasonably strong on grainfed cattle, due to competitive pressure led mostly by China – albeit recently a little more subdued due to the tariff adjustment on Australian beef (see separate story).
Some see the latest grainfed slaughter price adjustment as a processor 'experiment' to see what impact a small reduction has on the flow of grainfed cattle – so critical during the current drought-driven quality slaughter cattle cycle.
Feeders steady at 300c/kg
For this month's budget, we've kept our typical flatback heavy feeder ex Downs unchanged from our previous report at 300c/kg, reflecting the shortage of eligible heavy feeder cattle coming forward as the drought wears on. There's some volatility evident, however, with lotfeeder bids both above and below that level this week, in a range from around 290c through to 310c/kg in places.
Some major Darling Downs lotfeeders still hold forward bookings in some volumes around that level for feeder placements through September and early October.
Today's feeder price values our feeder steer at around $1350.
Looking back at this time last year, feeders were a little cheaper, worth 280c/kg, but finished ration prices were still closer to record highs, at $480/t. Now, the feeder price is 20c/kg higher, but some relief is seen in ration prices, currently quoted in downs feedlots at $460/t. Total production cost (feeder purchase plus feeding costs) a year ago was $2079, whereas today it is almost $100 dearer, at $2177.
Ration price unchanged at $460/t
There is some 'noise' evident in some feed commodity prices since our last report. Most evident in the past couple of weeks is a significant drop in hay prices, for October delivery forward, as new-season hay comes on-stream in the south. Failed grain crop turned over to fodder is a part of that supply.
Depending on location and quality, hay prices have now fallen to $400-$450/t for cereal hay, down from +$600/t earlier. Cotton seed remains pricey, and this week, feedgrain prices have lifted $10-$15/t since our August trading budget report. At time of writing, the market was yet to determine whether that grain price rise is part of medium-term fundamentals, or just a little short-term panic buying by some users.
The opposing movements in price for hay and feedgrain have more or less cancelled each other out, and we've kept our representative finished ration price the same for today's report at $460/t. Each feedlot's grain position will have some bearing on that, however, in the current market.
With feedlots across eastern Australia remaining as full as they are, and other commodity prices like cottonseed remaining highly-priced, it means ration prices are probably not moderating as quickly as some customers might have hoped.
High feedlot occupancy also means lotfeeders offering custom-feeding services do not have sacrifice their margins in order to retain business. In fact while we have applied a $460/t price to today's breakeven, a number of Darling Downs feedlots this week still have ration prices above $500/t.
One the basis of the above figures, we've calculated feeding cost this month at $720/head, and total production cost (feeder purchase plus feeding cost) at $2177. That's unchanged from last month, but up $23 on July.
Cost of gain in today's calculation is 343c/kg, based on our standard steer gaining at 2kg/day.
All this delivers a breakeven figure in today's budget of 617c/kg.
Forward contract slaughter price eases to 605c/kg
As stated in our intro to today's report, representative forward contract price offers out of southern Queensland grainfed processors for late December delivery are 605c/kg – just 5c/kg shy of last month's record high, and still 20c/kg better than offers seen as recently as April.
With today's forward contract slaughter price at 605c/kg, a 617c/kg breakeven delivers a loss of $42 on the trading budget exercise for our standard beast gaining at 2kg/day ($17 worse off than last month's report, due to the softer slaughter contract price), while a better-gaining beast (2.2kg ADG), delivers a breakeven of 598c/kg, returning a small $25/head profit.
Forward contract cattle bought earlier
For grainfed cattle forward-bought by processors back in June, for slaughter this week, they were paying 590c/kg on contracts, while the Queensland spot market this week for 100-day flatback cattle is marginally higher at 590-600c/kg. That suggests processors are this week anywhere from $0-$35 a head better-off on forward contracted cattle bought earlier, compared with than those being procured out of this week's spot market.
Beef Central's regular 100-day grainfed breakeven scenario is based on a standard set of representative production variables, ex Darling Downs. It is built on a feeder steer of 450kg liveweight, fed 105 days; 356kg dressed weight at slaughter; ADG of 2kg; consumption 15kg/day and a NFE ratio of 7.5:1 (as fed); $25 freight; typical implant program. Bank interest is included. It is important to note that variations exist across production models (feed conversion, daily gain, mortality, morbidity, carcase specification); from feedlot to feedlot; and between mobs of cattle. Equally, there can be considerable variation at any given time in ration costs charged by different custom-feed service feedlots. Click here to view an earlier article on this topic. For a more specific performance assessment on a given mob of cattle, consult with your preferred custom feeder.