A MODERATE lift in finished slaughter cattle value and easier feeder cattle prices have had positive impact on Beef Central's latest 100-day grainfed trading budget projection calculated on Friday.
In our sixth monthly trading budget projection for 2019, our standard set of variables (see list at base of page) based on a typical 450kg flatback feeder steer entering a Darling Downs feedlot today and closing-out after 105 days on feed at the end of September has produced a negative $32 indicative margin per head.
While still in red ink, that's a considerable $41 improvement on our May budget. Apart from a brief spike in May last year, its the best outcome seen since a period of positive profit back in 2015 (see graph). In May last year, however, it's important to point out that rations were still worth only 410c/kg, and feeders were worth only 265c.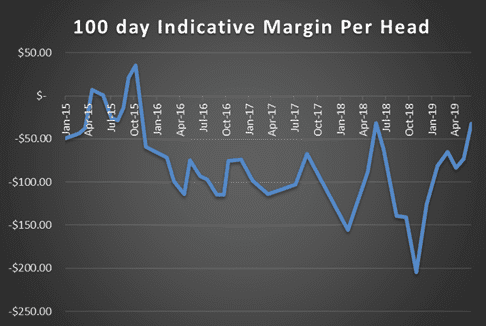 Feeders 285c/kg
For this month's budget, we've priced our typical flatback heavy feeder ex Downs at 285c/kg, down 5c/kg since May, reflecting a few more eligible cattle coming forward, with the onset of recent frosts.
The fact that some yards already have forward placement bookings sown up for a couple of weeks has also kept a little pressure on the market, by removing some of the spot urgency. Current forward bookings, reflecting wariness among lotfeeders about overall supply and an expectation of numbers getting tight later, is a little more apparent now than what is normally seen.
While it's at least eight weeks until the next June quarter feedlot activity statistics are reported, there's no evidence to suggest that numbers on feed have changed substantively since the March figures were reported at a new record industry high of 1.145 million head.
It would take a fairly profound seasonal break across eastern Australia to see any real shift in numbers on feed, and that's looking increasingly unlikely as we approach mid-year.
Wide spectrum of cattle on feed
What's increasingly evident this year is a wide spread of cattle types and breeds on feed, due to the drought, ranging from conventional domestic and export short and longer fed programs through to cows of various breed types, being forced into yards by limited feed availability.
Anecdotally, some supply chains are making use of the new grain-assisted industry cipher to better accommodate some of those shortfed cows – some of which are being fed for only 30-35 days before slaughter. That has in turn produced some slightly different pricing and demand signals for cows suited to those programs, Beef Central was told. Click here to view an earlier story on the launch of the new grain assist cipher.
Whether it is by coincidence or good management, the launch of the new cipher has coincided with the increased demand for higher quality grain-assist type cow beef, out of markets like China.
The major feedlot players do not appear to be operating in this space yet, but certainly some smaller, more 'nimble' feedlot-based supply chains are building volume in this grain-assist area.
A 285c/kg steer purchase price this week drops his overall price a little to $1282, compared with $1305 a month ago. Back in early March when turnoff spiked after it got particularly dry and the northern wet season failed to materialise, the steer price dipped briefly to 260c. Regular readers might recall that a sharp 30c/kg rise in feeder values followed that, after March rain events in some parts of eastern Australia. At their peak around June 2016, feeders in this report sequence topped at 360c/kg.
Ration price unchanged at $475/t
While there has been some fluctuation in grain prices since our May trading budget report, we've kept finished ration price the same as last month at $475/tonne.
The market started to soften for a period since our last report, but then started to rise again, before backing off again last week on the back of more rain through parts of southern Australia's and Western Australia's wheat belt, lifting crop prospects. The current figure is still uncomfortably close to our all-time high ration cost of $500/t seen back in August.
Beef Central's latest feedgrain focus published on Friday quoted current and new crop prices back $5-$10/t on the back of southern rain. In the delivered-Downs sorghum market, strongest bids on Friday were around $355/t, with some buying for a limited amount of container exports creating the occasional spike in values. This trend has not yet been reflected in feedlots finished ration prices, however.
One the basis of the above figures, we've calculated feeding cost this month at $744/head, and total production cost (feeder purchase plus feeding cost) at $2131.
Cost of gain in today's calculation is 354c/kg, based on our standard steer gaining at 2kg/day. But for better-performing examples gaining at 2.2kg/day, cost of gain drops to 322c/kg.
All this delivers a breakeven in today's budget of 604c/kg (585c/kg on higher-gain cattle), compared with a 611c/kg breakeven figure a month ago. In this report 11 months ago, the breakeven was 550c/kg, with the rise attributed to both the higher feeder price and the dramatic surge in ration prices that has occurred since then.
Forward contract slaughter price 595c
Current forward contract price offers for 100-day grainfed steers for late September delivery are 595c/kg (up 5c/kg since last month's projection, and 10c/kg higher than April). While some supply chain managers remain confident that grainfed steer prices will go plus-600c/kg in coming months, the sheer numbers on feed at present appears to be keeping a cap on higher price at present.
While ever eastern Australia stays dry and feedyards remain near full, grainfed processors are likely to continue to buy requirements at a somewhat discounted rate, one yard manager said. Widespread rain would see that change dramatically, however. Against that, processors are looking to ensure that they have adequate supply, heading into the back-half of the year.
With a forward contract slaughter price at 595c/kg in today's report, a 604c/kg breakeven delivers a $32 loss on the trading budget exercise for our 'standard' beast gaining at 2kg/day, while a heavier-gaining beast (2.2kg ADG), is about $35/head in profit.
As recently as our April breakeven calculation, the indicative margin loss on the standard beast was $83, and minus-$18 on the higher weightgain performer, showing how much progress has been made recently.
September/October is typically the toughest part of the year for slaughter cattle procurement and the traditional peak of annual pricing for slaughter cattle, and when combined with strong international demand for beef and a moderate A$ around 68.5cc, good margins exist for processors at present.
If processors are making $150 a head on grainfeds currently, as some suggest they are, that represents a 50c/kg carcase weight 'buffer' that they could afford to pay if numbers get really tight later in the year. At 640c/kg, a price at that level would be easily the highest money ever paid for grainfeds since this report started back in 2011. Only once in the past, in July 2016, have grainfed prices eclipsed 600c/kg, when the market was red hot and cattle were in short supply.
Spot price versus forward contract
Looking back at feeder cattle that went onto feed in March, closing-out for slaughter this week, they were contracted forward by southern Queensland processors at the time at around 560c/kg.
That compares with spot price in processor grids this week of 580c/kg, meaning forward-purchased cattle being slaughtered this week are probably 20c/kg or $71/head cheaper than the spot market for processors.
Beef Central's regular 100-day grainfed breakeven scenario is based on a standard set of representative production variables, ex Darling Downs. It is built on a feeder steer of 450kg liveweight, fed 105 days; 356kg dressed weight at slaughter; ADG of 2kg; consumption 15kg/day and a NFE ratio of 7.5:1 (as fed); $25 freight; typical implant program. Bank interest is included. It is important to note that variations exist across production models (feed conversion, daily gain, mortality, morbidity, carcase specification); from feedlot to feedlot; and between mobs of cattle. Equally, there can be considerable variation at any given time in ration costs charged by different custom-feed service feedlots. Click here to view an earlier article on this topic. For a more specific performance assessment on a given mob of cattle, consult with your preferred custom feeder.