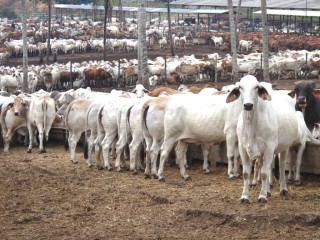 Animal welfare groups RSPCA and Animals Australia have called for an immediate halt to Australia's cattle trade to Indonesia.
The groups have criticised Minister for Agriculture Joe Ludwig for failing to impose an immediate ban on the trade in the wake of the abuses to cattle documented on last night's Four Corners program.
Animals Australia filmed Australian cattle being subjected to cruelty in Indonesian abattoirs in March and supplied the footage to ABC current affairs program Four Corners, which conducted its own investigation.
Former police officer and Animals Australia cruelty investigator Lyn White, who secured the initial footage and also filmed similar instances of cruelty to Australian animals in Egypt in 2006, said the minister's decision to launch an investigation was unacceptable.
She also described the Australian live export industry's decision last Friday to ban exports to three abattoirs as a desperate attempt to appease public outrage.
"What MLA and LiveCorp don't admit is that they have created the problem. They have been using Australian taxpayer funding to install restraint boxes for cattle that are inherently cruel and breach international animal welfare standards.
"These devices (Mark 1 restraining boxes) facilitate a distressing and cruel death and have been condemned by the world's leading slaughter expert Temple Grandin as being 'atrocious' and as 'violating every humane standard in the world'.
RSPCA Australia Chief Scientist Dr Bidda Jones said she had conducted a full scientific assessment of the evidence from Animals Australia and Four Corners investigation and found that every slaughter facility visited breached international animal welfare standards.
"Through my analysis I found that the majority of animals were subjected to physical abuse, such as tail twisting, hitting, kicking, eye gouging, and even tail-breaking or tendon-slashing.
One Brahman steer with a broken leg was tortured for 26 minutes before being killed," said Dr Jones.
"Cattle experienced an average of 11 cuts to the throat, with one slaughterman cutting at the throat of a steer 33 times. Half of all Australian animals observed being slaughtered showed signs of consciousness more than one and a half minutes after their throats were cut.
"But the most galling aspect of this evidence is that the industry's installation of Mark 1 boxes has entrenched a system of restraint and slaughter that causes significant suffering and that would be illegal in Australia.
"This is what Australian industry presence in Indonesia for two decades has achieved. Putting live exporters in charge of animal welfare is like putting tobacco companies in charge of the public health system."
RSPCA Australia and Animals Australia are calling on the Gillard Government to immediately halt the cattle trade to Indonesia and announce an end date for all live exports.
The groups were also calling for the Government to urgently assist producers in whatever way was necessary to get their animals to processors in Australia.

Related stories:
Minister orders investigation into live trade
Industry to press on with in-market welfare reform