THE slaughter cattle market in parts of Vietnam could currently be around 450c/kg liveweight, an Australian trade source currently passing through Central Vietnam told Beef Central this morning.
He was responding to yesterday's article on Beef Central, which highlighted recent live exporter procurement activity, taking heavy grainfed cattle for the first time out of southern feedlots for export to Vietnam out of Townsville.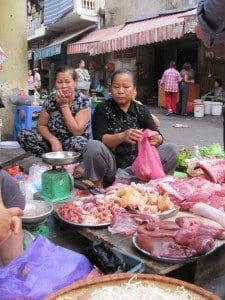 The trade source said it was likely that the cattle would be going to the Hanoi area in the northern part of the country, where current temperatures were 'very cold – heavy coat and hat weather,' making conditions perfect for heavy flat back cattle out of Australia.
The suggested Vietnam market price goes some way towards explaining  how live exporters can pay +300c/kg liveweight for heavy grainfed steers in southern Queensland, and transport them to Townsville by road for loading on a live export vessel bound for Vietnamese ports.
"There's no issues with liveweight. So as long as the numbers add up, this live export strategy makes sense, while ever there is a shortage of heavy cattle in northern Australia, as there currently is," the trade contact said.
"It's a fascinating development, though."
The contact reported that last month, the liveweight price at point of slaughter in the northern city of Hanoi was higher than Ho Chi Minh (southern Vietnam), at about 71,000 dong.
"Currently, the A$ rate is about Dong15,500, much stronger than the December rate, so if the price was $4.26/kg in Ho Chi Minh in December, it could be in the $4.50's in Hanoi for January," he said.
"It looks like there is plenty of scope for live export of more southern cattle into the cooler Hanoi region, especially at this time of year."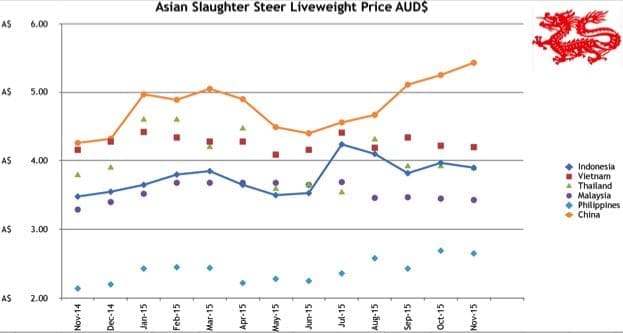 As this mid-December graph published earlier on Beef Central shows, Vietnam is currently the second highest priced market for Australian cattle, on a liveweight pre-slaughter basis. Prices in southern Vietnam in mid-December were quoted at $4.26/kg, liveweight. China was the only country with a higher slaughter liveweight price, at $5.43/kg, while Indonesia was third at $4.15.
"The Vietnamese consistently pay the next highest price after China for finished cattle in Asia – supported by the fact their processing costs are extremely low, and consumption of beef is in only very small portions per person," the trade contact said.
"The Vietnamese feedlot industry is only in its infancy, and in general, is not very efficient yet – so slaughter cattle make sense to those who either don't have a feedlot – and there are quite a few – or have a poor performance in their existing feedlot so far."
"But it all comes down to price," he said, referring to recent procurement of boat cattle out of southern Queensland and northern NSW feedlots. "I can only assume that this southern feedlot supply route is the most price-effective way to supply, given all the other pricing and supply issues in northern Australia at the moment."