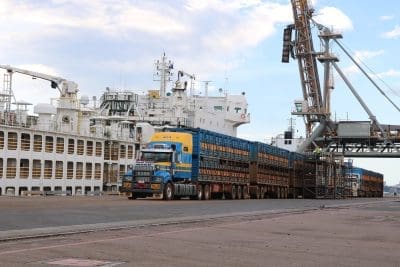 The return of mustering camps across the north is starting to relieve supply pressure on the export market for the first time in several months.
Prices have fallen from the record highs paid earlier this year, but remain in a degree of flux with export orders and trading volumes still limited.
Frontier International Agri director Tony Gooden said Indonesian customers are currently waiting to see how consumer demand and pricing for beef in Indonesia pans out post-Lebaran in early May before making longer term plans.
Easing COVID restrictions on international travel mean exporters are getting the opportunity to return to markets and recommence face-to-face meetings with long-standing customers for the first time in two years.
Mr Gooden was among the first to return in late March and said the strength of the trade was reflected in the quick return to normality of meetings he held with customers in Vietnam and Indonesia despite the two-year disruption.
"It was a little surreal in some ways, sitting in the homes and houses and offices, it just felt like you had been there yesterday," he told Beef Central this week.
"I guess it is a testament to the relationships, the very strong and robust business to business relationships the trade is built on."
Mr Gooden said Indonesian lot feeders are facing more pressure than he has ever seen due to continuing factors such as high prices to buy Australian cattle and inability to sell lotfed cattle at a profitable price out of their feedlots, along with the competition from Indonesian Government sales of cheap imported frozen Indian buffalo meat.
Despite the duress they are experiencing monthly shipping figures highlight the resilience of the Australia to Indonesia cattle trade compared to other feeder and slaughter cattle markets.
DAWE figures released just before Easter show Indonesia imported 29,946 cattle from Australia in March.
That was down by 23 percent on the five-year March average to Indonesia of 39,047 head, but compares to a 33 percent drop in Australia's overall cattle export trade to all markets, which totalled 48,918 head in March.
There were no shipments of Australian cattle to Vietnam during March.
Where Townsville has loaded 115,000 head on average during the wet season months between October and March over the past five years, the collapse in orders to Vietnam has reduced that number to just 15,000 between October 2021 and March 2022. That volume was boosted by two shipments of 10,330 head loaded in Townsville for Indonesia and Brunei in March.
Vietnam 'green shoots'
From his recent trip to Vietnam, Mr Gooden said some "green shoots" appear to be emerging, with the prospect of increasing cattle supplies and lower cattle prices stimulating new orders.
Frontier will load a shipment to Vietnam in Darwin next week, and has confirmed another shipment from Townsville in May, with a second from the NQ port also being negotiated.
Mr Gooden said the market was still "very price sensitive" and the contracts had taken significant negotiations to achieve.
Mr Gooden said while supply of cattle was starting to increase now, indications are that supply will be relatively short-lived this year, with numbers expected to continue for three to four months before easing off again.
Exports of southern dairy cattle to China continued at a solid pace in March, with 12,752 head exported, 15 percent above the five-year average for March.