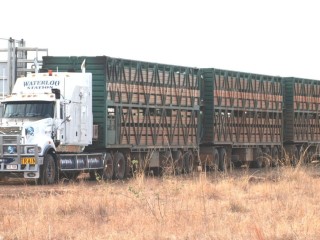 Exporters and livestock transporters were last night meeting in Darwin to discuss what to do with the thousands of cattle left stranded in northern ports by the Federal Government's decision to ban live exports to Indonesia.
"We've got thousands (of cattle) here, we don't know what to do with them," Brook Hartley from Road Trains Australia in Darwin told Beef Central late yesterday afternoon.
RTA had 7000 cattle in its yards yesterday morning but was able to ship 2250 via special permit on a boat leaving to the Philippines.
"We've still got 5000 here," Mr Hartley said. "They're sold, the station owners can't take them back.
"We have another ship due here tonight that was meant to load tomorrow to Indonesia, and then we've got another one due in the next night for 7000 to go to Indonesia.
Mr Hartley said that counting cattle in other yards, it was likely there were up to 13,000 cattle stranded in Darwin, which were being fed at the exporter's expense.
"We're meeting with a few exporters to work out what can be done.
"Maybe we have to draft them up and try and sell them, probably at a reduced price and they will get a caning. What do you do?
"They (the Federal Government) just put no thought into it whatsoever, it is just a disgrace."
Mr Hartley said the ban had the potential to send many northern cattle producers to the wall.
Leader of the Nationals Warren Truss and Shadow agriculture spokesman John Cobb yesterday blasted the Government for imposing the ban without having a contingency plan in place for the $320m live cattle trade to Indonesia.
The Federal Government has so far side-stepped any suggestion of compensation for affected businesses.
Federal Agriculture minister Joe Ludwig was repeatedly asked about compensation at a press conference in Brisbane yesterday, but to each question provided the same answer that he would sit down with industry to discuss the impacts.
When asked why he could not allow exports to continue to the 25 'A and B' class abattoirs deemed to already meet Australian standards, which would have allowed cattle currently in the system to be processed, Mr Ludwig said there was still no assurance that Australian cattle would be handled in the better abattoirs.
"What we don't have is that supply chain assurance that ensures that every cow that leaves Australia on a ship that ends up in a feed lot that then goes to an abattoir is accounted for."
Elders managing director Malcolm Jackman said the company was seeking an immediate meeting with the Federal Government to push for the urgent resumption of live cattle exports to Indonesia where exporters could satisfy Australian government standards through the supply chain..
He said Elders was already able to provide that assurance through the Indonesian feedlot and abattoir operations it had spent the past 10 years developing in the market.
Elders owns and operates both a feedlot and ISO Certified abattoir in Indonesia with an annual capacity of 22,000 head.
"We are able to provide a system that provides verifiable traceability for every animal that passes through our supply chain from the moment it enters our custody through to end processing," he said.
"We are now urgently seeking advice from government on the exact process by which the necessary approvals can be secured and trade resumed promptly."
In a statement released last night, Australia's largest exporter of live cattle, Wellard Rural Exports, said it accepted the suspension and would work with the Federal Government to develop the systems required to ensure acceptable animal welfare standards at the point of processing in Indonesia.
"It is important that once those improvements are in place that the Federal Government acknowledges the enhanced animal welfare outcomes they provide by lifting the suspension," Wellard Rural Exports Managing Director Steve Meerwald said.
"Wellard and the live export industry are working with the Indonesian industry to develop a supply chain where cattle are supplied only to accredited abattoirs which meet acceptable infrastructure and training standards, and a robust, verifiable and auditable supply chain assurance system is developed and managed," he said.
"When the industry achieves these improvements it is important the Government recognises that progress by lifting the suspension and allowing the Australian cattle producers to continue to supply quality Australian beef to Indonesian consumers.
"This would achieve the best animal welfare outcomes by channelling animals into the best facilities, and it would re-open a market that is crucial for cattle producers across northern Australia."
Mr Meerwald said that the unfortunate consequence of the suspension was that it also penalised abattoirs in Indonesia which had invested in modern facilities to optimise animal welfare.