Any discussion about supply chain investment involving Australia and its largest live export customer, Indonesia, needed to acknowledge the enormous financial and time investment made by northern beef producers in improving their production systems to better service the market.
That was a key message in an address by Meat and Livestock Australia managing director Scott Hansen delivered during last week's IndOz Beef Trade forum held in Brisbane, attended by a cross-section of influential senior industry and government stakeholders from both countries.
Mr Hansen told the forum that it was by using a 'through chain' approach that Australia approached its meat and livestock business with Indonesia, in investing in research and market development opportunities.
While Australia's beef herd of 28.6 million head was not large on a global scale, it was in export terms that it became a significant player, in a country that had 'more cattle than people.'
"We're a dedicated exporter, and the Australian beef supply chain, from producer level through to exporters, has made significant investments in ensuring that they are the perfect partners for a global community requiring safe, traceable and nutritious beef," he said.
"We've had to focus on meeting customer expectations and building relationships with more than 100 countries that Australia exports to around the world. We've worked hard to keep Australia free of animal diseases, because we need that market access. We've worked hard to introduce world-leading traceability systems to ensure that we're able to provide the assurances and confidence in our product that the global marketplace requires."
Mr Hansen showed a slide illustrating how the Australian beef herd had gradually 'drifted north' over the past decade, with the herds in Queensland and the Northern Territory now considerably larger than the combined total in the rest of Australia.
Northern industry remodels itself
"A key reason for the growth in Australia's northern production systems has been an investment feature that I feel has been overlooked so far in the discussions this morning," he told the forum.
"The investment between the two countries (Australia and Indonesia) is not just about the amount of money that is transacted between the two, but also includes the very considerable investments that have been made in our country – and in Indonesia, also – to build a sustainable supply chain and partnership," he said.
Australia's northern cattle production system had spent 20 years and countless dollars and hours 'reshaping' itself from what was a crude harvesting of heavy, older bullocks for processing and supply to export markets, to a dedicated supply chain producing younger, better quality and more-adapted animals suited to Indonesian feedlots and ultimately, the Indonesian customer.
"That's taken a significant investment by the Australian cattle industry – an investment which is dedicated to this relationship with Indonesia, and is perhaps not accurately or adequately reflected in some of the supply chain financial investment figures put forward during this conference," Mr Hansen said.
"Equally, the investments in Indonesia to accommodate and build supply chains to handle growing numbers of Australian cattle are not fully-reflected in the supply chain investment figures discussed at this meeting."
Mr Hansen said the decision to change the focus of cattle production systems in this way (such as moving to younger and lighter animals to meet Indonesian feedlot requirements) had a very long lead-time.
"In the time it takes for a cow to conceive and produce a calf on the ground – let alone grow it to slaughter weight – the chicken meat industry can produce three cycles of broilers on the supermarket shelf," he said.
"By the very nature of the Australian cattle and beef industry, it requires long-term planning, long-term thinking and long-term partnerships," he said.
This had been a key feature of the relationship between Australia and Indonesia over the years, and had to continue.
He said Australian companies represented at last week's IndOz beef trade forum had invested heavily to become the best trade partners to customers in more than 110 international markets.
He used graphs to illustrate how Australia's export beef business had changed over recent years.
"Australia is in the middle of record-breaking monthly and yearly figures for beef exports. But a key feature is the changing nature of who that customer base is. In 2006, 90pc of our export product was going to just three markets – US, Japan and Korea. Today, more than 30pc of Australia's exports are going to alternate markets to those three. And Southeast Asia is playing a large part in that."
Similar drivers of demand were working in most of these emerging alternate markets, including China, the Middle East and Indonesia.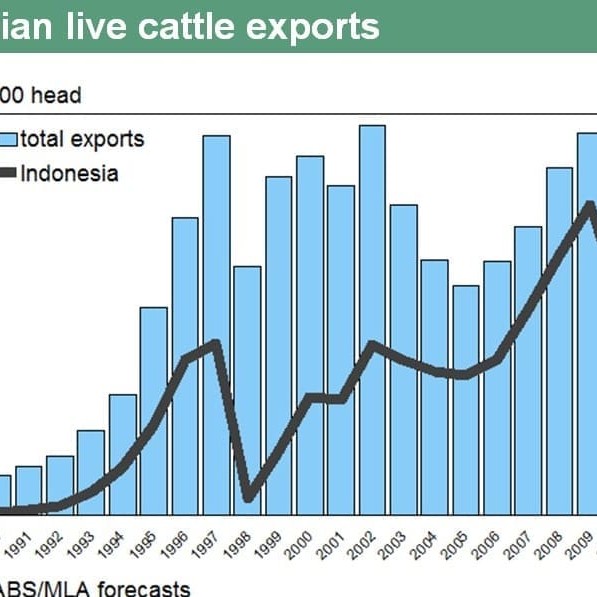 Equally with the live export trade, the importance of trade with the dominant market of Indonesia was reflected in graphs, published here, which also clearly illustrate overall market volatility.
"We'd all agree that investment requires a number of factors – just two of which are certainty, and a reduction in volatility," Mr Hansen said. "Investment decisions are best driven when there are clear trends, where there is data and certainty."
"When we look at the data on beef consumption trends in Southeast Asia, we see certainty: certainty in demand, which is growing for a number of reasons. More people with more money equals more beef demand, and that is certainly reflected around the world."
Indonesian food consumption patterns had been changing as the economy evolved, typified by the 50 million middle class Indonesians now looking to increase their beef consumption beyond those 'once-a-year celebratory dishes' to more regular consumption. Decreases for carbohydrates like tubers and cereals was being replaced by a more than doubling in demand for beef, eggs and milk.
"These are all indicators of Indonesia's growing middle class, which some say is growing at an extra seven million per annum," Mr Hansen said.
"That's enormous buying capacity, and a trend that can give confidence to investors that there is strong and fundamental demand growth in the region."
He said economic modelling had suggested that the income growth factor would have twice the impact on beef demand that sheer population growth would. "There's a clear equation here that provides some certainty over growth in demand for beef products."
He said a key feature of discussions over the two-day forum was this issue of certainty, and certainty of access into the marketplace.
"One of the key features in this is relationships, which Australia and Indonesia have built over many decades, in some cases. At the end of the day this trade is a partnership, and is viewed very much as a partnership," he said.
Mr Hansen said MLA had been investing for decades within the Indonesian marketplace, including alignments with many of the companies and municipalities represented at the forum.
"We have been working together to share knowledge on issues like animal husbandry, animal health and welfare, stock handling, feed and nutrition, and food safety. But it has not been a one-way street: Australia has equally benefitted from knowledge gained from Indonesian tropical production systems."
The two counties had been working together to improve production, breeding rates, lowering mortality rates and improving feed conversion efficiency in feedlots.
"We see this focus on the relationship between the two countries, at a time when there is unprecedented demand growth for beef protein as a core part of the calorie intake for a growing middle class in Indonesia, is the ideal platform for both countries to realise some of their ambitions and goals around a productive and sustainable agricultural base," he said.