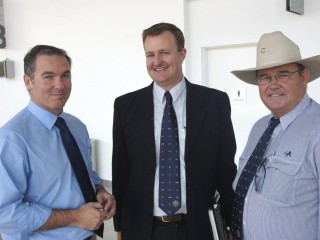 How widespread were the Indonesian abattoir practices depicted in ABC Television's Four Corners program, and how many people in the live export industry were aware of them?
These questions were repeatedly asked at yesterday's live export Senate inquiry in Darwin, where Senators searched for evidence that the industry knew more than it has acknowledged and industry representatives sought to explain that animal cruelty is a genuinely isolated practice in Indonesian abattoirs.
In response to questioning by Greens Senator Rachel Siewart, Australian Live Exporters Council executive director Lach McKinnon told the inquiry he had visited Indonesia at least 15 times in the past seven years and had never witnessed the behaviour shown in the program.
That prompted an expression of disbelief from the Greens Senator.
"I find it incredible that Animals Australia and Four Corners could go into the number of abattoirs they went into and saw that, and yet no one in the industry has seen it before?"
Mr McKinnon reiterated that he had visited more than 20 abattoirs all over Indonesia, including some of those shown on Four Corners, and had never seen the same treatment highlighted in the program.
Asked to explain how no one in the industry had seen animal cruelty, but Animals Australia was able to find several examples of brutal practices in the 11 abattoirs it visited, Mr McKinnon said the question would have to be directed to Animals Australia.
South Australian Labor Senator Alex Gallacher later asked the Northern Territory Cattlemen's Association why the industry had not been better prepared for a public backlash over animal welfare standards.
"Seriously, given the earlier event in 2006 where there was similar footage and remedial action taken with respect to live export, and given the articulate nature of your submissions and obviously the competency of the way you run your businesses, did no-one see the elephant in the room, that you were one half-hour program away from a huge outcry in the Australian population?"
NTCA executive director Luke Bowen said the Australian industry had led the world in investing in animal welfare improvements in foreign markets.
"Everybody has watched a TV program and said 'oh my god', we all said the same thing, and then said 'we'll just smear the rest of the industry with that image, with that norm, this is what happens every day to every animal that goes to Indonesia', and clearly that is wrong," Mr Bowen said.
"That is why the industry has invested in Indonesia and elsewhere millions and millions of dollars, people's lives, in investing in improvements, no one else will do it, Brazil won't do it, Thailand won't do it, India won't do it
"Australia is doing it, well we're mugs perhaps, but that is what we've been doing."
Senator Siewart asked MLA staff if they had been to the abattoirs that were featured on Four Corners and whether they were aware of the practices shown.
MLA managing director Scott Hansen said the fact that MLA was investing producer funds into ongoing welfare infrastructure and training improvements was recognition that poor animal handling practices did exist in overseas markets.
"Our on-the-ground presence is a direct result of our awareness of the need to improve animal welfare handling in those market places."
Senator Siewart: "So I take it that as you were aware of those practices, whereas the export council said this morning that they weren't?.."
Mr Hanson said isolated examples of cruelty were prevalent in any market place, including Australia, and the industry had continually made improvements as instances of poor handling had come to the industry's attention.
Senator Siewart: "So now it seems to be the story is that there is a series of isolated incidences and Four Corners just happened to visit the abattoirs where those isolated instances are happening, and so you don't see as being widespread, it just so happens they filmed at the time those practices were carried out?
MLA chairman Don Heatley denied problems as shown on Four Corners were widespread.
"There are many people in this industry both in the company of MLA and also in the commercial sector of the industry who will clearly attest to the fact that they have spent days, nights, weeks in and out of abattoirs in Indonesia and have not seen that gross animal cruelty that we saw on Four Corners."
Like McMcKinnon, AA Co chief operating officer Troy Setter said he had been to Indonesia over 40 times in the past five years, including visits to many of the abattoirs shown ABC, and had " never, ever seen anything like what I saw on the Four Corners show."
"The trade was stopped by a minister on one TV show, with no inspection, no review, no people on the ground, and the minister did not go to the marketplace himself when he was there to have a look," Mr Setter said.
"To think that we can change an industry by one TV show is concerning to us."
Senator Gallacher later asked Mr Setter why a large organisation such as AA Co had not seen the animal welfare fallout as a risk to its business, and had not considered investing in its own closed supply chains in Indonesia.
"What really intrigues me is why a really good business run by competent people does not do the strategic risk analyses required to secure your own future?
"This intervention from Government has been, as one senator has already recorded supported by a tremendous number of people in Australia, …What gets me, no one, the MLA, yourselves, who have got a huge business, a footprint of 1pc of the Australian continent, over 500,000 head of cattle, huge people depending on your viability, why you didn't see some of this coming?"
Mr Setter said AA Co did conduct regular analyses and visited the market continuously and had never seen what was shown on Four Corners in that time. The abattoirs it had visited were using the Mark I boxes to OIE standards.
"We had used SWOT analysis, we had been in the market place," Mr Setter said.
Nor did AA Co believe that as a producer it should also own an abattoir or a feedlot in Indonesia.
"We have a core business that we run in Australia… investing in another country with other currency issues, with other financial issues, is not something we do.
"The average Australian cattle producer doesn't own abattoirs in Australia to ensure that their cattle are produced properly, I think it is a long bow to draw that we would need to own investment in a foreign country."
In his opening statement ALEC chairman Peter Kane said the ABC footage had created a misleading impression that the practices depicted were common in Indonesia.
"They are not the norm, far from it," Mr Kane said.
"It should be noted that there have been significant in-market investments funded by the industry and the Government to improve animal welfare off-shore."
If the Australian industry was to withdraw form global markets, animal welfare standards in those markets would certainly decline, he said.