Indonesia: Slaughter Steers AUD $3.65/kg live weight
The Indonesian government issued additional import permits for 28,000 head of slaughter cattle early in April in a bid to ensure that sufficient heavy cattle would be available for the critical end of Ramadan/Lebaran period in mid July.
Exporters have been extremely active during April with just over 60,000 feeder cattle delivered to Java and Sumatera. Many of these April deliveries will be ready for slaughter for the festival period so when these numbers are combined with the new slaughter cattle allocations acute shortages during the peak demand period in the middle of July should be avoided.
Many feedlots in Indonesia have plenty of cattle despite slow imports for the first Quarter so when 60,000 plus new feeders are delivered in a single month the pressure is on for some operators to unload fat cattle to make space for the newcomers. With an estimated 80,000+ feeders scheduled for delivery in May this pressure to unload existing cattle is only likely to increase. Whenever fat cattle are forced onto the market by factors other than customer demand there is likely to be downward pressure on prices. These forces are reflected in the current Jakarta price which has eased to Rp36,000 to Rp36,500 per kg live, or using Rp10,000 to AUD $3.60 to $3.65 per kg live weight. North Sumatera prices remain close to Rp39,500 so I will use the $3.65 figure for this month's slaughter steer indicator price.
Supermarket prices for secondary cuts are fluctuating wildly at the moment as the government policy of nil secondary cut imports begins to bite. Some supermarkets are able to source product from local abattoirs while others might have access to some older stock from the cold stores. These sources must still be insufficient for all retailers as prices have shot up by up by 35% for secondary cuts in some Jakarta supermarkets including the one that we survey for our monthly price indication.
I enjoyed lunch at a local suburban steakhouse last week and it struck me once again just how much Indonesian's (and everyone else in Asia) pay for beef. See a photo I took of the Gandy Steakhouse menu below. I had the Australian Sirloin which cost Rp165,000 or AUD $16.50. Given that the "average" income for an Indonesian is about one fifth of that of an Australian that implies that in terms of spending power, the cost of this steak for an Indonesian is equivalent to an Aussie paying 5 x $16.50 or $82.50 for a lunch time steak. The most expensive item on the menu, Aussie Wagyu Rib Eye, sells for Rp370,000 or equivalent to AUD$185.00. And the place was doing a brisk business!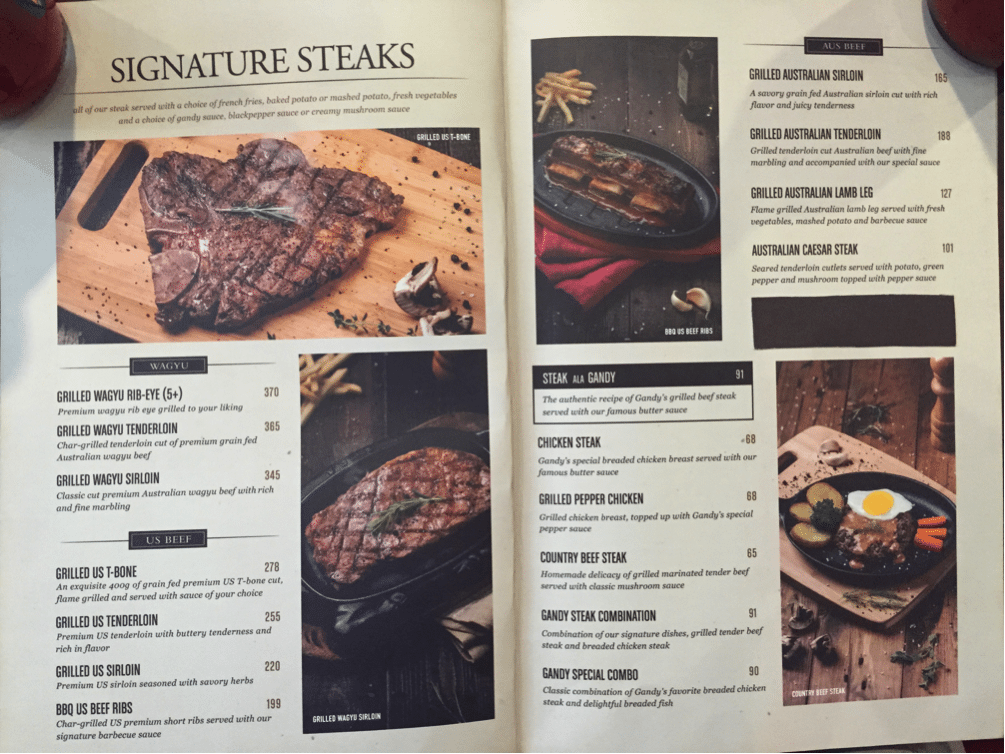 Vietnam: Slaughter Steers AUD $4.28/kg
The HAGL group, the largest feedlotter in Vietnam, is getting close to the point where its first wave of fat cattle are about to enter the slaughter market in large numbers. As this is a first for the fledgling Vietnamese cattle industry it is unknown territory so all the market players are keenly watching how the delivery of a potentially large number of locally fattened cattle will impact prices in the domestic processing and retail sector. As a result, prices are soft and steady at VND71,000 in Ho Chi Minh and VND73,000 in Hanoi. Using a slightly higher cross rate compared to last month @ 16,800 this converts to AUD$4.23 per kg live for HCM and AUD$4.35 for Hanoi. As per last month I will continue to use HCM as the indicator price for charting purposes.
This month numbers exported to Vietnam have backed off as exporters have focused their energy towards supplying their Indonesian customers at maximum speed to ensure the best outcome for Ramadan/Lebaran.
The Vietnamese government has reopened access for USA and French beef during April and are in discussions with Canada to allow their beef to return to the market following closure due to their previous cases of Mad Cow disease.
Exporters have instituted a new mandatory system with Vietnamese importers focusing on traceability of cattle by including CCTV at critical points throughout the supply chain but most importantly at the knocking box. Installation of cameras has already commenced. Once in place, every Australian animal will be able to have its humane slaughter individually confirmed by a combination of TV footage and the recoding of individual RFIDs. 
HAGL is the biggest cattle feedlot company in Vietnam. At their annual meeting, three weeks ago in Ho Chi Minh city, HAGL general director Vo Truong Son said the Gia Lai Province-headquartered enterprise will strive to increase its dairy cow herd to 13,000 and sell 60,000 fat cattle from their feedlot operation. Its total herd is expected to rise to 100,000 cattle by the end of this year. The photo below if from the HAGL web site at http://www.hagl.com.vn/ Have a quick look at this leading Vietnamese company and its broad spread of investments across the region with Agribusiness a large part of their future growth plans.
Thailand: Slaughter Steers AUD $4.47/kg
Prices steady with the changes in the price above due to currency movements only.
I have used 25.3 Baht to the AUD compared to 25 last month.
Lots of interaction with Aussie exporters and Thai importers planning for future imports but not much action yet.
The recent imports from Australia will not have had enough time or magnitude to have much impact on their market yet.
Malaysia: Slaughter Steers AUD $3.68/kg
Once again, little change in the Malaysian market.
Exchange rate used RM 2.82 = AUD$1
Philippines: Slaughter Cattle AUD $2.22/kg (mainly cull cows & bulls)
After a dream run of good seasons, stable politics and an absence of natural disasters, the Philippines is once again experiencing some difficult seasonal conditions with exceptionally dry weather restricting the volumes of feed supplies across the nation. This has led to feed prices climbing steeply while farmers are selling their surplus cattle to reduce their need for high cost fodder. The end result is falling prices across the board.
For this month I have used the exchange rate of AUD$1 to Peso35.2
China: Slaughter Cattle AUD $4.90 / kg (RMB 4.90 = AUD$1)
Prices are actually pretty stable this month with the fall in the price in AUD terms purely due to currency movements.
At a recent beef conference in China a leading academic advised that :
The Chinese beef industry will not be able to reduce its costs without significant upgrades in their production technologies.
The domestic price of beef is still regarded as unacceptably high
The current level of imports (equivalent to about 1.5+ million tons) are not adequate to result in any significant reduction in retail beef prices.
The link below is a video showing China's largest dairy farm with 20,000 head being milked and 20,000 young/dry cattle. It is a good example of what the Chinese are capable of when they get serious about increasing production of a food commodity. Beef is one of the next on the list. But don't worry, they only want fat cattle as farms like the one below are already using up their ruminant feed resources.
http://www.cowsignals.com/blog/have_a_look_at_one_of_the_biggest_farms_in_the_world
Bangladesh cont'd.
Restrictions on smuggling live cattle from India into Bangladesh are having a significant affect on the supplies with many butcher shops closed in the main traditional beef selling markets. Prices in the wet markets of the capital, Dhaka have risen to SU$1.28 per kg of fresh beef!! They don't know how lucky they are.
Some traders have been demanding that the Bangladeshi government open the live trade in cattle from neighbouring Nepal, Bhutan and Myanmar to substitute supplies.
Somalia
Normally, all we hear about Somalia is bombings and violent attacks on the government and the public by extremists and warlords. It is not a place that you would expect to have a thriving live export industry, or any industry for that matter.
However, FAO has recently reported that during 2014 Somalia exported 4.6 million goats and sheep and 77,000 camels to nearby markets in the Gulf of Arabia. Livestock production is in fact the mainstay of the economy contributing 40% to the country's GDP.
Market price table for April 2015
(All prices converted to AUD)
These figures are converted to AUD$ from their respective currencies which are changing every day so the actual prices here are corrupted slightly by constant foreign exchange fluctuations. The AUD$ figures presented below should be regarded as reliable trends rather than exact individual prices. Where possible the meat cut used for pricing in the wet and supermarket is Knuckle / Round.
Location
Date
Wet Market

AUD$/kg

Super market

$/kg

Broiler chicken

$/kg

Live Steer

Slaughter Wt

AUD$/kg

Jakarta
Dec 14
11.33
11.82
3.25
3.44
Jan 2015
11.00
NA
3.50
3.60
Feb 2015
11.00
12.75
3.30
3.70
March 2015
10.50
12.00
3.00
3.85
April 2015
11.00
15.00
3.60
3.65
Medan
Dec 14
9.35
9.85
1.57
3.74
Jan 2015
3.75
Feb 2015
11.75
11.75
1.70
3.95
March 2015
10.00
12.00
1.40
3.90
April 2015
9.70
11.50
1.70
4.00
Philippines
Dec 14
5.65
5.70
3.40
2.20
Jan 2015
6.11
6.61
3.58
2.43
Feb 2015
7.03
6.38
3.56
2.45
March 2015
6.25
6.45
3.54
2.44
April 2015
5.80
6.02
3.47
2.22
Thailand
Dec 14
8.92
10.40
2.60
3.90
Jan 2015
9.60
11.20
2.80
4.60
Feb 2015
9.60
11.20
2.80
4.60
March 2015
9.20
11.20
2.80
4.20
April 2015
9.88
11.07
2.77
4.47
Malaysia
Dec 14
9.79
10.05
2.52
3.40
Jan 2015
10.10
10.25
2.60
3.52
Feb 2015
9.86
10.21
2.46
3.68
March 2015
9.92
10.28
2.48
3.68
April 2015
9.93
10.28
2.48
3.68
Vietnam
Ho Chi Minh
Nov 14
12.78
14.45
9.44
4.16
HCM
Dec 14
13.14
14.86
8.57
4.28
HCM
Jan 2015
15.75
16.96
9.69
4.36
HCM
Feb 2015
15.66
16.87
7.83
4.34
March 2015
15.66
16.97
7.83
4.28
April 2015
14.97
16.77
7.78
4.28
China
Beijing
Dec 14
13.80
19.64
3.94
4.73
Beijing
Jan 2015
14.10
19.08
4.15
4.98
Beijing
Feb 2015
16.32
16.32
4.08
4.89
Beijing
March 2015
14.73
19.28
4.21
5.05
April 2015
14.28
18.36
4.08
4.90
Shanghai
Nov 14
17.40
17.40
4.64
18 RMB
Shanghai
Dec 14
19.64
19.64
5.12
3.55
Shanghai
Jan 2015
18.67
18.67
4.98
3.52
Shanghai
Feb 2015
18.36
17.55
4.08
3.47
Shanghai
March 2015
18.94
18.02
5.47
4.00
April 2015
18.36
20.00
5.31
3.98