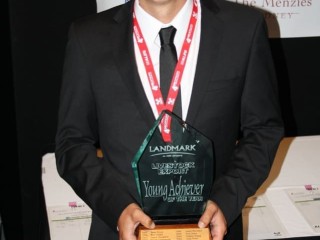 North Australian Cattle Company operations manager Hamish Shannon joined some elite company in Australia's livestock export industry last week when he was named the 2012 young live exporter of the year.
Mr Shannon is responsible for overseeing the operations of NACC's northern business which focuses predominantly on exporting cattle from Darwin, Broome, Wyndham, Geraldton, Karumba and Townsville to the South East Asian market.
NACC is one of the largest suppliers of Australian cattle to Indonesia, where its parent company Elders International Trading operates its own feedlot and meat processing facility.
Mr Shannon's responsibilities include coordinating NACC's shipments, managing AQIS compliance and documentation and overseeing supply chain assessments and the implementation of the Exporter Supply Chain Assurance System (ESCAS) in the company's export supply chains.
Mr Shannon grew up on his family's fine wool, cattle and intensive farming property near Young in New South Wales before heading north after high school to jackaroo on Consolidated Pastoral Company's Newcastle Waters Station in the Northern Territory.
After returning to southern Australia for three years to study Rural Business Management at Marcus Oldham College in Geelong, he ran his own business for a few years before a yearning to return to agriculture saw him take a job with NACC in December 2008.
The 29 year old's career in the live export industry may have spanned only five years but in that time he has experienced the trade's highs and lows first hand.
He was there in 2009 when NACC experienced a record year by shipping more than 250,000 cattle, and in early June 2011 when an NACC ship was prevented from loading at Port Hedland, which signalled the start of what became a devastating two-month shut down for the northern cattle industry.
Mr Shannon told the recent ALEC/Livecorp industry dinner in Fremantle where he received his award that he felt honoured to work in the industry.
"Very soon after I started I had the privilege of having a drink with the legendary Sid Parker (from South East Asian Livestock Services) and this reaffirmed that I was part of a strong and extremely important industry with a rich history," he said.
"I give full credit to everyone in the industry who has worked and continues to work hard through these tough times getting the industry back on its feet."
Mr Shannon said he had enjoyed his career to date with NACC immensely, and singled out NACC and Elders managers Ashley James, Hamish Browning, Tony Dage and Gary Ashton in particular for their support.
He said his goals for the future were to be the best industry advocate he could be.
"I want to continue to learn from you all and to contribute positively, constructively," he said.
"I am passionate and optimistic for an exciting future in the cattle industry."
Previous winners of the Young Live Export Achiever for the Year award, which is sponsored by Landmark, are:
2000 Dean Ryan
2001 Ben Seidel
2002 Justin Slaughter
2003 Patrick Underwood
2004 not awarded
2005 Garry Robinson
2006 Andy Ingle
2007 David Inall
2008 Justin Morrissey
2009 Troy Setter
2010 Sophie Wang
2011 Lisa Foxe