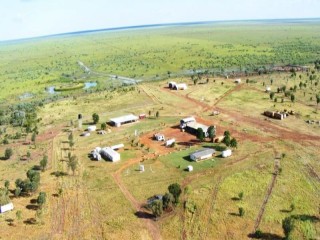 The sale of Murranji Station in the Northern Territory is close to being settled just over one month after the cattle breeding property was passed-in at auction for $5m.
Murranji was offered bare of stock when offered by auction in Brisbane on November 4, and selling agent Bernie Brosnan from Ray White Rural Darwin said three offers had since been received during post-auction negotiations.
Mr Brosnan said contracts were exchanged last Friday with a buyer who came into the frame after the auction.
The 437,900 hectare property borders the Buchanan Highway 90km north west of Elliot and 720km south east of Darwin.
He said he could not disclose the sale price or the identity of the buyer because the property had not yet settled, but could confirm that the buyer was a party with other cattle industry interests in the territory.
NT rural industry sources have linked the sale to the Venturin family, which has a range of business interests in the Northern Territory including Finniss River Station and retail liquor outlets and supermarkets, however that speculation is yet to be confirmed.
"All I can say at this stage is that the property passed in at auction on the vendor-bid of $5m, and we did have interest prior to the auction at that level, and that is why we based it around that level at $5m," Mr Brosnan said.
"It sold for a stronger result than that. I can't disclose the price but the vendor was very happy with the result."
Mr Brosnan said he was "blown away" by the level of inquiry on Murranji.
"Prior to the auction I had double the inquiry that I had anticipated, but probably the more staggering thing was the inquiry post auction and the amount of inquiry that actually led to offers on the table."
Ray White Rural's sales brochure describes Murranji as a well-balanced breeding property featuring "a great balance of country including Mitchell and Flinders plains" and with a location that provided the diversity to supply either live export or southern feeder markets.
About 25pc of the property is developed with 75pc undeveloped. Murranji was listed with a current carrying capacity of 7000 head, but with the potential to run 15,000 under full development. Mr Brosnan said the significant area of unimproved land made it difficult to analyse the sale on a beast area value, because the large percentage of undeveloped land distorted the calculation.
Murranji is one of the few significant property sales to have been recorded in the NT this year, with the impact of the June/July live export ban to Indonesia blamed for undermining buyer confidence while the industry's future was under a cloud of uncertainty.
Mr Brosnan said the Federal Government's introduction of supply chain assurance programs in major markets and its associated commitment that entire markets would not be closed in future if breaches are recorded, only the individual supply chains involved, had returned much-needed certainty to the industry.
"That should give any producer who had second thoughts about the territory and the live export game a lot of confidence," Mr Brosnan said. "The live export industry has never had that qualification and that backing from the Government that they have now.
"That return to certainty is the biggest thing for getting the Northern Territory property market going as far I am concerned."
Frank Peacocke of Herron Todd White agreed that after a year of inactivity in the NT rural property market, there were signs that renewed buyer interest was returning.
"From our own anecdotal reading of the market there is a bit of interest out there, certainly more than there was a couple of months ago, so I would anticipate some further sales over the next couple of months," Mr Peacocke said.
Murranji vendor Danny Webb-Smith has completed extensive fencing and water developments since buying Murranji in 2006, mostly on the eastern side of railway line, but some improvements have also been completed on the larger western portion.
The station now has approximately 252km of boundary fencing and 195km of internal fencing, and comprises approximately 16 paddocks of varying size.
Listed improvements included a three bedroom homestead, two bedroom cottage and quarters, a large machinery shed/workshop, storage sheds, 2500 head capacity steel cattle yards, dip, campdraft arena and all weather airstrip. Recent development work has also taken the number of bores on Murranji to 18, 13 of which are equipped supplying turkey's nests or near new 150,000 litre steel tanks.
A total of 42 concrete and steel troughs have been installed in recent years.
Groundwork has also been done to divide the property into three separate titles consisting of 1799, 1520 and 1060 square kilometres each.