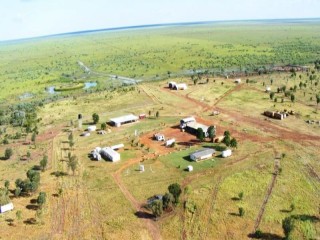 A property auction this morning is set to provide an early test of the strength of the market for properties geared to live exports following the recent resumption of trade to Indonesia.
Murranji is a 400,000 hectare red breeder block with 17,000 head carrying capacity near Elliot in the Daly waters region. It neighbours Newcastle Waters and is strategically located for the live export trade with close proximity to the Stuart Highway.
The sale of a number of large live export-geared properties was derailed by the sudden suspension of live exports to Indonesia in June and there has been virtually no activity in the northern property market since.
Some NT property agents have reported increased levels of inquiry in the past fortnight based on the returning strength of the Indonesian export market and the Federal Government's commitment to the long-term future of the live export industry in the wake of the Farmer review.
The auction of Murranji by Ray White Rural in Brisbane this morning is the first live-export geared station to be strongly marketed since the ban and is expected to provide some indication of the strength of demand.
However the extent to which today's auction can be seen as a reflection of demand for live export properties will be limited by the fact that Murranji is being offered bare of stock.
Any buyer would be unlikely to have an opportunity to stock the property until after the coming wet season in May/June next year.
Ray White Rural agent Russell Wolff told Beef Central this morning that levels of interest had been solid with more than 30 inquiries and several inspections conducted.
Mr Wolff agreed with sentiment that inquiry levels in general were returning after the live export industry managed to come through the recent crisis intact with a strong outlook for the future.
Murranji will go to auction at the Riverside Centre in Eagle Street, Brisbane, at 11am Queensland time.
Beef Central will provide an update after the auction/