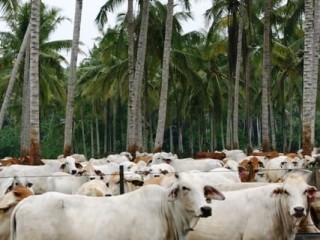 One question dominating discussions in live export industry circles as news of last Thursday's savage Indonesian quota cut-backs sinks in is whether the 285,000 head limit will stand or be revised as 2012 progresses.
Indonesia has made no secret of its desire to achieve self-sufficiency in beef production for several years. Its high-impact decision in June 2010 to impose 350kg weight limits and a truncated quota of 500,000 head was a central plank of its latest five-year drive to replace imported beef with local production, this time by a deadline of 2014.
However, while there can be no doubting Indonesia's commitment to the principle of self-sufficiency, what is under question is its capacity to supply its own consumption needs in reality.
Serious questions surround the accuracy of national herd data emanating from the Indonesian Government.
Earlier this year Indonesian media reported Government figures that placed the size of the Indonesian beef cattle herd at 12 million head. At the time that level was viewed by live export industry sources as overly optimistic. Last Thursday, Indonesian's minister for agriculture Suswono announced that the national herd is now believed to stand at 14.5 million head – 2.5 million head more than figures suggested earlier in the year.
In May the Jakarta Globe newspaper raised questions about the veracity of Indonesian herd estimates when it reported that official Government data showed that the number of cattle in East Java province jumped by 680,000 head to 3.4 million head without explanation in a 12 month period. "How this happened – cloning, spontaneous reproduction, insertion by tractor beam from hovering UFOs – nobody knows, and the Ministry of Agriculture is fastidiously avoiding questions on the subject," the Jakarta Globe wrote at the time.
Sudden unexplained herd increases aside, trading patterns in 2011 did not tell a story of a country on the brink of self-reliance in beef production.
Late last year, Indonesia issued a quota of 520,000 head for the 2011 calendar year. When the Gillard Government suddenly cut off supplies of Australian cattle to the market based on animal welfare concerns in June, Indonesia was forced to divert large numbers of its own young cattle and female cattle into abattoirs to make up the significant supply shortfall.
If anything, many believe the ban is likely to have pushed Indonesia's herd further from self-sufficiency than closer to it.
However, despite these trends, Jakarta says its own herd has now grown to a size that allows the country to reduce its reliance on imports to just 285,000 cattle and 35,000 tonnes of boxed beef from Australia for the next 12 months. That is 235,000 head, or 45pc, fewer imports than it believed was necessary to feed its population this time last year, and before the Australian ban when its own herd was presumably larger.
If an explosion in Indonesian's breeding herd has occurred, it has certainly evaded the eyes of trade participants operating in Indonesia.
One trade source raised the possibility that the difference between Indonesian production and offiical import requirements was being made up by importers either legally or illegally importing much more meat than they were admitting to. "Contracts for meat importation are a great cash cow for political parties," the source said.
Another prevailing view is that the quota announcement has more to do with political posturing within Government parties in Indonesia and is also a retaliation to Australia for the sudden ban which left Indonesian officials scrambling to fill a significant hole in the country's food supply without warning during a peak period of demand in June.
It is also important to note that under Indonesia's import permit system, last Thursday's quota announcement by agriculture minister Suswono is far from the final word on import levels for 2012.
The Indonesian government releases new import permits every quarter, and can increase import levels as required to meet demand. It can also release in-quarter quota if required at any time.
Northern Territory Cattlemen's Association president Rohan Sullivan provided some valuable perspective on the issue when he told ABC television over the weekend that Indonesia's push for self-sufficiency did not mean that Australian exports would be phased out.
This was because Indonesia regarded Australian cattle which are finished in Indonesian feedlots as 'local' production.
Additionally, he believed potential spikes in the price of meat in Indonesia triggered by a future supply shortfall would place substantial pressure on Jakarta to revisit its quota allocations. Certainly the effect of the ban earlier this year was to push Indonesian meat prices to record levels as demand outstripped available supply.
"The Indonesian Government is very sensitive to the price of meat in the market, and if there is any substantial rise in the price of meat in the wet markets, I think that will put pressure on the various ministries who recommend the number of imports to adjust those imports to increase the number of cattle available," Mr Sullivan said.
If the 280,000 head quota does stand this year, another important question surrounds the capacity of other markets to pick up the slack created by the lost Indonesian quota.
The June 2011 ban generated an increased focus on alternative markets such as Turkey, Egypt and the Philippines.
Indonesia is clearly Australia's most attractive market for a range of reasons. It is a short 4-5 day sea voyage, the market generally offers more attractive prices and suppliers can deliver multiple shuttle runs back and forth to the market in the same time it would take to complete one shipment to a higher cost and lower priced long-haul market. Indonesia also has a clear preference for bos Indicus cattle which complements northern Australian production systems.
Turkey is seen as having significant growth potential, but currently has a preference for bos Taurus cattle. The Egyptian and Philippines markets also have potential for growth but are considered far more price sensitive.
While protential for growth in other markets does exist, the hopes of Australia's cattle industry will rest on Indonesia incresing its reduced quota limits as the year progresses to prevent the diversion of more than 200,000 cattle that would otherwise be destined for live export back onto local cattle markets.