As Australian cattle exporters look to expand their market options via the imminent opening of a trade to China, customers in Australia's largest export market are also seeking to diversify their supply sources at the same time.
The Indonesian parliament recently passed amendments to legislation that open the country's borders to beef and cattle imports from Foot and Mouth Disease-free zones within countries such as Brazil and India.
The law change was motivated by a deep seated desire within Indonesia to improve food security by broadening  supply options and reducing its heavy reliance on Australia for imported cattle.
Several members of Indonesia's cattle importing and lot feeding industry recently travelled to Brazil to meet with cattle exporters and Government officials and to learn more about the country's potential as a future supply source for Indonesia.
The big question is whether Brazilian cattle can be landed in Indonesia at a viable price given the vast shipping distances involved.
Australia is just a four to five day shipping distance from Indonesia, while Brazil is about a three week sea journey away.
However, the cost of freight alone is not the full story.
The higher purchase cost of Australian cattle compared to equivalent weight Brazilian cattle, and the additional regulatory costs imposed on Australian cattle exports, which are held to the highest stringent animal welfare standards of any exporting country, serve to at least partially offset the large cost of shipping cattle from Brazil to Indonesia.
One recent report placed Brazilian steer prices (in Brazilian Real terms) at R4.10 kg/lwt in São Paulo state (approximately AUD$1.89 kg/lwt). That compares with a prevailing feeder steer price ex-Darwin of around $2.55 kg/lwt in Australia. (Some anecdotal reports have placed rates as high as $2.60-$2.70 in places).
On a 'per head' basis, that puts the difference in strike price for a 350kg steer at around A$660 in Brazil versus A$890 from Darwin.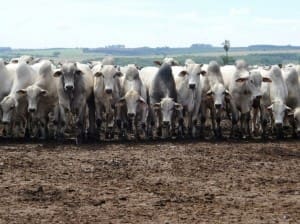 These are of course just rough 'back of the beer coaster' type calculations that do not account for all influencing factors such as cross currency conversions in Indonesia, but they help to demonstrate how a cheaper cattle purchase price in Brazil can help to offset the higher freight differential.
Australian cattle are also made more expensive by higher regulatory standards that do not affect cattle from other countries.
Different sources have told Beef Central that ESCAS can add anywhere from $50 to $100 extra to the landed cost of every head of Australian cattle, a cost no other competing exporter currently faces.
One senior live export industry stakeholder, who asked not to be named, said that in some markets of the Middle East where shipping distances from Australia and Brazil are roughly equal, Brazilian cattle can outcompete Australian cattle on landed price terms.
The main reasons for this are the lower initial purchase price of the Brazilian cattle and the lower regulatory costs imposed on Brazilian cattle. For example exporters from Brazil can put more cattle on the same sized vessel than exporters from Australia due to lower standards and lesser regulation.
This explains why Australian live export industry leaders continue to push vehemently for reductions in unnecessary duplication in the regulations that govern Australian exports, which they argue can be removed without risking or undermining welfare outcomes.
"If we keep it up and don't cut red tape, our regulatory costs alone will probably make (Brazilian cattle) competitive," the senior live export industry stakeholder said.
Indonesian lotfeeders meet with Brazil exporters
Among the Indonesian delegation that recently visited Brazil were Buntoro Hasan and his two sons Wilson and William from TUM, one of the largest customers of Australian cattle in Indonesia.
Buntoro Hasan said the Indonesian delegation found the Brazilian industry to be "very advanced", with cattle of good genetic quality run on well managed pastures.
"We are very impressed by the sheer size of the industry with a herd size of about 210 million heads, and its ambition to be a world leader in beef by continuing to increase production," he said.
"With relatively cheap production cost and an abundant availability of resources, the potential is huge."
Mr Hasan said the quality of Brazil's indigenous bos Indicus cattle breed Nelore appeared to be very suitable to the Indonesian climate and feeding environment.
He said the tour members met with Brazil's largest live cattle exporting company, which he described as "very keen and excited about the prospect of exporting to Indonesia".
"While there is an issue with long logistic haul/voyage, they believe given the price of live cattle in Brazil, they can still remain competitive in the Indonesia market."
The Indonesian delegation also enjoyed the opportunity to visit JBS Headquarters in Sao Paolo.
"They shared that global beef industry is a continuously growing business, poised to rise even higher than chicken and pork in the future years to come," he said.
"We also believe that Indonesia will grow in its demand for beef and hope that our closest neighbouring country, Australia, will also continue like Brazil to increase production and continue to be competitive in providing affordable and high quality meat for the Indonesian people to enjoy."
Brazil exported 517,906 cattle in 2013, with 98pc of that volume sourced from Para State, which earlier this year was cleared by Brazil's Ministry of Agriculture and Supply and the World Organisaiton for Animal Health (OIE) as being free of FMD under vaccination. (UPDATE: The question of whether Indonesia will allow imports from zones that are 'free with vaccination', in addition to zones that are free without vaccination, of which there is only one in Brazil, is yet to be clarified by the Indonesian Government)
Most of Brazil's cattle exports go across the land border to neighbouring Venezuela, which accounted for 69pc of its exports in 2013. The largest shipping destinations included Lebanon, which took 97,607 head last year, and Turkey and Egypt.
Quarantine issues
Another factor that may impinge on the viability of importing cattle from FMD-free zones of Brazil to Indonesia surrounds whether additional quarantine measures will be required.
The importation of cattle from an FMD affected country, even from an FMD-free zone within that country, may first require the establishment of an appropriate island-based quarantine facility with port unloading/loading and cattle holding infrastructure, testing laboratories and facilities for staff and workers.
The cost of holding cattle on feed while in quarantine, estimated at around $3/head/day, would also impact on the final cost.
"It is difficult to see how it could be viable for a private company with those added costs and risks," an experienced Australian export source said.
"Possibly the SOE's would do it and slaughter the cattle there.
"But would the beef from those cattle be cheaper than importing beef direct from Brazil? You wouldn't think so."