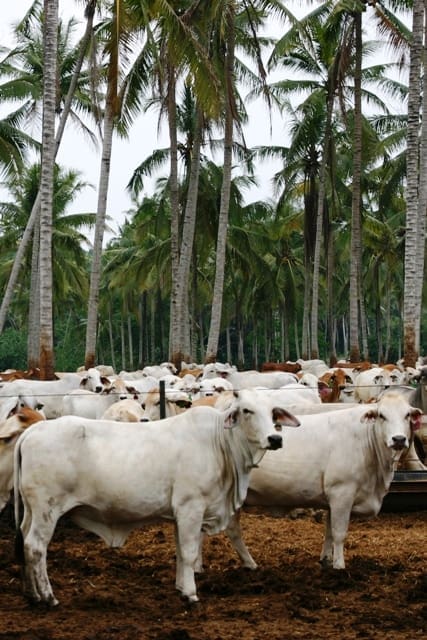 A senior Indonesian trade official has indicated that Jakarta is about to issue import permits for a massive 264,000 head of cattle for the fourth quarter.
Partogi Pangaribuan, the Indonesian Trade Ministry's director-general for international trade, told media on Friday that Indonesia is looking to increase the amount of cattle it usually imports in the final quarter so it can build stocks for the first quarter of next year.
He said the Indonesian Trade Ministry plans to issue permits before October for 264,000 cattle, for import between October 1 and December 31.
"We've learned in the past that beef scarcity in Indonesia happens early in the year. So we've got to build up stocks to meet demand for at least the first two months," Mr Partogi said, as quoted by media.
Mr Partogi said Indonesia needs to set up "buffer stocks" of beef domestically to anticipate a surge in demand for Australian beef and cattle from other countries.
"We are monitoring the development of the cattle market in Australia and seeing that we have to compete with (buyers from) China and the United States.
"However, I'm confident that because of our long-standing partnership with Australian breeders, Indonesia is still the preferred buyer for their cattle."
Import sources have told Beef Central over the weekend that they are yet to receive Q4 permits, but agreed that permit allocations were likely to be in the range indicated by Mr Partogi.
This was because members of Indonesia's cattle import association APFINDO have collectively applied for Q4 permits totaling 245,000 cattle.
Not all importers are members of APFINDO, so the final number of permit allocations would be expected to exceed that volume.
The actual number of cattle Indonesia imports in the final quarter will depend not just on the number of permits issued, but also on how profitable it is for importers to buy and finish Australian cattle, and where they stand in relation to Indonesia's '80pc rule' for the year.
Under Indonesia's new import policy, individual importers must realise 80 percent of the permit volumes they are allocated in an annual period.
In other words, importers have to apply for the number of import permits they wish to be issued before each quarter. They are then obligated to deliver at least 80pc of the volume of permits they receive for the entire year as finished cattle to market. So an importer who is allocated permits to import 25,000 head in each quarter, adding up 100,000 cattle for the full year, is obligated to deliver at least 80pc of that volume, or 80,000 imported cattle, to the market in finished, ready-to-slaugther condition. If they don't, penalties such as reduced permit allocations the following year apply.
How each importer is positioned in relation to the 80pc rule, and how the current supply-demand situation is affecting the profitability of buying and feeding Australian cattle, will ultimately dictate how many cattle are imported in the final quarter.
Importers who are running well in relation to the 80pc rule will have the option to ease off imports, if the higher cost of buying cattle from Australia cannot be passed on in the price they can receive for their finished cattle in Indonesia and their profitability disappears.
However importers who are not running at a good rate will have to keep buying Australian cattle to meet their permit commitments, regardless of whether it is profitable for their businesses, otherwise they run the risk of not getting permit for 2015.
(Or at least that is how the rules work under the current SBY Government policy; new rules could be introduced when the new Jokowi Government takes over in 2015).
The equation for importers will be influenced by the capacity for prices ex-feedlot in Indonesia to increase, and by how the Indonesian Rupiah fares against the Australian dollar.
Northern cattle producers should be cheering on the Indonesian Rupiah and hoping it strengthens against the Australian Dollar.
"The key driver, as always, will be the IDR:AUD cross rate," one import source told Beef Central over the weekend.
"We desperately need the IDR to strengthen, that provides the buying power."
If the reported permit volumes of 264,000 cattle for Q4 are confirmed, it will take the number of import permits issued by Indonesia for the 2014 year to an unprecedented 877,000 cattle.
The largest number of cattle Australia has exported to Indonesia in a single year was 760,000 head in 2009.
With cattle supplies already tightening across northern Australia, exporters face a major challenge to satisfy Indonesian demand in the final three months of the year.
Prices last week were already responding to the unfolding under-supply situation with feeder steers at Charters Towers for export to Indonesia fetching 210c/kg per head, up from 190c/kg a few weeks before.
Jokowi: beef self-sufficiency will take 10-15 years
Indonesia's president-elect Joko Widodo last week gave an early indication as to how his new Government will approach the issue of achieving self-sufficiency in beef production.
In contrast to the previous regime which tried to rush self-sufficiency in within a five year period, a policy that led to sharp import cutbacks, a severe beef shortage and record consumer prices for beef, Jokowi's has flagged a more patient and gradual approach.
Quoted by Indonesian newspaper Republika, Jokowi said there were some commodities in which Indonesia could achieve self-sufficiency, such as rice, sugar, and corn.
Beef was also included on the list, he said, however, achieving beef self-sufficiency would take time.
He said 'past mistakes' had been made which caused a lack of imports and hence the slaughter of many local productive female cattle, which had reduced the Indonesian cattle herd and had affected Indonesia's plan to achieve self-sufficiency.
"He further stated that a female cattle may only reproduce 1-2 calves, hence beef self-sufficiency would require more than 10-15 years," the Republika report stated.