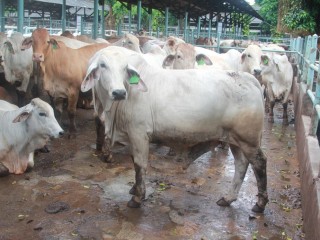 Indonesia has started releasing import permits for an additional 100,000 feeder and slaughter cattle, setting the scene for two months of intense competition for available supplies in northern Australia.
The release of the new permits, valid until the end of 2013, began on Friday.
It follows almost two months of negotiations between Australia and Indonesia over the rules that will underpin live cattle imports in future.
The mix of feeder cattle and slaughter cattle in the new permit allocation has not yet been announced.
Trade sources contacted by Beef Central over the weekend said it seems likely that there will be more permits for feeder cattle than slaughter cattle in the new allocation, but the final ratio is yet to be agreed upon by Indonesia's ministries of trade and agriculture.
The Ministry of Trade wants to ensure there will be enough slaughter cattle included in the new import allocations to get more beef into wet markets and supermarkets to support the aim of lowering beef prices for consumers as quickly as possible.
Some importers received the first permits on Friday with most expecting to receive permits this week.
Australia began the year with a quota to supply 267,000 feeder cattle to Indonesia in 2013.
As a shortage of beef forced consumer prices to unaffordable levels around Ramadan, Indonesia released new permit allocations for 25,000 slaughter cattle in July and for a further 75,000 slaughter cattle in early October.
The short supply of slaughter cattle in northern Australia has meant that most of those orders are yet to be filled.
It is also unclear whether the recent 75,000 head allocation issued earlier this month will form part of the 100,000 now being issued under Indonesia's new price reference mechanism or whether the new permits will be over and above what has already been announced.
Supply challenge
Either way, exporters will now face a challenge to source, secure ESCAS approval for and ship somewhere between 100,000 and 200,000 cattle to satisfy Indonesia's new orders before December 31.
For most of this year, a lack of Indonesian orders has led to an oversupply situation which saw prices for export feeder steers drop from around $2/kg liveweight at the start of the year to around $1.50 by mid-year.
But once again the supply/demand pendulum has swung.
Indonesia's substantial new orders come as northern Australian cattle numbers are in tight supply following successive years of herd rundowns and destocking due to Indonesia's recent import quota cutbacks and dry conditions.
Many northern stations have already finished their dry season mustering rounds, and would be planning to let the forthcoming wet season run its course before mustering again to assemble feeder cattle for export in the 2014 dry season.
Export feeder steer prices from Darwin have been quoted at around $1.70/kg in recent weeks but whether that price will be enough to convince producers to sell available stock into this order over the next two months or if higher prices will be required to attract supply remains to be seen.
Prices for export slaughter cattle (380kg plus) rose to $1.80/kg earlier this month, reflecting a lack of suitable stock and strengthening demand, in the form of the Indonesia's 75,000 head order and a simultaneous order for slaughter cattle from Vietnam.
One benefit of the release of new feeder cattle permits is that it will allow exporters to continue filling shipments to Indonesia with a mix of both slaughter and feeder cattle.
The fourth quarter permits for 46,000 feeder cattle have now been all but filled, and had new feeder cattle permits not been issued, it would have been difficult for exporters to find enough slaughter cattle to justify a shipment in their own right.
'80pc rule' creates challenge for importers
The new rules also mean importers face something of a gamble in trying to source as many cattle as quickly as possible to refill feedlots which have been running at just 25pc of capacity for more than a year due to import quota restrictions.
A new '80 percent trade realisation rule' imposed by the Department of Trade requires importers to deliver 80pc of the volume of import permits they are allocated to the consumer market as beef or ready-to-slaughter cattle within a 12 month period.
The rule is designed to prevent importers from seeking to withhold beef or finished cattle from market to restrict supply and force the price they can sell at to higher levels. Importers who fail to meet the 80pc rule can be punished by having their share of future import permits reduced.
Importers have understandably gone hard in submitting applications for big permit numbers in recent weeks, but the lack of available supply could make it difficult for them to source the numbers they will need to supply 80pc of their allocated permits as finished cattle or beef to the market under the realisation rule.
Indonesia has also sought to improve supply by removing permit restrictions for beef imported for the restaurant trade.
Technically this beef is not intended to go into wet markets or supermarkets but it is not known how, or how strictly, this rule will be policed, which could see significant increases of imported boxed beef entering the market in coming weeks.
Contradictory forces pulling prices both ways
The rising price of live cattle due to a supply shortage in northern Australia versus Indonesia's clear intention to reduce the price of beef in its wet markets are contradictory forces pulling prices in both directions in the current market.
Indonesia has recently abandoned the previous annual quota system and will now allocate quarterly import permits based on estimates of how many additional cattle or tonnes of boxed beef will be needed to keep wet market prices at affordable levels for consumers.
Beef is currently selling above 100,000 Indonesian Rupiah per kilogram and Jakarta has set a goal of reducing the price back to around 76,000 Rp/kg, which will clearly require a substantial injection of additional boxed beef and live cattle in the short term.
The new system will see import permit allocations change from quarter to quarter, so, while it will mean a significant increase in exports for a while at least, it will not necessarily mean an end to uncertainty in terms of future export volumes.
There does seem to be general consensus however that a return to import volumes of 500,000-600,000 head annually is a sustainable volume that would help to meet Indonesia's demand without impacting on the sales and incomes of local Indonesian cattle producers.