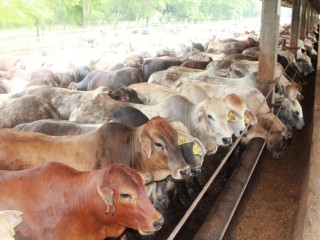 A growing market preference is emerging in Indonesia for Euro-cross and composite cattle in direct response to the dwindling availability of imported cattle in the market.
Importers are expressing a stronger desire for crossbred cattle with inherent hybrid vigour to boost feed conversion efficiency and to produce heavier carcase weights as they strive to bridge the gap in beef supply created by import cutbacks.
The use of crossbred cattle in the market is certainly not new, and has grown in recent years particularly as the larger and more vertically integrated importers who market beef to local supermarkets under their own brands, such as Santori and Elders Indonesia, have increased their focus on quality.
But the more recent shortage caused by quota cutbacks has created a new emphasis on greater productivity across the board as importers look to higher yielding Euro-cross and composite cattle to deliver enhanced weight gains and carcase performance.
Large numbers of Charbray cattle in particular were evident in Indonesian feedlots visited by Beef Central last week, as were composites supplied by northern pastoral companies.
Euro-cross cattle are not deemed to be the answer in every case, with feedlots located in hot and humid conditions closer to sea level still still expressing a strong preference for high-grade Brahmans.
Imported cattle supplies have diminished significantly in Indonesia in recent years following restrictions on weight limits and import quotas in line with the Government's drive to achieve self-sufficiency in beef production by 2014.
Supplies of local cattle have not been adequate to make up the difference between supply and demand.
Indonesian importers are being encouraged to increase the percentage of local cattle they have on feed under new import rules introduced in line with the self-sufficiency policy.
The new import credit system is designed to reward importers who stock their feedlots with at least of 10pc local cattle with a greater share of availble quotas for feeder cattle imports.
While importers are working hard to comply, many are finding it difficult to source the numbers of local cattle they require. Most have the capacity to take thousands in any given month, but say they can only secure 400-500 head a month at most.
Local cattle also lack the feed conversion efficiency of Australian cattle, with average daily gains of just 1-1.1kg compared to the 1.6kg average of imported cattle.
These factors have all contributed to a growing preference for crossbred cattle from the north.
"With less permit allocated, it is critical that importers get good quality cattle and make sure they get maximum average daily weight gain out of the cattle they import," Elders executive sales manager Tony Gooden said.
"The fact that less cattle are entering has concentrated the focus on quality, so they want to make sure they get optimum performance from the numbers they have."
Slick-coated Charbrays were proving popular in the market, as were the composites produced by northern pastoral companies, such as AA Co's red-coated Barkly composites (50pc Santa Gertrudis, 25pc Senepol and 25pc Charolais) currently on feed in Santori's Bekri feedlot.
Lotfeeders said the European influence enabled cattle to be fed for longer periods (for example 140-180 days compared to the 90-120 day standard) to produce heavier weights without gaining undesirable fat coverage.
Indonesian importers explained to Beef Central that crossbred cattle were also winning increasing acceptance from butchers.
"In 2007 we started to try our customers with Euro-cross cattle, but they don't want red cattle," Petrus Budihargo, manager of Santori's Bekri feedlot, explained.
"But one day they buy the Euro-cross for their abattoir. Soon they see the Euro growth and the Euro condition, very good, and then they start asking, what are these cattle?"
"We tell them these are Euro cattle, we tell you before but you don't believe. Now they are looking for the red one, they want the hybrid vigour."
Santori uses feedback from its own abattoirs to identify cattle which produce higher yielding carcases and pays a 5-10c/kg premium to the producer for the better performing stock.
Charolais Australia general manager Terrence Farrell said the larger Charolais and Charbray stud breeders who were able to produce large, consistent lines of young bulls had experienced a distinct growth in demand to supply northern herds in the last two years.
Some northern herds were buying 20-30 bulls at a time, preferring bulls at 12 months of age so they could be conditioned to the northern environment for at least six months before going out to work.
"We have definitely seen a strong trend towards that in the last couple of years," Mr Farrell said.
"They (Indonesian lot feeders) are getting yield and they are also picking up feed efficiency.
"The Euros increase the feed efficiency, and the Brahman itself is a very feed efficient animal, so what they're doing is picking up on that feed efficiency for weight gain."