Australian cattle exports edged higher from August to September, but remained around 38 percent below the five year average for the month, according to the latest data released from the Department of Agriculture, Fisheries and Forestry.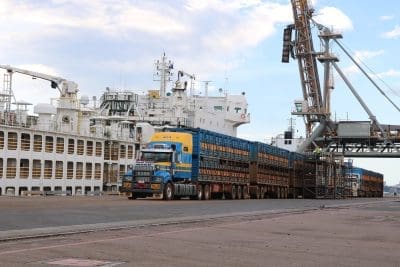 Australia exported 47,588 cattle in September, slightly up on the 44,907 head exported in August.
Exports to Indonesia totalled 28,754 head, an increase on the 21,697 head shipped in August, but 30pc down on the five-year monthly average for September.
Trade to Vietnam remains heavily subdued with only 5210 head exported in September. That was up slightly on the 4309 cattle exported in August, but 62pc below the five year average to Vietnam for September.
Exports of dairy cattle to China amounted to 9469 for the month sourced from Portland and Port Adelaide, almost right on the par with the September average for the past five year.
September exports from Darwin totalled 10,676, closely followed by Townsville with 10,349 head, Broome with 9926 head and Wyndham with 6159 head.
While this will not show up in official reports until next month, Darwin has already seen more cattle shipped in the first week of October than it did in the full month of September.
Four ships have loaded in Darwin for Indonesia since October 1, carrying a total understood to be close to 15,000 head.
There is some talk that the roll out of FMD vaccines in Indonesia are starting to lead to increased demand from importers, but they remain cautious.
Exporters have been stockpiling cattle on floodplains in recent months which should help to underpin reliable volume and supply for orders in the lead up to Christmas.