SOUTHERN cattle producers have cashed-in on useful prices for British Breed heifers in recent months, as strong live export demand for future breeding stock from the northern hemisphere provided a solid floor in the spring market.
And while live export has become a regular marketing option for producers offloading surplus Angus heifers, reflecting northern hemisphere preference for black cattle, orders for Hereford females are also becoming more common.
Hamish Browning, general manager of meat and livestock for the Elders International Trading Group, says growth in southern live export in successive years has been encouraging.
"Orders for beef breeding and dairy cattle have driven the volume growth of cattle exported from southern ports in the past couple of years," Mr Browning said.
"This volume should remain firm with the fundamental drivers of the demand for these orders such as increasing population, GDP growth, and agricultural development policy in the destination countries remaining the same."
Elders International exports cattle from Australia, New Zealand, Uruguay and the United States to 10 countries of destination, with the Adelaide-based Mr Browning managing all trading activities of Elders International's livestock exports and domestic feedlot business. This comprises in the order of 300,000 cattle a year.
Elders' live shipping program from southern ports consists of approximately 25,000 beef breeding heifers being exported to the Baltic and northern Asia, with a further 20,000 dairy heifers shipped to the same regions, plus the Indian Subcontinent and Middle East.
"We see our role as the world's premier breeding cattle exporter as providing our customers with supply solutions that meet their needs and hopefully exceed their expectations of performance and quality, Mr Browning said.
Among those who have played a key role in Australia is Scott Altschwager, Elders network southern livestock manager.
"Scott has played a key role in driving supply support for southern breeders live export orders," Mr Browning said.
Coordinating sales and procurement for the recent orders from Europe has been George Last, Elders International Trading's International Sales Manager for the Baltic and Mediterranean.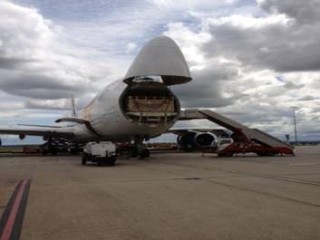 A highlight of the spring trading period was the 5000 Angus and Hereford category 2 heifers which were exported to Kazakhstan. Category 2 denotes purebred heifers, sired by registered bulls with at least three generations of pedigree.
"British breed cattle suit the northern hemisphere markets well with their ability to adapt to that climate," Mr Browning said.
"There has been a firm volume of Angus heifers exported in recent years, but we have also recently executed a significant consignment of Hereford breeding heifers to the Baltic region and customer feedback is very positive at this stage."
Despite the growth of the live export trade, demand is still very seasonal and based on inter-country competition to supply, Mr Browning said.
"The perception of the Baltic customers understandably tends to be that more cattle will be available during spring and summer in both Australia and the US," he said.
"So orders tend to be directed from Australia from late September to early April during the southern hemisphere spring/summer and then from the US from late April to early September during the northern hemisphere spring/summer."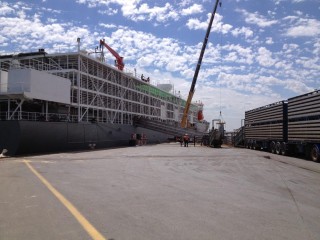 Mr Browning said orders for southern shipments were exposed to normal local market forces, while also needing to calculate for the exchange rate, shipping costs and export country protocols/regulatory requirements.
"The recent spring was a busy time for accumulating and exporting beef breeding cattle in particular, as we went about the task of filling seven different consignments by both sea-freight and air-freight, accounting for approximately 11,000 Angus and Hereford category 2 breeding cattle," Mr Browning said.
Successive seasons of solid trading bodes well for the future of southern beef breeder exports, which is good news for those producers able to supply the market.
"I believe the future is bright for the continuing export of southern beef breeding cattle from Australia and the list of countries seeking to purchase our cattle will continue to expand," Mr Browning said.
"This will include growth in exports to the likes of Kazakhstan and China, but is also likely to also include countries in the Middle East and the Mediterranean.
"Agreement on country-to-country export breeder protocols is a major requirement, which generally takes some time and some of these discussions are still in only early stages".