AUSTRALIA'S beef cattle industry is in two distinct camps when it comes to the science of objective genetic selection through Breedplan.
It would be easy to generalise and say the southern industry uses Breedplan and the northern industry does not. But a growing number of tropical breeds are embracing Breedplan recording, with Brahmans leading the way.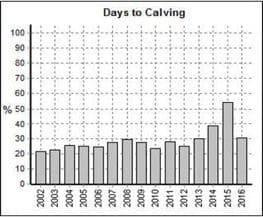 The breed's annual showcase event, the Rockhampton Brahman Week Sale, this year on October 3 to 5, this year includes 40 percent of the catalogue of 890 sale bulls with BreedPlan figures. That reflects the 54pc of registered Brahman females that had joining dates submitted in 2015 (see graph). The 2016 figure is expected to better than 2015 by year's end.
The 2016 Brahman Week event will be the last for long-serving Australian Brahman Breeders Association general manager John Croaker who is retiring at the end of the year. The ABBA is advertising for a replacement.
The growth in BreedPlan recording in the north has not been accidental. In part, uptake has been accelerated by the Agricultural Business Research Institute (ABRI) and Meat & Livestock Australia appointing a Rockhampton-based Tropical Beef Technology Services (TBTS) representative.
TBTS and its sister organisation, Southern Beef Technology Services (SBTS), are charged with the task of providing members of breed societies with technical support enabling them to maximise the use and understanding and use of a range of genetic technologies such as Breedplan, BreedObject selection indices and DNA-based technologies.
Providing the TBTS service in Queensland is veteran technical officer Paul Williams, who had a 22-year stint with CSIRO and between 1996 and 2011, was with the Beef CRC in Rockhampton where he was responsible for research projects focusing on beef production in northern Australia.
Mr Williams believes there is positive change happening in objective measurement.
Back in 2001 just on 40pc of the total registered cattle in the five major tropical breeds (Brahman, Santa Gertrudis, Droughtmaster, Brangus and Braford) had 200-day weights recorded.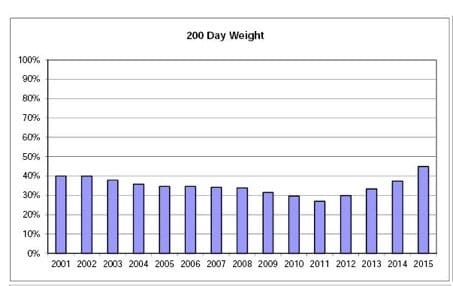 A combination of the live export crisis and drought created a steady decline over the next decade to a low point of under 30pc in 2011. Since then, there has been a regular strong annual increase and last year the number had grown to 45pc (see graph above).
But it is not easy when industry-leading studs don't use BreedPlan. The reasons are varied with the main one being the vastness of properties in the north which inhibits  the collection of data to generates accurate genetic analysis.
The Droughtmaster National in Rockhampton last week resulted in 436 bulls averaging $9596 with a top of $80,000 paid for Karragarra Marcus – a magnificent looking bull (see photo) but carrying no Breedplan figures.
At that sale, Karragarra and Medway each sold 11 bulls and each averaged over $18,000. Not one Breedplan EBV among those studs' 22 bulls.
Angus goes all the way
In other parts of the continent, Angus bulls are shunned if they do not carry Breedplan figures.
Andrew Byrne, formerly with SBTS and now breed development and extension manager with Angus Australia, said there were currently more than 650 Angus Australia members enrolled in Angus Breedplan, and a staggering 96pc of animals recorded with Angus Australia with a birth date between 2011-15 are analysed in Angus BreedPlan.
Record numbers of performance measurements are being collected on Angus animals in Australia and BreedPlan analysis now includes more than 960,000 birth weights, one million weaning weights, 500,000 live animal ultrasound scanning measurements and 220,000 scrotal circumference measurements, he said.
The Angus breed now claims to lead the industry with the adoption of genomics technology, with genomic information now included in Angus Breedplan for more than 16,000 animals.
Analysis of the performance information collected on Angus seedstock animals demonstrates the genetic merit of Angus bulls is now, on average, more than $80 per cow mated more profitable than the equivalent Angus bulls in 1990.
That genetic improvement has been achieved by Angus animals being 63kg heavier live weight at 20 months of age, and having carcases that are 41kg heavier at 25 months, 0.6pc higher yielding with 1.6pc more intramuscular fat (in a 400kg dressed weight carcase).
Mr Byrne said the economic value of the accumulated genetic gains in the Angus-influenced segment of the Australia beef industry during this time have been estimated to be more than $2.5 billion, with additional improvements in profitability in Angus beef operations.
But he also admits these gains have been assisted through changes in management and production practices.
Bull sale highlights from the past week
The past week of spring bulls sales action has kept agents busy, with 23 sales in four states. Highlights included:
The Droughtmaster National in Rockhampton where 436 bulls sold in a 98pc clearance to average $9596 with a top of $80,000. That's a huge step-up from last year, when 401 bulls averaged $6817 in an 86pc clearance.
The Braford National also in Rockhampton where 137 bulls averaged $7390.
It meant that in three days of selling at Rockhampton's CQLX at Gracemere, 573 tropical breed bulls (Droughtmaster and Braford) grossed $5.2 million.
Long established Hereford stud Devon Court averaged $9100 in their section of the Southern Cross sale at Jackson, Qld this past week. The average more than doubled last year's and was more than the 2015 top price.
Santa Gertrudis continued their stellar run this year with Greenup Eidsvold Station averaging $9250 for 104 bulls.
The Grove Shorthorns sold 127 bulls at an average of $8425 with a top of $58,000 paid by Weebollabolla. The Munro family from Weebollabolla themselves later in the week sold 93 bulls at an average $7411.
Down in Tasmania, Landfall Angus had a spring sale which averaged $7355 for 90 bulls, the top Tasmanian average for the year.
Rain forces postponement for Dangarfield
Local flooding forced the postponement of this week's Dangarfield Santa Gertrudis sale at Taroom, Qld. A new date is yet to be set. Contact GDL's Harvey Weyman-Jones on 0414 941 788 for updates.