APRIL generally signals a slowing in the number of autumn bull sales conducted across the country.
Traditionally the break between autumn and spring selling seasons was a well-defined six to eight week period from April until June, but in recent years this distinction has become less clearly defined, as seedstock breeders move sale dates as part of their strategy to free up their sale and attract greater competition from producers who may be looking for sires to enter spring or late autumn joining herds.
While this year's autumn sales commenced in early February, there are still several major sales to occur in coming weeks.
With these trends in mind, there are many breeders looking over the results of this year's autumn sales to determine what lessons may be learnt, and how the market is performing.
Key questions will focus on the number of bulls on offer in 2023, what the clearance rates were, and what the averages were across the major breeds that held sales.
Looking over the results of the 2023 sales as reported in Beef Central's national sales summaries, many of these questions can be answered. Although there are still some outstanding sales results to be included in the final numbers, as of today, there were 72 sales with results available held across the country.
Clearance numbers were generally very high across all sales. While averaging 89pc of all bulls put up for competition, there were many sales within the breeds reported which achieved a clearance of 100pc. Most seedstock breeders would be extremely happy to achieve these high rates of clearance. In comparison to the 2022 results for the same period, there was actually no change in the average clearance across sales.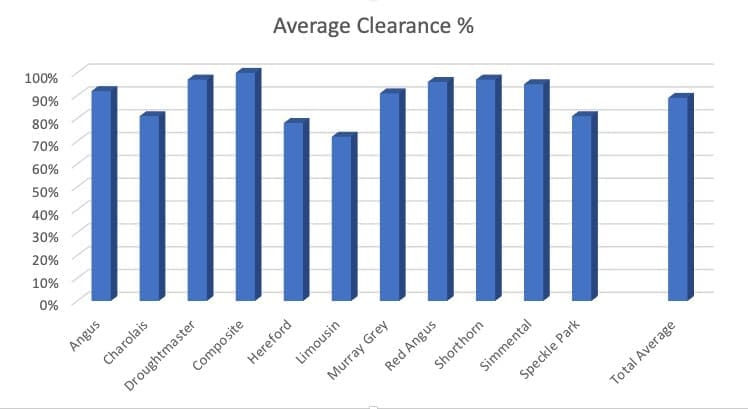 In total there were 4081 bulls offered in reported sales, with an average clearance of 88pc. The average price per head was $10,523.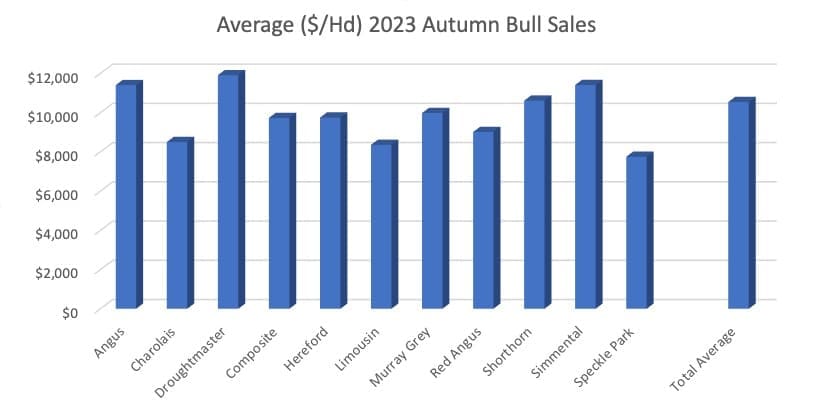 The average prices paid were lower than last year's autumn industry average of $15,570, reflecting a softening of the store and slaughter cattle markets across the country in the year to date.
Differences
Looking closely at the data within the Beef Central results, there are some notable differences between 2022 and 2023. At least three sales had moved their annual sale date forward in 2023 from a spring date to an earlier autumn date. This reflects a move to free-up the opportunity to market at a time when there appears to be less competition locally, and offer more chance to attract new clients. It is a little early to make a comparison on how successful these changes have been, with only one of these autumn sales completed.
Several sales did not have data for autumn of 2022 indicating either no sale or no data provided to Beef Central. Nonetheless it is possible to make some comparisons between 2022 and 2023.

While there was an expectation generally held across the industry that average bull prices would likely come back in line with the market trends, the average decline may be greater than some would have expected. The difference in average price is close to 16pc less across the autumn sales this year.
What may concern some breeders is the variation within the price differences compared to last year.  Looking across individual results, the largest increase in average price was a rise of 40pc on last year's average.  However, this was countered by a number of operations who saw their average returns fall from 6 to 82pc below their 2022 results.
It is tempting to consider the increased number of bulls offered in 2023 would be a major contributor to the fall in average prices. Looking across the numbers offered, most breeders did not appear to have dramatically increased the number of bulls within their own sale drafts.  The most significant rise in sale numbers can be attributed to those sales that were moved into autumn, or recommenced after an absence.
Having said that, almost all sales did enlarge their autumn drafts slightly for 2023.  It is more than likely the greater availability of bulls combined with a softer market trend has contributed to see the changes in value. It is worth noting that those sales which maintained or improved their averages were among the better known and longer established prefixes in the southern states.
For those breeders looking for lessons ahead of spring, the key themes are to be prepared for a lower average than 2022, particularly if the numbers on offer this spring follow the trend towards increased offerings.
Stronger sales are closely aligned with brand recognition and market reputation, and breeders should not neglect this message over the next few months.
Finally, for many commercial producers seeking bulls this year, it does appear there may be slightly more bulls available and within a lower average price bracket.
However for bulls bred by the well-established and regarded prefixes, it is likely these animals will still command the higher averages and stronger demand when their time in the ring arrives.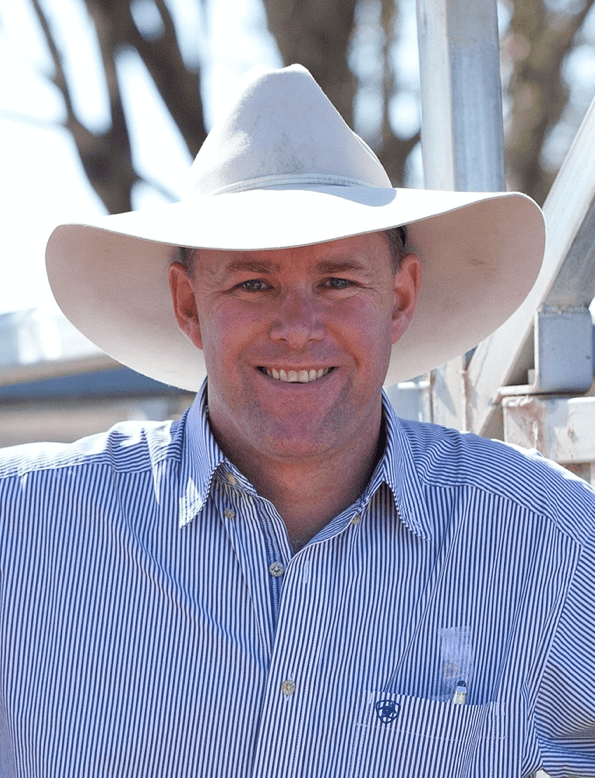 Alastair Rayner is the Principal of RaynerAg, an agricultural advisory service based in NSW.  RaynerAg is affiliated with BJA Stock & Station Agents.  He regularly lists and sell cattle for clients as well attending bull sales to support client purchases.  Alastair provides pre-sale selections and classifications for seedstock producers in NSW, Qld and Victoria.  He can be contacted here or through his website www.raynerag.com.au