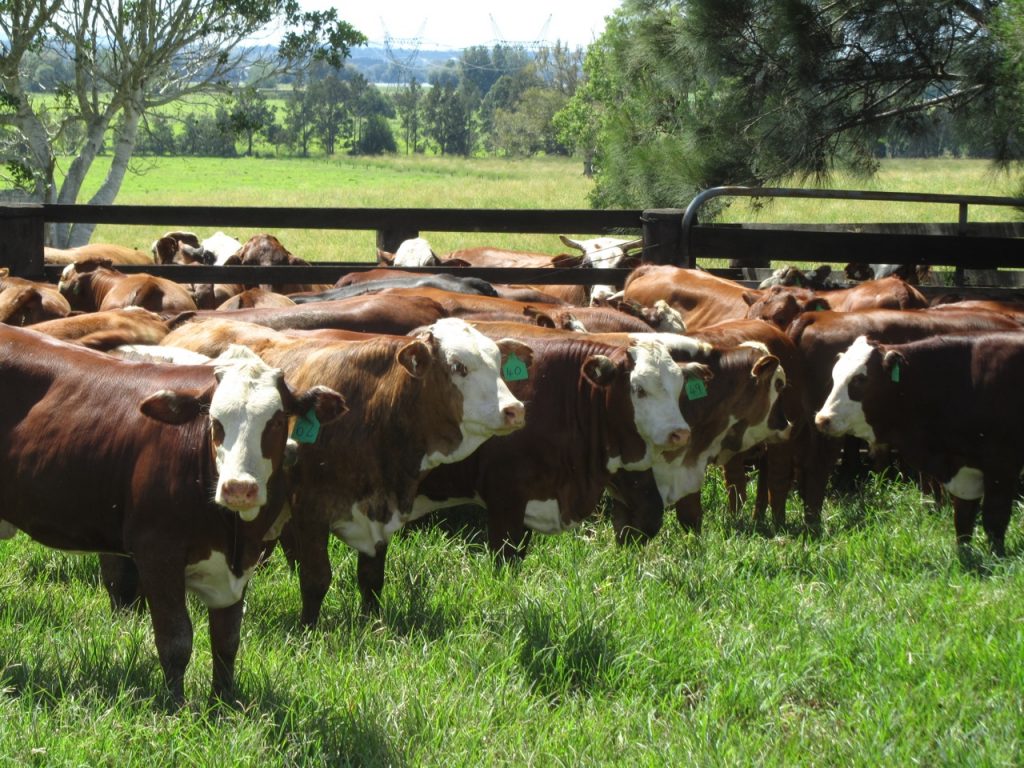 IF last week's genetics review, "Is the crossbreeding advantage being overlooked?" (click here to access the report) is anything to go by, the interest in crossbreeding remains high, even if the number of active crossbreeding programs may be declining.
While many of the dozen or so reader comments that the article attracted agreed with the premise that overwhelming messages around price have been a factor in decline in interest in crossbreeding, several producers have also contacted me to share their experiences.
Aside from the messages around price, the largest impediment for many producers considering crossbreeding is how to source and maintain breeder numbers. The question I've been asked is, 'What should I really be doing?'
More commonly, producers seem to really want to maximise the impact of hybrid vigour through a terminal sire program. However the restriction for many of these breeders is the issue associated with producing F1 females to join with a terminal sire.
As it has been put to me: "It gets messy in a small herd."
In its first stage, a producer starts with a purebred herd that is joined to a different breed to create the F1 female, and then these resultant F1s are joined to the terminal sire.
Several reader comments I received suggested that the issue isn't just breeding F1 females, it's also the issue of having to either buy or breed straightbred females to use to create the F1s.
When it is presented in this way, it certainly does appear to be "messy."  However access to F1 females can be achieved through purchasing in replacements on an as-needs basis. This can be a new consideration for many producers who are often reluctant to purchase their replacements. This reluctance can be attributed to pre-conceptions regarding cost; uncertainty around the genetics on offer; or a general reluctance to source replacement breeders.
Not all producers hold this reluctance however. Many dedicated crossbreeding programs, particularly in Northern NSW and Southern Queensland, readily source replacement F1 females for use in terminal sire programs. The constant demand for well-bred F1 females has underpinned numerous breeding programs in northern NSW which focus on producing F1 females suitable for replacements in a range of herds.
The Fahey family operate the well-known Bizzy Brahman stud at Copmanhurst in Northern NSW. Innes Fahey described the family's approach to F1 production as an opportunity to value-add to their breeding program to meet an ongoing demand from commercial producers.
Innes explained that the family operation primarily focused on Braham genetics, however the opportunity to use Angus bulls over a selection of their Brahman cows opened up opportunities with producers seeking F1 females for terminal crossbreeding programs.
"We source good quality Angus bulls, focusing on growth and muscling. We also do like to add a bit of frame, as our coastal cows tend to be slightly earlier maturing.  The F1 females have been going to repeat clients – they really are vealer factories," he said.
The attraction on purchasing F1 replacements according to Innes is the combination of access to a female "ready to go straight into the terminal program," and that those producers don't need to carry females from calf through to joining age. So they just have productive females in the herd and everything else goes to market."
25-30pc price premium
Further north, Kyogle producers Grant and Jo Bulmer operate a 700 Brahman cow herd producing purebred Brahman bulls and F1 cattle. Grant, who is the president of the NSW Branch of the Australian Brahman Breeders Association, sees the F1 market as an important segment for several reasons.
"There is always a strong demand for the Brahman x Hereford steer. There are many traders and steer producers who chase that article simply for the growth performance," he said. However the demand for F1 females was equally strong.
Grant says his clients are predominately repeat buyers who are seeing replacements for terminal programs. He describes the value of the F1 replacement female as in the range of 25 to 30 percent higher than straightbred females.
However it was important to "look beyond the purchase price."
Those females tended to stay in herds for three or four years longer than a straightbred cow, and that additional longevity has a big reduction on price per calf born, he said.
"After all you aren't replacing a huge number every year, and so the extra calves really do offset the price," he said.
As with the Fahey family, the Bulmers are very focused on choosing sires that complement their breeding herd in order to produce cattle for country.
Using coastal bred Hereford bulls, the Bulmers focus on growth, muscling and structural correctness. "These are the traits that matter to producers seeking F1 females that can potentially be in a herd for 12-14 years," Grant said.
Urbenville (northern Rivers) cattle breeder Jim Smith is another who concentrates on breeding F1 females to supply terminal crossbreeding programs. Jim produces Santa x Hereford F1 cattle that are keenly sought after by breeders, while the steer portion are the focus of numerous trading and growing programs.
"We actually breed our own Herefords using New England tablelands bulls, and those sourced locally to produce our replacements. Then we join Santas to the Herefords and sell everything at the weaner sales," he said.
The heifers go to repeat buyers usually to be joined to a Charolais, although there are a few which do go back to Santas for a separate market.
Commitment to right traits
The commitment among specialist F1 breeders to the traits that matter for commercial breeder is a large factor in the loyalty of their clients.
Those producers who choose to purchase their breeders have done so with the assurance that the F1 article is a result of clearly focused breeding, and so opens up the opportunity for them to focus on their own terminal program and meeting specifications, without the requirement of having to worry about breeding a base article.
While the price of the initial F1 female is higher than a straightbred female, the combination of longevity, growth through hybrid vigour and the fact that females do not have to be carried from calves through to joining weight, not only offsets the additional price, but actually increases annual gross margins.
The message for producers who may be considering crossbreeding is that well-bred F1 females are available, and can make a crossbreeding program easier to undertake than they may have considered.
* Alastair Rayner is the Principal of RaynerAg, an agricultural advisory service based in NSW.  He regularly attends bull sales to support client purchases and undertakes pre sale selections and classifications.  He can be contacted here or through his website www.raynerag.com.au