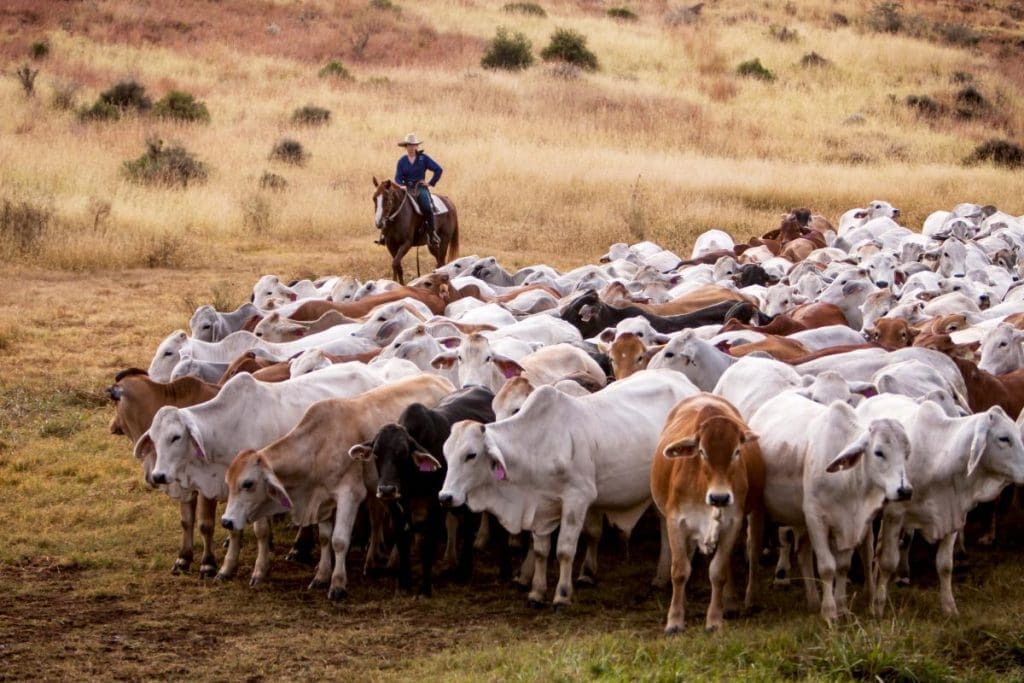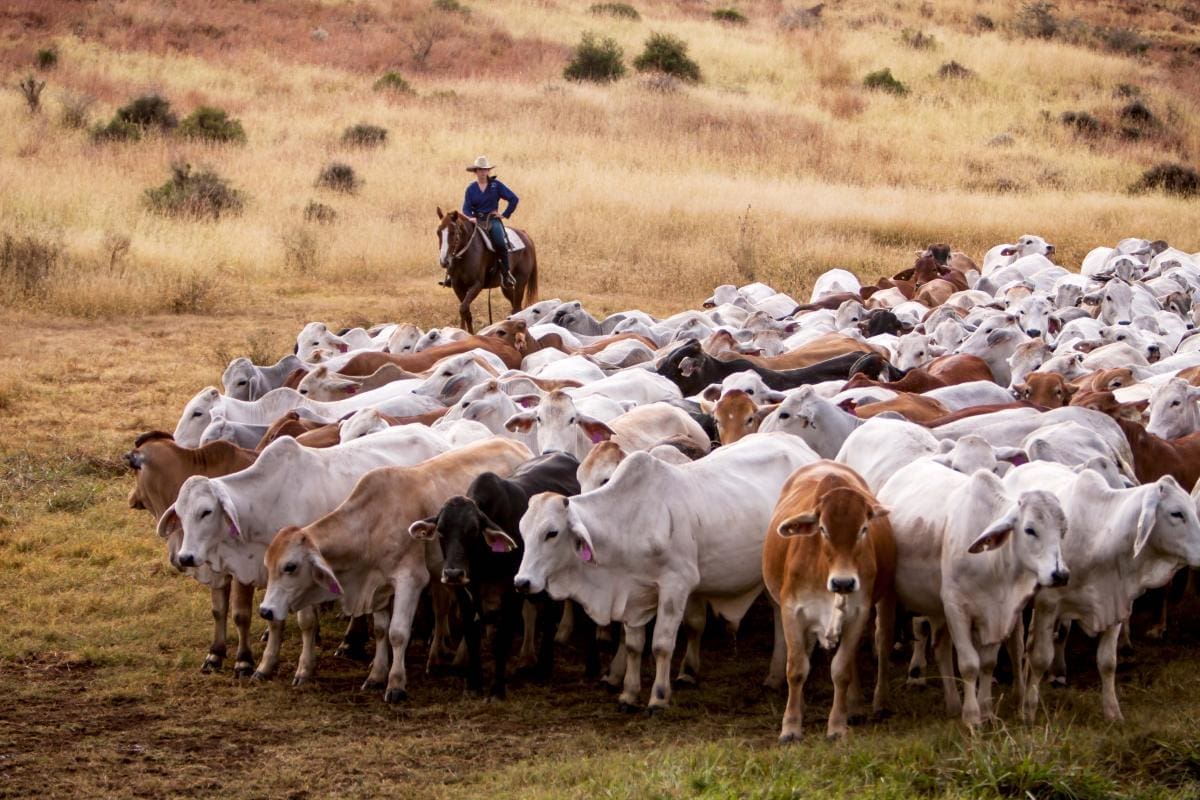 AS part of the Meat & Livestock Australia BeefUp forum held in Hughenden, North Queensland last week, one of the sessions focused on investments around fences, water & infrastructure.
One of the panelists noted that many station investments were solely focused on the needs of the property operations, often to the detriment of the family who had to accommodate their needs in older houses with aging infrastructure.
The point raised was that investment in living conditions and the associated improvements in family life and personal well bring are as essential as investing in other infrastructure.
This point was revisited by respected cattle researcher, Dr Geoffry Fordyce.  Dr Fordyce used his session to highlight the opportunities available in identifying and using bulls with proven genomic potential as a means of improving herd performance.
At the same time, he highlighted the importance of bulls and the often underestimated potential bulls have to achieve reproduction outcomes for breeding herds.
Referring to data collected and published in the Bull Power project, Dr Fordyce demonstrated the potential bulls that have been selected and have passed a BBSE, and morphology tests have in achieving high rates of pregnancy in northern extensive conditions.
In many cases producers in more extensive areas use excess numbers of bulls, often in the belief this will ensure sufficient calves in the following season. The reality, says Dr Fordyce, is that this approach underestimates a bull's capacity to mate.
"Every hour, a typical fertile bull produces more than enough sperm (estimated at 50,000/second) for 10 fertile ejaculates," he told the audience, and typically "these bulls should be more than capable of mating at least five times as day."
However, so many producers are committed to long-held paradigms of a percentage of bulls to cows, that they purchase and use many more bulls than are really required.
Citing the Bull Power project, where it was found that within herds using traditional ratios of 4pc or higher, the mating potential of a bull is defined by libido and access to females.
As an example "In a typical low-fertility, continuously mated northern forest herd with four bulls per 100 cows, the peak conception period is three months. But this means a bull may get an average of just two mating opportunities per week."
The dominance of bulls within a social order and the high desire to mate can result in fighting over mating and a significant increase in injuries and bull loses.
Deciding on how many bulls are required should be focused on establishing "minimum requirements + 1", prodcuers attending the field day were told.
Effectively, Dr Fordyce said producers should be calculating their bull numbers on matching mating capacity of bulls to mating requirements of the females. To establish these numbers, there are some base assumptions that producers can commence with.
These include the general basis that:
On average a northern cow will conceive within 1.5 cycles
Cows are generally mated twice per cycle
Bulls can mate five times a day
Using these parameters, producers can calculate their bull numbers based on the number of females they intend to join and allowing for calf loss between calving and weaning. An example of this calculation is shown below: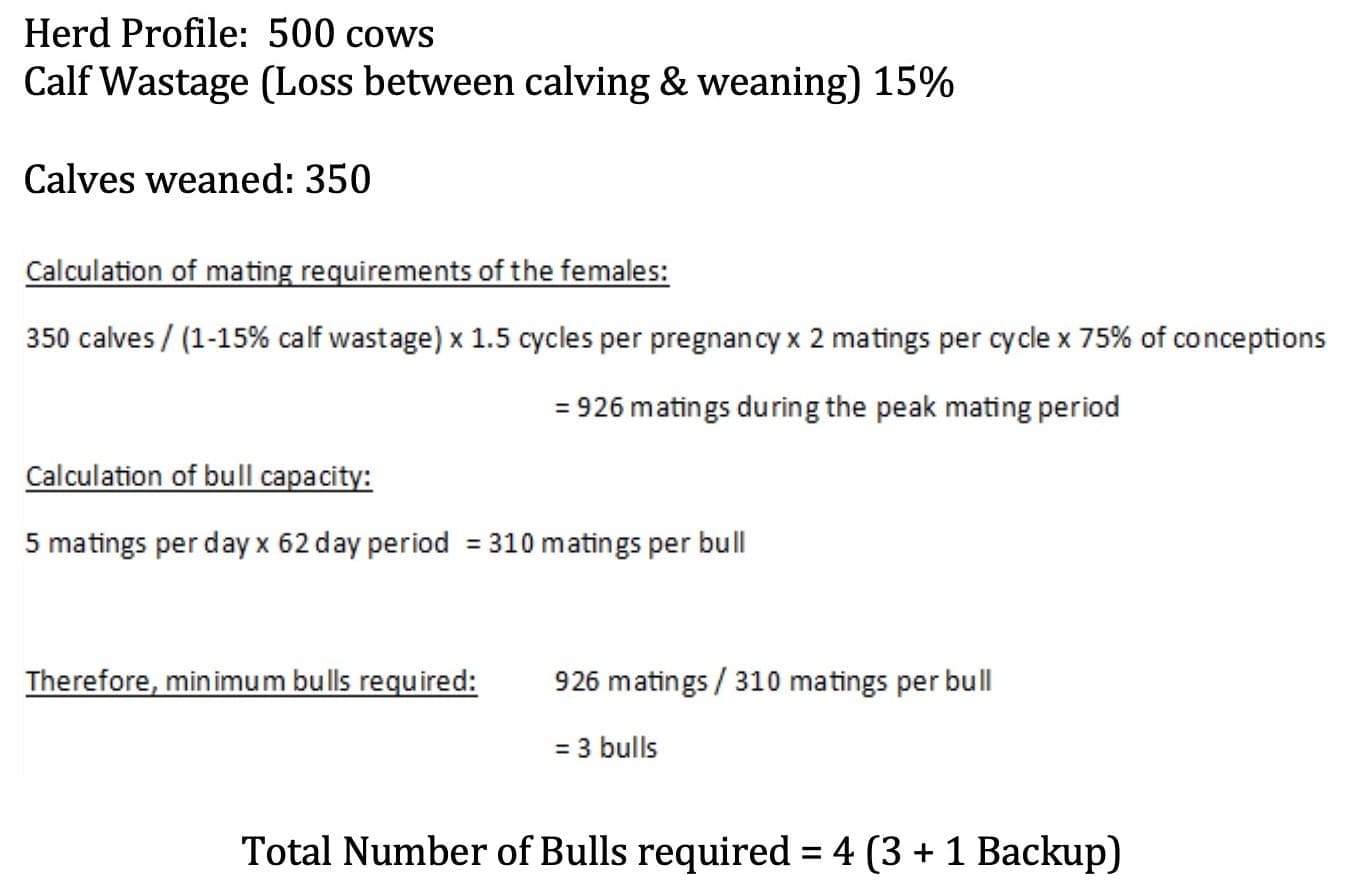 While many producers struggle to accept there is no genuine need to continue using traditional mating ratios, the extensive research conducted in both the Bull Power project as well as other research projects in Northern Australia clearly demonstrates a huge number of unnecessary bull purchases each year.
As Dr Fordyce highlighted to the Hughenden BeefUp forum, the money saved by reducing the annual bull purchases to meet a number rather than a ratio can "pay for a new homestead kitchen every year."
It is important that in increasing expectations on bulls, producers also choose to use bulls that are capable of undertaking their role. As previously mentioned, producers should only consider using bulls that have been assessed by a BBSE and passed a morphology exam.
This is critical in ensure bulls are capable of achieving the desired levels of conceptions within the joining period.
However, it is also worth noting that in reducing total bull numbers, the savings associated with this approach can not only be invested in new property (or kitchen!) infrastructure, but also in bulls that offer higher levels of genetic merit and are capable of improving herd production overall.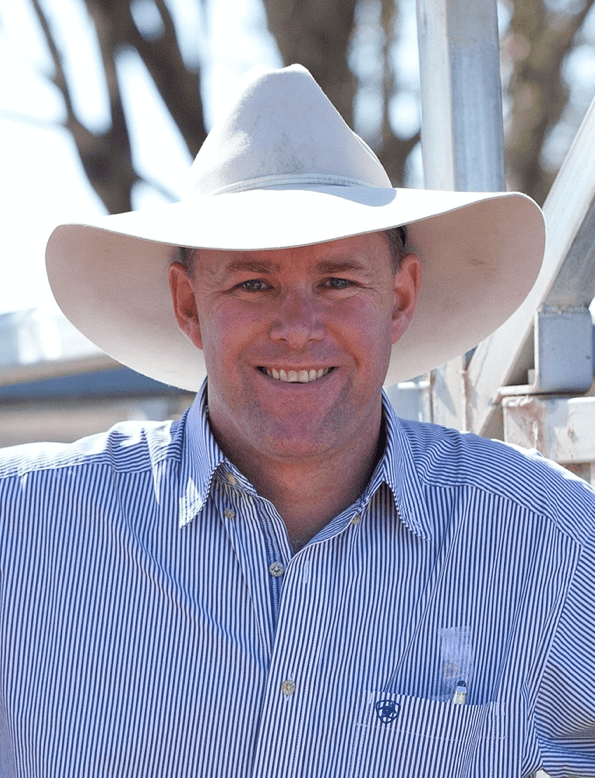 Alastair Rayner is the Principal of RaynerAg, an agricultural advisory service based in NSW.  RaynerAg is affiliated with BJA Stock & Station Agents.  He regularly lists and sell cattle for clients as well attending bull sales to support client purchases.  Alastair provides pre-sale selections and classifications for seedstock producers in NSW, Qld and Victoria.  He can be contacted here or through his website www.raynerag.com.au