ANY discussion about price, particularly when it comes to bulls, is always a certain way to ignite a conversation among cattle people.
As sale records tumbled throughout 2020, many producers have expressed their opinions on the prices paid and speculated on the reasons behind the price lift that's been seen this year.
In 2020 there have been a number of contributing factors that have combined to see average prices lift significantly when compared to the average over the past five years.  Many of these have been outlined in earlier columns for Beef Central.
While the interest has been given largely to the factors that have driven demand, and sale clearance rates, less time has been spent by many producers to determine what is the real value of a replacement bull?
Determining the 'real' value of a bull is actually a moving target driven by a number of variables. The potential value of a bull is determined by factors that include his genetic potential to lift or improve the progeny of a herd closer to a defined breeding objective.
It is also defined by the bull's phenotype and ability to sire a number of calves in his working life. That ability to sire calves may be multiplied by a purchaser (or the breeder's) decision to collect and use semen as part of a broader AI program. The demand for the bull at sale can also be a reflection of a breeder's need to find new pedigrees to introduce to their own program.
These factors are quite hard to establish or define, particularly in the heat of a sale.  And at the end of a sale, conversation tends to focus on the end price paid, rather than the starting price of the sale. It may be worth looking at the starting or the reserve price and considering how this is set, and if this price is a realistic reflection of a bull's worth.
As part of the reflections of 2020, I have asked a number of producers and agents about the process of setting the starting value of bull in a catalogue. A number of breeders and several agents, speaking off the record, suggested that there was no specific method of setting the reserve.
One Angus breeder stated that his operation did intend to set the value based on the cost of production for bulls, with a profit margin to establish a starting value.  However, while this was the intention, he said that often his business was guided by its agent who used current averages.
This seems to be a reasonably common response.
Salvage value
A key feature of most responses focused on the background influence of current meat prices for old bulls. Most breeders and agents referred to the replacement value or the salvage value of bulls.
A rough rule of thumb appears to be a reserve price is set at around 1.5 times the value of a used bull sold for slaughter. This rough rule seems to be the most commonly applied and would be the reason why many reserve prices have started at the $4000 mark this year.
Undervaluing genetic merit
Taking the time to look at a reserve price in this way highlights perhaps the low value that is placed on the genetic merit of many bulls that are offered for sale. Potentially the value of genetic potential is only given 0.5 of the value multiplier, when breeders set their sale price.
Given the investment made by many breeders to select animals, record and measure performance and traits, there is a question over this rough rule of thumb: Are breeders potentially undervaluing their work and genetic potential?
As the 2020 selling season winds down, it will be worth looking at the average price for breeds over this year and against the last five years. Beef Central will produce its annual report on bull prices paid, by breed, later in November.
No doubt the 2020 trend will reflect an annual increase. However, these increases are not reflected in the reserves that are set. This opens up significant disparity in prices, particularly where bulls are purchased for a single bid and others that are sold at an average price or above the average price.
While that difference is no doubt due to factors that include phenotype, pedigree and genetic potential, it does beg the question: Has that cheaper bull actually been properly valued?
In simple terms what does it actually cost to present a sale bull? I would be surprised if that cost was 1.5 x the current salvage value.
Perhaps it is more realistic to set reserves based on a bull's cost of production plus a margin for genetic merit
If it is higher, than breeders need to recognise that and adjust their starting price to reflect their effort and the genetic merit of the cattle they are offering. Perhaps it is more realistic to set reserves based on the cost of production plus a margin for genetic merit.
Arguing that the reserve price of bulls is possibly too low is likely to raise eyebrows among many cattle producers looking to buy replacement bulls. However, if 2020 has proven anything, producers are willing to place a value on, and pay significant amounts to secure bulls that meet their breeding objectives.
Lifting the starting value is an acknowledgement that a new sire is worth more than meat value, and that the genetic contribution to the herd is one that should be a consideration of value up front of the sale.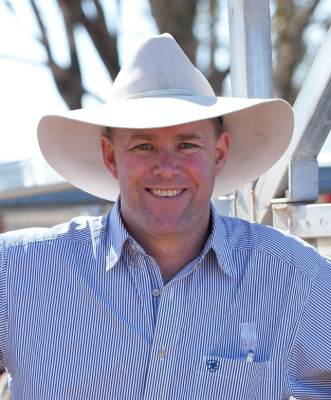 Alastair Rayner is the Principal of RaynerAg, an agricultural advisory service based in NSW.  He regularly attends bull sales to support client purchases and undertakes pre-sale selections and classifications.  He can be contacted here or through his website www.raynerag.com.au