THE genes of 50 top beef bulls – some dating back more than half a century – have been sequenced in an effort to understand how genes from temperate cattle have influenced important production traits in the modern Brahman breed.
The Sequencing the Legends project is led by Professor Steve Moore, Centre for Animal Sciences Director at the Queensland Alliance for Agriculture and Food Innovation, a combined University of Queensland and Queensland Government research institute.
"We are unpacking the entire DNA sequences of 50 influential Brahman animals, then honing-in on the genes associated with specific traits in order to capture the best genetics in the Brahman breed," Prof Moore said.
Understanding the genetics underlying production traits in Australian tropically adapted cattle is essential for further breed development and crossbreeding strategies, he said.
"Brahmans are adapted to tropical climates and there have been more than 300,000 years of separation between Bos indicus cattle such as Brahman and the Bos taurus cattle breeds that are important to temperate production systems."
Queensland is home to almost half of Australia's beef cattle – many including a Brahman influence. But the Brahman genome has been found to contain around seven to ten percent Bos taurus genes, a legacy of the breed's formation.
"We were not sure how Bos taurus genes in the Brahman genome might affect the animals performance," Professor Moore said.
"Is it just a random mix or have specific taurine genes been retained in Brahmans because they were associated with desirable production traits?"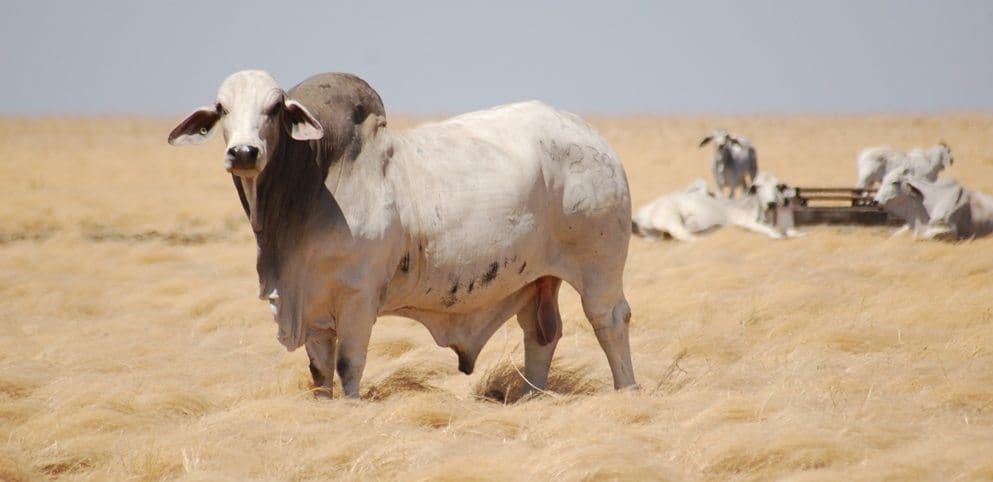 Prof Moore, his QAAFI colleague Prof Ben Hayes, and Dr Brian Burns from the Department of Agriculture and Fisheries lead the research team that is sequencing the DNA from Brahman sires –  some dating as far back as the mid-1950s.
DAF and the Australian Brahman Breeders Association were instrumental in selecting and locating the breed's most influential sires for the project.
Results from the Sequencing the Legends project are still being processed, but indicate that the Bos taurus genes lurking in the Brahman genome may have been selected for important production traits associated with fertility, growth and temperament.
"This data will help us to better direct breeding decisions and thus boost the productivity and profitability of the northern beef industry," Prof Moore said.
"The Brahman breed is very diverse compared to the British and European breeds, the 50 animals so far represent less than half of the Brahman population in Australia. That's good news, as it means there is lots of genetic diversity to choose from in any directed breeding program."
Here's the list of the Brahman bulls chosen to be involved in the genetic evaluation:
VL ROJO GRANDE 26/8 (IMP US)
JDH MADISON DE MANSO (IMP US)
JDH DATAPACK MANSO (IMP US)
JDH NAVASOTA MANSO 55/1 (IMP US)
DUKE DE MANSO
ABBOTSFORD DURACELL
AllAWAH EVEREST
ALLAWAH FORT KNOX
AVONDALE EVEREADY
BELMONT 95-71
CHARLYN LEADER
CHEROKEE BOLD CHIEF X1/3656 (P)
CHEROKEE CAMPEON X6/1205
CHEROKEE L A REPUCHO DE MAN 77/2
CHEROKEE LA SITTING BULL 982
CHEROKEE OLE SLOWPOKE 62/4027
CMT JAROCHO 309/0 (IMP US)
CMT TUXPENO 308/0 (IMP US)
BORDERVIEW DON DIEGO
HCC RED GIANT 0/134 (IMP US)
HK ARROW J MILLIONAIRE 300 (IMP US)
JDH BECKTON DE MANSO (IMP US)
JDH CHARLEY MANSO
JDH MANGUM MANSO 146 (IMP US)
JDH MR MADISON MANSO 834
JDH REX C MANSO
JDH SIR ATARI VIC MANSO 749/4
LANCEFIELD AMBITION 7736
LANCEFIELD M BILLIONAIRE MANSO 1377/M
LANCEFIELD RANCHER 7134
LANCEFIELD SIGNATURE 9153
MR V8 189/4 (IMP US)
MSH 16/28 (IMP)
NCC SERENGETI
RPR ADAM 078/2 (IMP US)
SAVANNAH MR MANSO 007
SUGARLAND'S ESTO 284 (IMP US)
TARTRUS REDLINE 3653
TARTRUS REDMOUNT 2365
VL ROJO GRANDE 0/80 (IMP US)
WAIRUNA ZONE
WAIRUNA PETER DE MANSO
WANDILLA EINASLEIGH
WAVERLEY KEN DE MANSO
YENDA BULLOO 212/3
YENDA IMP 120/9
An additional four Polled bulls were sourced direct from the breeder.